Smart phones nowadays are so popular and capable that they are putting point and shoot cameras out of business. There's commercials, promos and ENG type of work being shot on them, including a Bentley commercial shot exclusively on iPhones, and with virtually limitless possibilities one can really run wild with his/hers creativity. That's why the folks behind BeastGrip have turned to Kickstarter once again to beef up their existing BeastGrip into an updated Pro version.
Chicago-based, Vadim Chalenko, the mastermind behind BeastGrip and the upcoming BeastGrip Pro set out to create the world's most versatile rig for "phoneography". Whether simply taking steadier photos, or doing timelapses or even video work, the BeastGrip Pro lets one adapt their current smart phone, be it an Android, iOS or Windows device into a video making machine with the option to attach microphones, LED lights, and even 35mm stills lenses with their DOF adapter.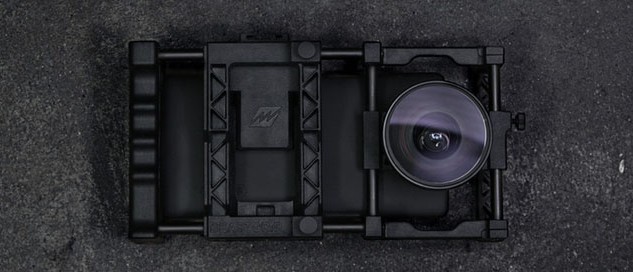 The new BeastGrip Pro uses more versatile and durable mold-injection plastic in lieu of the previous 3D printed design utilised in the original BeastGrip, which was crowdfunded as well. Users can adapt almost any smart phone out there from the iPhone 6 and even larger iPhone 6 Plus, OnePlus One and Samsung Galaxy Note 4. Sporting a modular and highly adjustable design, the BeastGrip Pro lets you use existing Olloclip smart phone lenses or any other similar size lenses you currently own.
The BeastGrip Pro features also a standard threaded 37mm lens/filter mount, cold shoe mount and five 1/4″-20 threaded mounts already built-in, so that one can easily attach a wide variety of accessories.
As a part of the Kickstarter campaign, backers can get perks including two 37mm mount lenses – a wide-angle and a fish-eye lens in addition to a DOF adapter in Canon EF mount. See more details of the DOF adapter below.
The Beastgrip DOF adapter allows you to use some* of SLR lenses with your smartphone to achieve a shallow depth of field effect and manual focus control.
The Beastgrip DOF adapter is made of a tube with an SLR mount ring (Canon EF mount) on one side and a set of macro lenses on the other. Inside of the tube is a focusing screen mounted on custom holder. The SLR lens projects the image onto the focusing screen, allowing the camera phone to frame the intermediate screen by focusing in macro mode. The principle is similar to pointing a camera at a movie screen. The phone camera's only responsibility at this point is to record what is being projected onto the focusing screen. Additional information on DOF adapters and how they work can be found on wikipedia.
BeastGrip DOF Adapter: 
Beastgrip DOF adapter has Canon EF mount, other SLR lenses can be used with the proper adapter rings. Please note: Adapter rings are not included.
For best results, we recommend to use fast lenses (f0.9-f2.8).
DOF adapter will decrease the quality of photos and videos taken with it.
There may be visible texture, dimples and/or specks of the focusing screen on the image.
Vignetting, barrel distortion and chromatic aberration are common issues with any DOF adapter
The DOF adapter flips the image upside-down.
Check out the video below captured with BeastGrip Pro, DOF adapter, iPhone 6 and a Canon EF 50mm 1.4 lens:
From BeastGrip Pro:
To learn more about the DOF adapter, please get the manual via this link Beastgrip DOF adapter. Considering that DOF adapters display the image you are taking upside down, we recommend using one of these apps when using our DOF adapter; they will allow you to flip the image to the proper orientation.

FiLMiC Pro and Ultrakam apps (iOS)

Open Camera (Android)

We are also working on our BeastCam camera app that will have a "flip the view" option in both photo and video modes, plus many other useful features. We are planning to release it in summer.
Since they launched their Kickstarter campaign on March 25th, Vadim and Co, have already surpassed their funding goal of $50K and even double it as of the writing of this article. To claim your BeastGrip Pro and learn more about this awesome "iphoneography" rig head over to Kickstarter.
Disclaimer: As an Amazon Associate partner and participant in B&H and Adorama Affiliate programmes, we earn a small comission from each purchase made through the affiliate links listed above at no additional cost to you.
Claim your copy of DAVINCI RESOLVE - SIMPLIFIED COURSE with 50% off! Get Instant Access!