The introduction of the HERO10 Black was a notable one for GoPro. Normally more iterative in their updates, the HERO10 brought some serious updates to image quality and functionality. Definitely a worthwhile upgrade. If you are picking up one of the new models and are coming from an older one you'll learn that there are some new accessories to pair with it.
If you pick up a GoPro you will definitely need some accessories to get it mounted and ready for your shoot. For a good list of options some might consider must-haves in a video from videographer Danny Black.
10. TELESIN Dual Mount Connector
Similar to the standard mount that comes with your GoPro, the TELESIN Dual Mount Connector adds a 1/4"-20 thread to the base. This makes it easy to just toss the GoPro on other support systems without needing to pull out the standard GoPro mounting tools.
9. SNAP Mount Pro Magnetic Mount
Many shooters use action cams on a variety of different supports and mount them everywhere. A helmet, car, selfie stick, etc. The SNAP Mount Pro is a magnetic system that makes it take no time at all to switch between different mounts and adapters.
8. Windslayer Case
One thing GoPro's haven't delivered on too much is in the audio space. With the Windslayer Case, you might be surprised. When outside and getting that wind noise you almost can't get usable audio. The Windslayer case is a simple foam case that serves as a windscreen for the entire GoPro. It'll actually let you take advantage of the mics in the GoPro.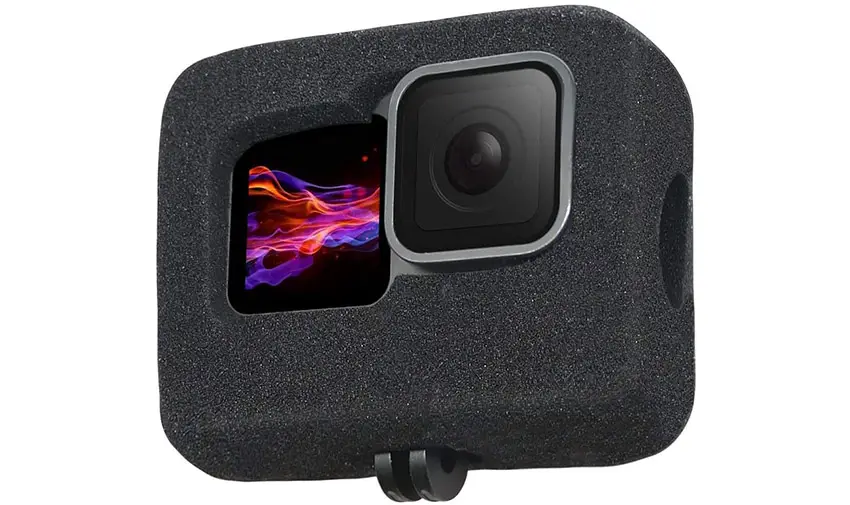 7. Ulanzi L2 Cute Lite
If you are working in dim lighting the GoPro could use a boost. The Ulanzi L2 Cute Lite is a completely waterproof LED light that is nicely matched to the GoPro. It even has a nice magnetic mounting point for a bunch of different accessories. The affordable price is a major selling point.
6. HSU Carbon Fiber Selfie Stick/Tripod
The HSU Carbon Fiber Selfie Stick/Tripod is effectively a 3-in-1 support system. There are a lot of ways you can use it. The base has a tripod option and there is an arm that can be positioned so it is out of the way for vlogging. Plus, you can just use it as a monopod.
5. SanDisk Extreme Pro microSD Cards
You are gonna need nice, fast and reliable storage. Look no further than the SanDisk Extreme Pro microSD Cards. Well priced and definitely fast enough for GoPro. Don't need to say all that much about this.
4. GoPro Dual Battery Charger
You should pick up some extra batteries. The best deal is to get the GoPro Dual Battery Charger, which actually comes with a spare battery too. It works very well.
3. GoPro Max Lens Mod
The GoPro Max Lens Mod is going to be supported in a future update, but it will offer the best stabilization and field of view possible with a GoPro. When it is fully supported you can expect to get an incredible video with the HERO10.
2. Ulanzi Multifunctional Battery Door
A piece that you might not have though to replace is the battery door. The Ulanzi Multifunctional Battery Door allows you to keep the camera plugged in while shooting and adds a cold shoe and 1/4"-20 thread to the side of the camera.
1. HSU 72-in-1 Accessory Kit
It's hard to beat getting everything you could want in one shot. HSU has just that with a single Accessory Kit that features 72 items. This includes all manner of straps, mounts, selfie sticks, filters, and more. It's a great pick if you just want to get everything.
Runners Up
There are a few fun things that may not be must-haves but come close. For getting ultra-smooth footage, the INKEE Falcon Gimbal Stabilizer is designed specifically for action cams and is ultra-small so it won't be a hassle to bring along.
Skyreat makes a cool 1.33x Anamorphic Lens for GoPro if that is something you want to try out. We actually talked about the Skyreat Anamorphic Lens before.
There's also the TELESIN Auto Tracking Tripod which will help keep the camera focused on the subject even as it moves around. And last there is the Freewell 4K Series Standard Day Filter Set which will help you work in bright conditions and get closer to that cinematic look.
Any key GoPro accessories that you can't live without?
[source: Danny Black]
Order Links:
Claim your copy of DAVINCI RESOLVE - SIMPLIFIED COURSE with 50% off! Get Instant Access!