When preparing for a video or film project, the more tools a filmmaker has, the better prepared they will be when the director calls "action." LensKit is an app that filmmakers can use to try out camera and lens pairings, and then see a simulated image of that pairing, which can help visualize the scene beforehand.
LensKit was created by app developer Zak Ray, who was looking for such a tool ever since he got into filmmaking at the dawn of the digital revolution. Before he created LensKit, he relied on a growing spreadsheet that included all the cameras and lenses that were available.
Every year, more cameras would come out with varying image sensors, making the spreadsheet subject to the digital equivalent of the Kevin Bacon syndrome. Eventually, that database became the seed of what would become his app.
As a cinematographer and color artist, Ray decided to try his hand at app development so he could have a more handy tool while on set. "I made a spreadsheet that covered the various cameras…" Ray told PetaPixel. "Eventually, it grew to include all the major cameras filmmakers were using, at which point the spreadsheet was getting pretty unwieldy, and it slowly became the CameraKit app."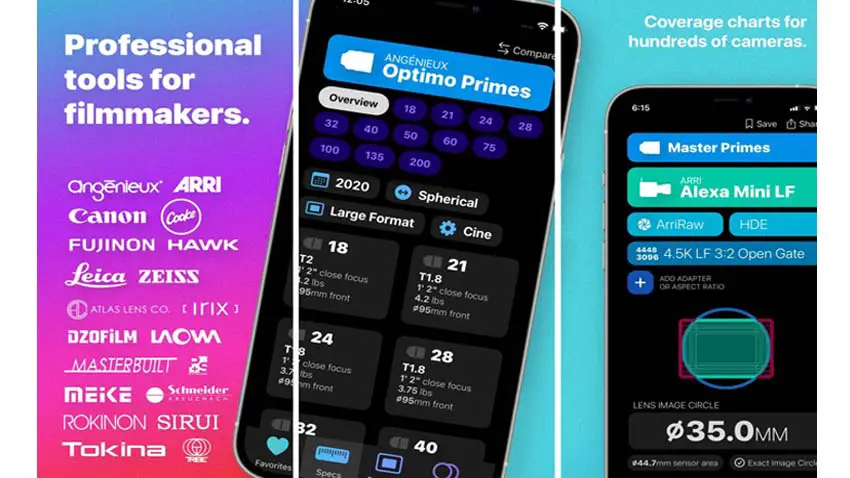 Within LensKit, the content creator can combine a camera body with a variety of lenses, and see the image size, focal length, field of view, distance to the subject, and details on lens metadata and other features.
The app will even convert focal length according to sensor size, and crop factors, and simulate depth of field. Users can also create favorite configurations to access by a simple swipe.
Currently, is limited to cinema lenses made by Arri, Canon, Cook, Irix, Laowa, Leica, Panavision, Rokinon, Sirui, Tokina and Zeiss. Available cameras include 150 models from ARRI, Blackmagic, Canon, Panasonic, RED, Sony, drones, and other cameras.
Ray also plans on adding more cameras and lenses in future updates, especially those designed for still photography. "The lens specs I included in this first release are all cinema lenses," said Ray, "but I definitely plan on adding stills lenses in the future, as plenty of filmmakers (myself included) use them often."
Ray warns that his Panavision specs are incomplete and that there are also a few lenses from various manufacturers that don't have an exact image circle. Those will likely be fixed in a future update.
The only real downside to the app is that while it is free to download and try, there are a limited number of cameras and lenses to simulate with. Additional models of each are locked out and the user has to pay to unlock them.
The monthly subscription rate is $2.99 a month, or a flat lifetime rate of $49.99, which is a much better value in the long run. The subscription also gives users access to Ray's other app Camera Kit, which seems to be more camera-centric with the same data.
LensKit is available in both the iOS App Store. Sadly, as is usually the case, Android users are missing out. For now.
[source: LensKit]
Disclaimer: As an Amazon Associate partner and participant in B&H and Adorama Affiliate programmes, we earn a small comission from each purchase made through the affiliate links listed above at no additional cost to you.
Claim your copy of DAVINCI RESOLVE - SIMPLIFIED COURSE with 50% off! Get Instant Access!