Filmmaking doesn't have to be expensive. Well, not all of it at least. Cameras and lenses and all that fun stuff will likely take up much of your budget (you should see my wish list), but its the small and inexpensive stuff that will do a lot more to make your life easier.
There are also some everyday objects that can serve a role on set or even be an alternative for pricier accessories that are "designed" for filmmaking. If you want to find out about a few dirt-cheap filmmaking items this quick video from Luc Forsyth has six that will cost you less than $20.
1. BongoTies
Sometimes it's the simple things that are the best. BongoTies are elastic bands with a little wooden stick on one end that allow you to wrap them around pretty much anything.
Obvious uses include cable management or hanging batteries or other accessories to stands. They are small and it's easy to just keep a couple on your wrist or in your pocket at all times.
A 10-pack of the official BongoTies will only run you $7. You probably will want more later.
2. Lavalier Overcovers
Overcovers from Rycote are useful for more quickly and easily attaching a mic to a subject while still keeping them hidden. An even cheaper alternative is using gaff tape or medical tape, but sticking that right on someone's chest is less than ideal for many reasons.
These are both a windscreen and a sticky piece so that you can throw them under clothing easily and get protection for your mic with very little effort.
3. China Ball
Lights can be pricy and you will benefit from spending a reasonable amount there. But the actual fixture doesn't matter quite as much as how you modify it and modifier alternatives can be found for cheap.
One favorite is the china ball, aka paper lanterns. They are what they sound like – paper balls that you can stick a light in to create a soft 360-degree lighting effect.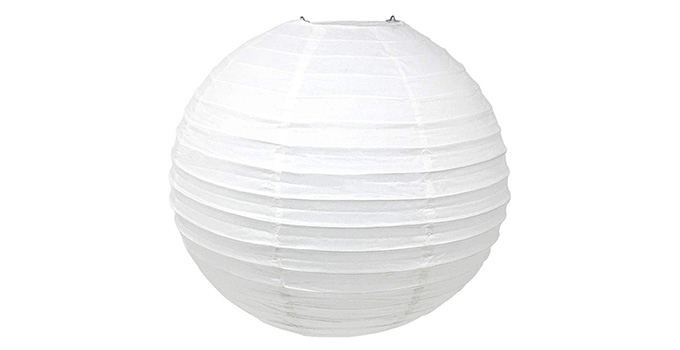 They can be hung on stands or even tossed onto a stick and boomed over your subject. They aren't the most durable thing, but for the cost your investment is low if you end up needing to replace them after a couple of shoots. It can easily fill the role of a large softbox.
4. Shower Curtain
Another tool for soft lighting is a shower curtain. The main benefits over a traditional softbox are that it is cheaper, smaller, and lighter. It can also transform a window into a great, controlled light source.
There are reasons to get official and expensive diffusion, especially with mounting and color consistency, but for a quick and cheap solution a shower curtain works.
5. Lens Tissue
Keeping your lenses clean will make sure you are getting the best images you can. Microfiber cloth is fine for most though when it gets dirty it loses effectiveness.
A cheap set of disposable lens tissues will do the job and always be ready to go. Plus, they can be used for other purposes, such as having a subject wipe down their face to get rid of some shininess. 
6. Paper Tape
Gaff tape is the king of filmmaking tape. It's strong and comes off generally clean. Paper/masking/painter's tape is another type you should have on hand. Ironically the reason is that it is not nearly as strong.
This can be used to label items or hold light things on walls without worrying about ruining the paint. You can use paper tape in combination with gaff tape so that you can add a layer of protection between the strong tape and more delicate surface.
[source: Luc Forsyth]
Order Links:
Claim your copy of DAVINCI RESOLVE - SIMPLIFIED COURSE with 50% off! Get Instant Access!