Sigma appears to be developing its first "nifty fifty" fifty-millimeter Art lens designed specifically for the mirrorless platform. Sigma's 50mm F1.4 DG DN Art lens comes in both Sony E-Mount and L-Mount lenses to satisfy the needs of the so-called L-Mount alliance of which Sigma is a part.
Specs for the lens dropped today as Sigma sent the information to overseas distributors for their marketing purposes. Naturally, the news would get out and we have a brief list of what we can expect.
The specs indicate that the new lens design will support full-frame image sensors and have an extra element from the DSLR-centric 50mm Art lens produced previously.
That lens had 13 elements organized in eight groups, while the new mirrorless design has 14 elements organized in eleven groups.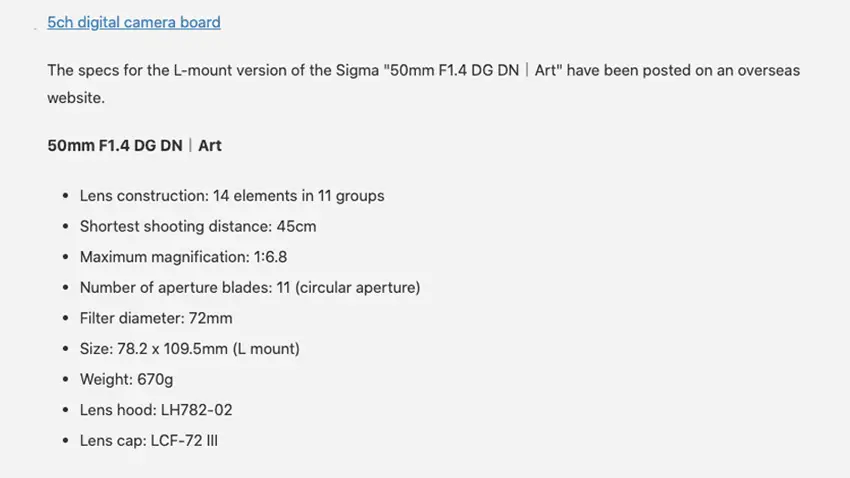 Sigma has also given the lens a more circular aperture with an eleven-bladed iris, compared to the nine-bladed aperture available on the previous nifty fifty.
The result will be a smoother bokeh with better depth of field and subject separation.
Also according to the specs, the lens has a minimum focusing distance of 17.72 inches (45cm) with a maximum magnification of 1:6.8l The lens also has a filter diameter of 72mm and an overall length of 109.5mm.
Sigma's 50mm F1.4 DG DN Art lens has also gone on somewhat of a diet, with the overall weight of the lens having dropped by about eighteen percent to 23.63 ounces (670g).
Sigma has redesigned the lens elements to be narrower in diameter (78.2mm) so it can hit that weight target without sacrificing the image quality that the Art lens is known for.
As the specs suggest, this is much more than a DSLR lens that has been ported over to a mirrorless lens mount. It's an entirely new optical reformulation.
There is no immediate word, or even speculation, as to what the Sigma's 50mm F1.4 DG DN Art mirrorless lens will cost but the current Sigma's 50mm F1.4 DG DN Art lens for DSLR sells for $949.
Factor in the current popularity of mirrorless lenses, and depending on the mount – which, let's face it, if it has Leica in the name, it'll likely cost a bit more.
There is also talk that Sigma may come out with a Z-mount version as well, but don't expect an RF version since Canon has been threatening legal action against third-party lens manufacturers who attempt to crack the secret sauce for their autofocus scheme.
There's also no word on when the official announcement will come, therefore stay tuned.
[source: DIYP]
Claim your copy of DAVINCI RESOLVE - SIMPLIFIED COURSE with 50% off! Get Instant Access!