Bloomberg's Mark Gurman says that an M3 iMac is in the advanced stages of development and will be coming later this year.
Citing insider information, the author of the Power On Newsletter stated this week that Apple is gearing up to release the iMac in the same variety of colors, and perhaps a new Mac Pro, and an update to the MacBook Air laptop.
Not only will the next generation 24-inch iMac replace the current M1 platform with a more powerful M3 Apple Silicon chip, but Gurman states that these new iMacs will have an internal redesign and a new stand which will streamline the manufacturing process.
"The computer will see some of its internal components relocated and redesigned," writes Gurman, "and the manufacturing process for attaching the iMac's stand is different."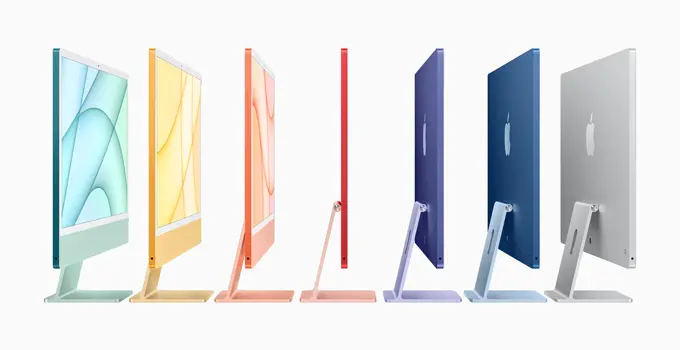 Though the iMac is in an advanced stage of development, Gurman says that the new models, which are codenamed J433 and J434, will not begin mass production for at least three months.
This puts them in a window that makes them available in the late summer or early fall at the earliest, and perhaps even positioned for the holiday shopping season with colors ranging from blue, silver, pink, and orange.
Gurman goes on to double down on Apple is hard at work on a new Mac Pro Tower, codenamed J515, which will finally receive its own "homegrown" Apple Silicon M2 Ultra chips with up to 24 cores, 76 graphics cores, and up to 192 gigabytes of unified memory.
This seems to muddy the water, as to why Apple would make the Mac Pro nearly obsolete upon launch when it's already working on a processor even faster for its more consumer-oriented all-in-one Mac platform.
The same holds true with the MacBook Air, which Gurman warns will quickly become outdated.
"But the chip destined for the new MacBook Air models is slightly less clear," Gurman surmises.
"If those machines launch in a few months with the M2 chip, they'll quickly become outdated. A 15-inch MacBook Air with an M2 chip may still excite consumers, but a new M2 13-inch MacBook Air is unlikely to be compelling."
This leads Gurman to wonder if Apple will leapfrog the 13-inch MacBook Air to a more advanced 3 nanometer M3 configuration instead.
Gurman says from a timing perspective, it would certainly make sense, as Apple would like to put their computers on an annual upgrade cycle, much like the iPhone, and in doing so, make updates more frequent and reliable.
The picture should become more clear with Apple's annual shareholder meeting, which takes place on March 10th.
Tim Cook will likely provide more details as he fields questions and provides updates on the direction that Apple is heading.
Until then, it's probably a good idea to keep one's powder dry when it comes to making a new purchase unless absolutely necessary.
[source: Bloomberg]
Claim your copy of DAVINCI RESOLVE - SIMPLIFIED COURSE with 50% off! Get Instant Access!