Angelbird has announced a 1TB Type A CFExpress card explicitly designed for Sony camera users. The AV Pro 1TB Type A CFExpress media card is designed for creating 4K Raw video and promises read/write speeds of 820 MB/s and 720 MB/s respectively.
Angelbird designed the AV Pro 1TB CFE card to be used for shooting 4K RAW video and high-speed burst stills using the company's Stable Stream Technology, a method by which sustained write speeds will be uninterrupted as the media is being saved.
The company states in its announcement that internal testing has yielded a sustained read/write speed of up to 750 MB/s and 650 MB/s, though the card hasn't been granted VPG400 certification just yet.
The card also has advanced thermal management algorithms that prevent overheating, as well as a building design that guards against a shock of 150Gs, temperatures of between -4°F and 185°F, dust, and moisture/humidity of 5-95 percent.
Angelbird also states that the card operates at a minimal power drain from the host camera, giving users a bit more time before swapping out batteries.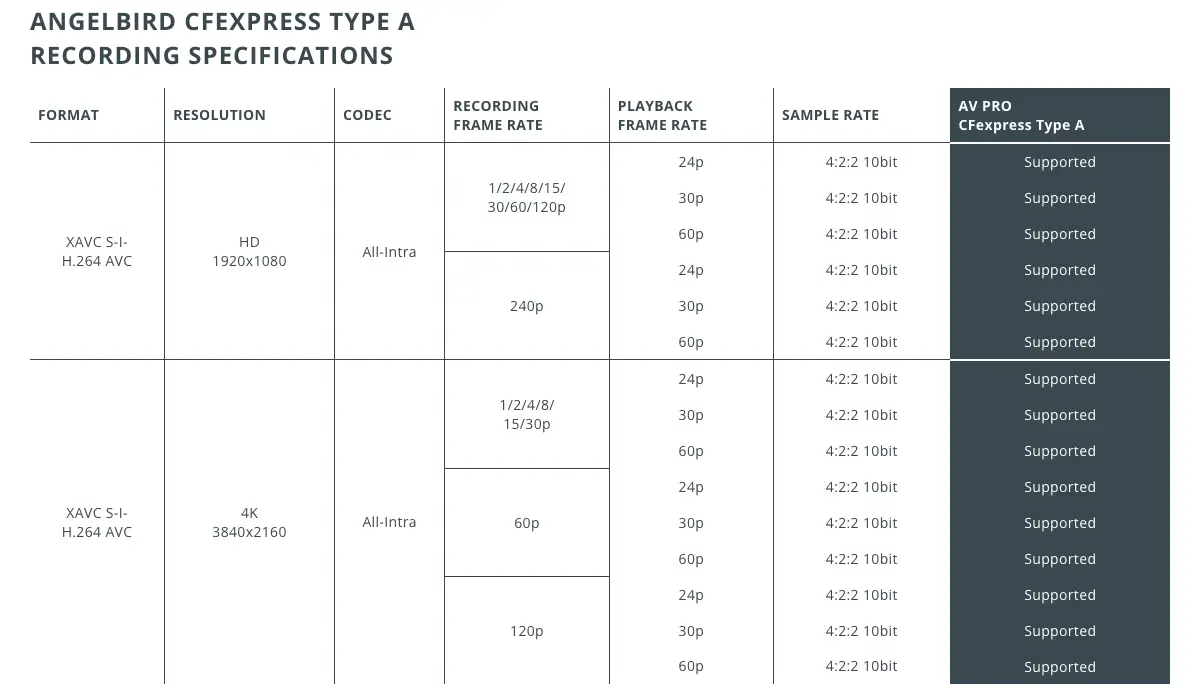 When using Sony's All-Intra codec, the 1TB CFE card supports frame rates of up to 4K at 120 fps, and full 1080p HD at up to 240 fps, with sample rates of 4:2:2 10-bit color.
The card can be used with Sony cameras including the Alpha 1, Alpha 7 IV, Alpha 7S III, FX3, and FX6, and the company states that it is capable of being updated by firmware so that the card will be compatible with new camera models and updated features.
Before Angelbird breached the 1TB ceiling, the largest capacity Type A CFE card that Sony users could deploy was an expensive 640GB Sony Tough Type A CFE card with a retail price of $1250. The Angelbird 1TB CFE card will retail for less than half that price with an MSRP of $500.
That is not only dramatically cheaper than Sony's nameplate media card but also those offered by Lexar, Delkin, and ProGrade, making the Angelbird card a very attractive option price-wise, and with higher performance to boot.
The card also comes with a three-year data recovery service which will give shooters piece of mind that should some damage to the card or corruption of the media occur, Angelbird will take steps to recover any lost image files with complete privacy and confidentiality.
Pricing and Availability
As stated above, the Angelbird AV Pro 1TB Type CFExpress memory card has a retail price of $499.99 and it is available now from Angelbird's Website, shipping within 48 hours of the time of the order.
Angelbird also offers a Type A Card Reader which is compatible with USB 3.2 Gen 2×2 and provides uninterrupted file transfer speeds of up to 20 GB/s. The reader retails for $89.99. There is also a card storage "media tank" that securely holds up to four cards for $79.99.
[source: Angelbird]
Disclaimer: As an Amazon Associate partner and participant in B&H and Adorama Affiliate programmes, we earn a small comission from each purchase made through the affiliate links listed above at no additional cost to you.
Claim your copy of DAVINCI RESOLVE - SIMPLIFIED COURSE with 50% off! Get Instant Access!