Wireless system solutions used to be one of the most expensive filmmaking tools such as wireless follow focus or wireless monitoring systems for many indie filmmakers.
In one of our previous posts we covered an affordable wireless follow focus system, reviewed by the US-based filmmaker Tom Antos. Today, we have another cost effective and useful tool.
The CVW 100 Wireless HD Video Transmitter/Receiver is an inexpensive wireless HDMI solution that would help you to monitor your video feed remotely without the need for any cables.
Specifically designed by the Chinese manufacturer CVW with DSLR's and other cameras with clean HDMI out transmission, the CVW 100 wireless HD video transmitter is capable of sending live vision over 100m / 330ft line of sight.
CVW (Shenzhen Crystal Video Technology Co., Ltd.) is the subsidiary company of GOSPELL. CVW specializes in the R&D, production and marketing of high frequency wireless video transmission modules and finished products. 
Some of the  main features of  CVW 100 Wireless HD Video Transmitter/Receiver are:
Wireless HD video transmission for DSLR/DV
Support up to 1080P HD video display & broadcasting without latency or compression
(includes 480P/60Hz,576P/50Hz,720P/50Hz,1080P/23Hz,1080P/24Hz,1080P/30Hz)
Up to 100m/330ft.effective range line of sight
Support external Li-battery supply for mobile convenience
Support Hot-shoe installation with 1/4 screw nut
Support audio input from external microphone
Hi-quality LCD screen display signal & battery status of product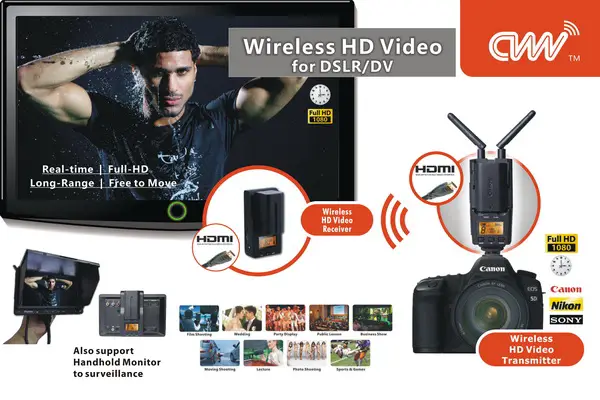 According to the manufacturer the long distance transmission system using a the high-capacity Lithium-ion battery, and easy plug-and-play setting, can fully meet requirements of outdoor and indoor shooting.
We'll be more than happy if the specifications on paper are as good as the real product actually is. While the CVW 100 Wireless HD Video Transmitter/Receiver was announced on the official site of Crystal Video I wasn't able to find any other evidences that it really exists, except the video below.


It looks like that the workflow with this system is quite straightforward and it simply would do the job. Just plug-and-play both devices power them on and you are ready to go. This wireless transmitter/receiver may not be the best solution available on the market today, however it is a dirt cheap option for someone working on a budget.
One of the things that really attracted my attention was the fact this product is designed especially for DSLR shooters and they claim it to be a professional tool. It is not some kind of workaround or DYI solution, it can be attached via Hot-shoe and it can supports an audio input from external microphone. The wireless system is limited to HD resolution, however it is more than enough to monitor your feed remotely while shooting.
I am curious as to what you guys think? Is it a good idea to invest in a more affordable tool such as the CVW 100 Wireless HD Video Transmitter/Receiver or do you prefer to rent or save your money for some kind of more trusted and proven solution? Let us know in the comments below.
Disclaimer: As an Amazon Associate partner and participant in B&H and Adorama Affiliate programmes, we earn a small comission from each purchase made through the affiliate links listed above at no additional cost to you.
Claim your copy of DAVINCI RESOLVE - SIMPLIFIED COURSE with 50% off! Get Instant Access!