Great news for Axiom Beta adopters. Just recently, Apertus announced a joint collaboration with Magic Lantern who are lending a hand in the development of the Axiom Beta with some sensor analysis in order to come up with some pretty exciting in-camera encoding options for the Axiom Beta and other helpful tools, of which we'll know more in time.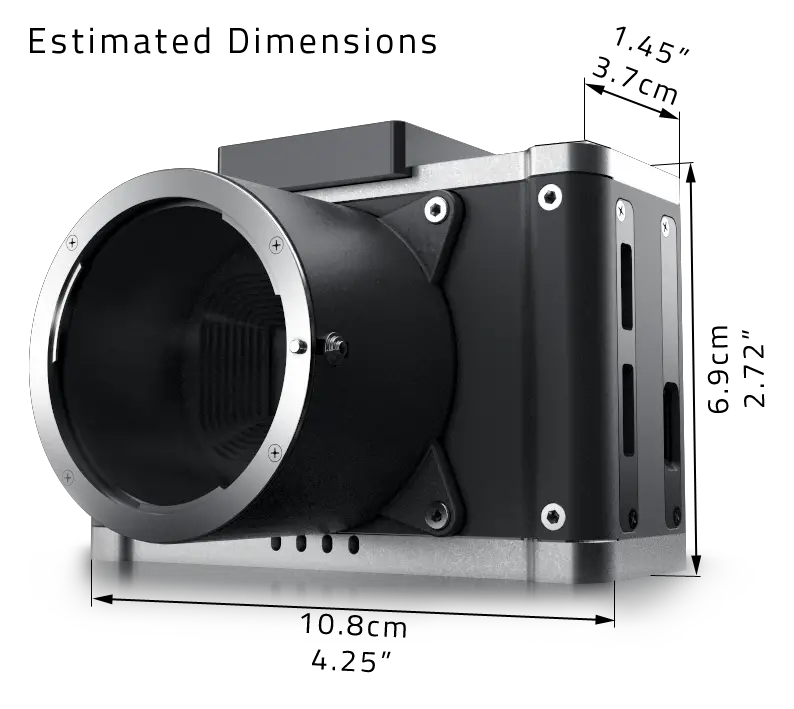 Apertus, makers of the world's first open-source 4K camera, announce a new 16mm sensor option to their existing Super 35mm/Four thirds Axiom Beta's, new active mounts (Canon EF) and a remote control with proper knobs and buttons if the crowdfunding campaign reaches specific goals.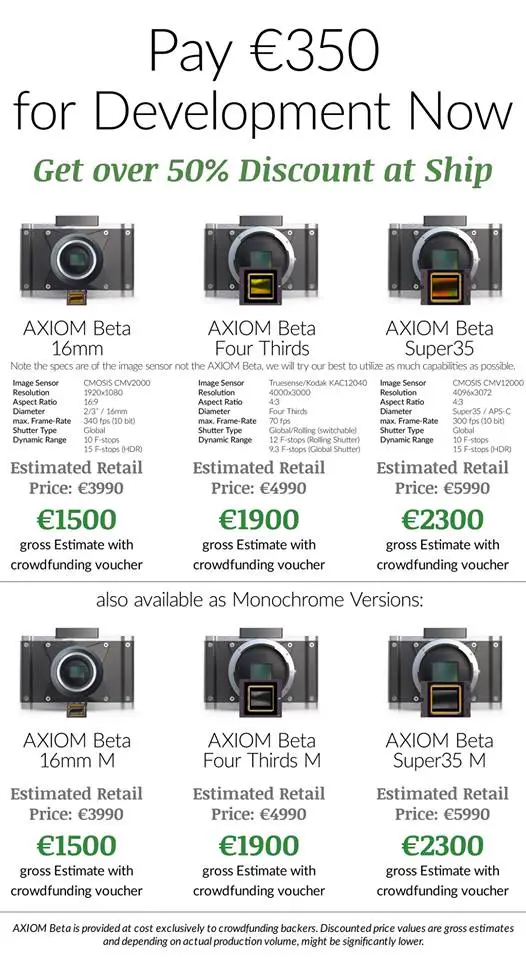 AXIOM Beta 16mm Sensor Option:
Full HD (1920 x 1080p) CMOSIS CMV2000 sensor with a 2/3" 16mm image sensor diagonal
High Frame rate capabilities (sensor can do technically up to 340 fps @ 10 bit) and if we see 240fps at 1080p without major aliasing/moire that would be monumental
C-mount can be added as lens mount option, potentially Micro Four Thirds – Apertus is asking for more feedback on lens mounts
Dynamic Range – 10 stops with global shutter
HDR mode – around 15 stops DR
In addition, Apertus are now also offering each image sensor option (Four Thirds/Super35/16mm) as native monochrome sensor version. Regardless of sensor option chosen, contributing €350 to the Axiom Beta crowdfunding campaign will get you a voucher to purchase your AXIOM Beta unit at cost once hardware development has finished, which will be around April 2015.  If you can spring for that much, you can still support the camera development with the new €150 perk and get a 20% discount on the retail price of any model.
Creatively, and for me personally offering a 16mm sensor option and Monochrome versions is huge. As a big fan of 16mm and Super 16mm film, I have some favorite films shot in this gauges – including "City of God", Nicholas Winding Refn's "Pusher", Darren Aronofsky's debut "Pi", and more recently more recently hit TV series "The Walking Dead" (first three seasons at least).

Having the ability to shoot natively in black and white in 16mm is a terrific opportunity for some really creative music videos, short films, art pieces, or feature films for example. 16mm lenses are much more affordable and easier to find then Super 16mm lenses, which tend to be more expensive and more scarce. There are no limits here any way to what one could potentially do with a 16mm or a Super 35mm Axiom Beta, just throwing some examples out there.
Apertus have only 7 more days left to reach their goal which at the moment is 100,000 Euro. They are about 75% there, so they need your help. If they succeed in getting support beyond their goal, here are some example of additional items they are planning of their funding reaches specific goals:
€110,000 – AXIOM Beta Remote Control (DICTATOR) with Real Buttons and Knobs (rendered image below)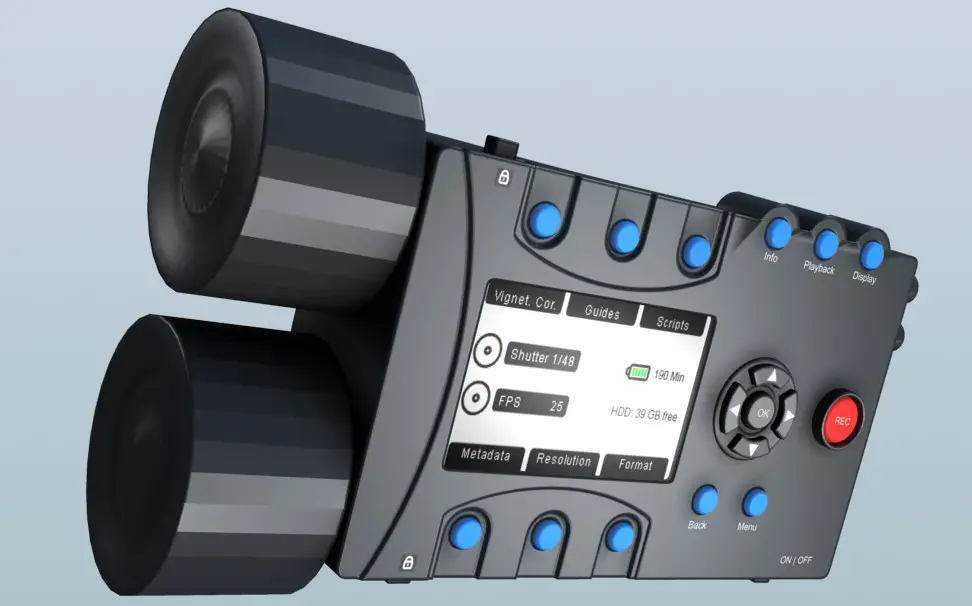 The above image is for an AXIOM Beta wired remote control device complete with LCD, buttons, knobs and dials (however, there's no live video monitoring). A wireless design might be possible, however this would require more testing. Estimated retail price of the Dictator is estimated at around €300. The image above is an old concept design. The actual design will be updated for improved aesthetic and ergonomics.
€120,000 – Axiom Beta with Active Canon EF Mount – EF active mount to be controlled from camera or Dictator remote pictured above. Estimated to retail for around €300.
€130,000 – AXIOM Beta Active Battery Mount for Sony NPF-970/750/550 (Sony L) – Includes power usage and capacity monitoring to estimate remaining charge and time remaining. The NP-F style Sony batteries (and off brand ones) are very popular and affordable, so having this extra battery option is very attractive.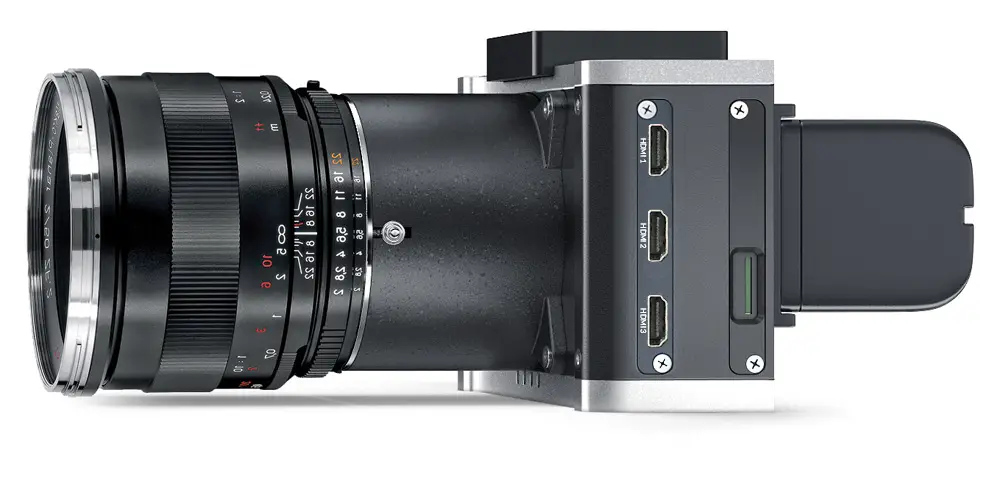 And finally check out some Axiom footage remixed below:
So what do you guys think? Is 16mm your thing or would you rather go Super 35mm size? Let us know in the comments below, and please support Apertus in the development of this camera by heading over to their Indiegogo campaign and sharing with friends.

Claim your copy of DAVINCI RESOLVE - SIMPLIFIED COURSE with 50% off! Get Instant Access!