Your Blackmagic Pocket Cinema Camera or GoPro Hero4 are not the only professional filmmaking tools that easily can fit in your pocket. Fotodiox, mostly known for their lens mount adapters and innovative accessories, recently introduced the Mini Tabletop Tripod. It is ultra light, compact and portable. The Mini Tripod is made of heavy-duty aluminum and can hold up small cameras, light panels and other accessories up to six pounds. It collapses in a second and can support your camera, boom mic or any other compact add-on simultaneously in almost any situation. You can place it on tabletops and get some interesting low angle shots that hardly could be accomplished with a larger tripod.
Fotodiox Pro Mini Tabletop Tripod Specs:
| | |
| --- | --- |
| Description | Fotodiox Pro Mini Tabletop Tripod with Ballhead |
| Material | Rugged, Heavy-Duty Aluminum |
| Working Height | 4.5″ (11.5 cm) |
| Folded Length | 7.5″ (19 cm) |
| Load Capacity | 6 lb |
| Male Thread Size | 1/4″-20 |
| Adjustments | Panoramic Rotation: 360° |
| Weight | 5.8 oz |
| Manufacture | Fotodiox Inc. |
| Warranty | 24 Months |
The Mini Tripod features sturdy legs with rubber feet for stability which prevent slipping and protect delicate surfaces. Further, the tripod can be used for instant interview set-ups. Due to the dedicated threaded holes on each leg, the mini tripod can carry a small camera and a boom mic simultaneously, which turns it into versatile and efficient compact tool.
Using the mini tripod with any compact led light panel attached to the Lockable Ballhead on the top can be used not only as a light source for interview setup, but for any other shooting scenario where you can easily "hide", adjust and position your light everywhere you want. The ballhead of the Mini Tabletop Tripod can be rotated in any direction at 360 degrees.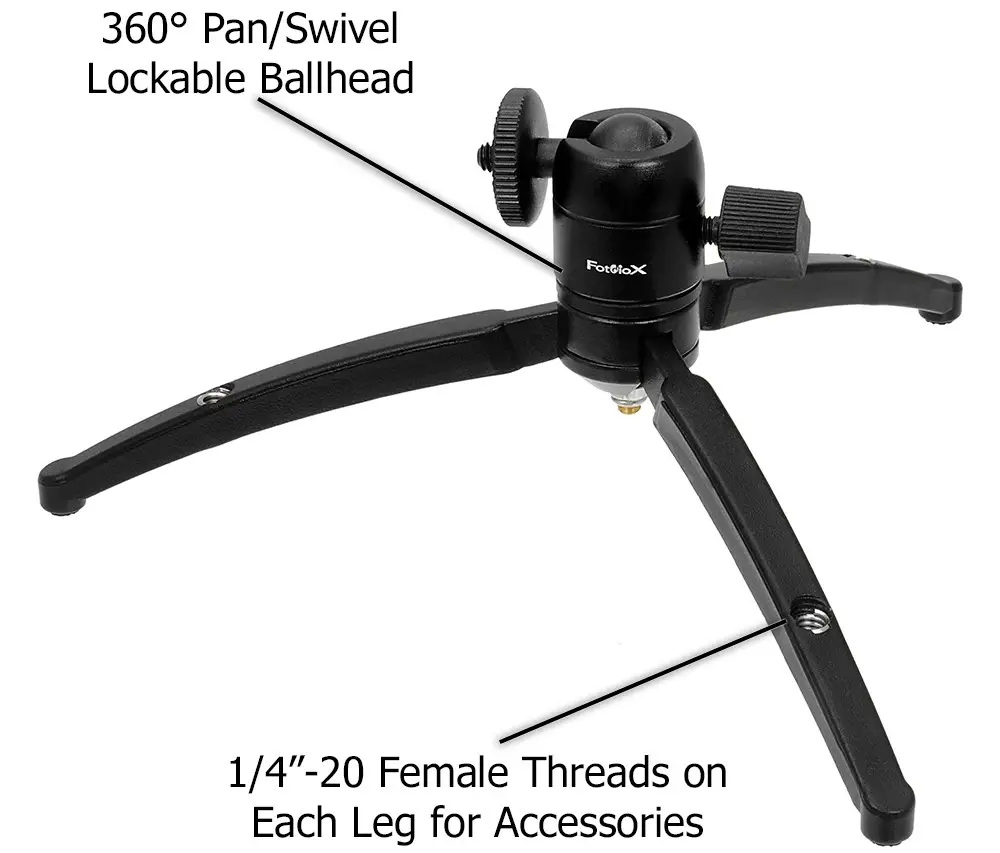 You can even use the tripod as a handle grip for some run-and-gun situations or to shoot some timelapse videos as well. At retail price of $24,99 only, we can't go wrong. The Mini Tripod fits into most camera bags or coat pockets and is ready to give quick support and definitely deserves consideration.
Disclaimer: As an Amazon Associate partner and participant in B&H and Adorama Affiliate programmes, we earn a small comission from each purchase made through the affiliate links listed above at no additional cost to you.
Claim your copy of DAVINCI RESOLVE - SIMPLIFIED COURSE with 50% off! Get Instant Access!