Last week, someone in the know at BIRTV 2014 (we think) leaked a smartphone photo of a new Sony 4K XAVC camera to be unveiled at IBC 2014 later this week in Amsterdam causing quite a stir online. Possibly spoiling a major announcement for Sony, we suspect the culprit, was swiftly dealt with.
Such things in Japanese corporate culture are taken very seriously, and if nothing else, the leak (unless it was intentional, which is highly doubtful, but not impossible) proves how hard it is nowadays to keep new cameras/gear secret prior to announcements at trade shows.
Initial rumours were this camera would replace the NEX-FS700, but it turns out according to official response from Sony Pro USA via their Facebook page, the new Sony 4K XAVC camera is NOT a replacement for the FS700.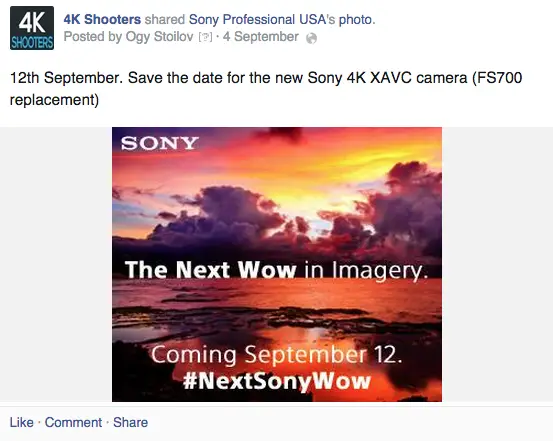 Sony have now released an official teaser for the event they are hyping up as the #NextSonyWow. And judging by the reactions from filmmakers, cinematographers, and Youtubers invited to the sneak peak in the teaser below, the new camera, or cameras as some have speculated, is deserving of the "wow" factor.
We shall see on the 12th of September at IBC if that is indeed the case. See the teaser for the event on Friday below.


Here's my take on what the new 4K XAVC camera will have and don't have. I am purely basing this on the leaked photo. I have not seen the camera, nor have I been privy to the secret sneak-peak the people from the teaser promo were part of.
4K XAVC internal – 10-bit 4:2:2
XDCAM family
Slow-motion: 120fps to 180fps – HD only, 4K probably up to 50/60p if at all
XQD cards – no other recording media in-camera
3G-SDI output(s)
Possibly 4K raw output – requires Sony AXS-R5 recorder
Possibly Odyssey 7Q support for 2K/4K raw recording
Possibly Slow-motion 4K up to 120fps output to XAVC via external recorder
E-mout
Super35 sensor
Slog3 – maybe
Priced around $10,000 / £8-9,000 UK/EU
We'll let you know as soon as we get the official specs of the #NextSonyWow on the 12th.
[via EOSHD, nofilmschool, Sony Pro UK]
Disclaimer: As an Amazon Associate partner and participant in B&H and Adorama Affiliate programmes, we earn a small comission from each purchase made through the affiliate links listed above at no additional cost to you.
Claim your copy of DAVINCI RESOLVE - SIMPLIFIED COURSE with 50% off! Get Instant Access!