Just like some camera manufacturers such as Blackmagic Design are giving us new and affordable ways to capture our stories in robust and high-end codecs like ProRes, in addition to the unparalleled quality of 2.5K and 4K raw capture, Cinemartin are leading the way for the next level of HEVC (high-efficiency video coding) based around the next iteration of H.264, amply called H.265 in the post-production workflow world for editors and filmmakers working in a Windows PC world.
The company recently released their free Blu-ray to H.265 Converter, compacting a high-quality Blu-ray onto a file about 1/10th of the original size, without a significant drop in quality. In addition, they did release earlier in the year their standalone Denoiser software with 4K support, helping video professionals get rid of chroma noise in their videos.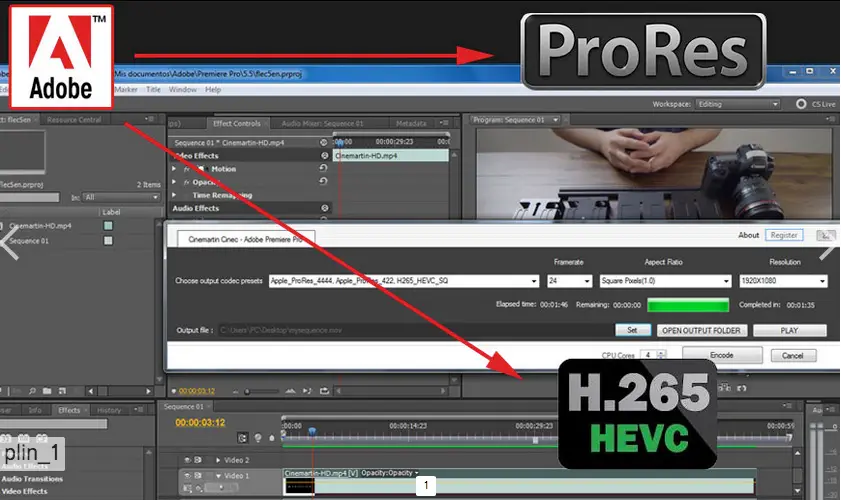 For editors working on the PC platform, up until recently exporting into Apple ProRes wasn't a viable option, but Cinemartin is coming to the rescue once again with their latest Plin AE plugin for Adobe After Effects allowing exports in all flavours of ProRes including LT, 422, 422 HQ and 4444, as well as HEVC H.265.

The Cinemartin Plin AE Plugin, compliments their Plin plugin for Premiere, and now video professionals using Adobe After Effects on a Windows PC are able to export the clips and compositions from within AE to Prores and H.265 among other pro and last tech video codecs.
To launch the Plin AE plugin interface, simply start After Effects and go to:
File –> Scripts –> AE Plin –> Export. Just one click and you're away exporting into any ProRes flavour or H.265 including support for 4K exports in both UltraHD and 4K DCI (Cinec Plin Pro and Gold only)
Cinemartin Plin supports up to 6x CPU/Cores and is currently the only plugin available for Adobe Premiere and After Effects that allows you to export to ProRes,  H.265 on a Windows PC.  And it does the processing capabilities directly from within your NLE or VFX application. Supported versions at the moment are – Adobe Premiere CS 5.5, CS 6.0 and CC. as well as After Effects CS 6.0 and CC.

Here's a couple of videos to get you started. The first one is How to Export to ProRes with Plin AE in After Effects.
And the How export H.265 from After Effects with Plin AE.
Cinemartin are planning a future release for Sony Vegas and Avid Media Composer users. Pricing starts at €99 for the Standard package, €149 for the Pro package, which adds support for 60fps, 2x and 1.33x Anamorphic as well as 4K DC and UltraHD. The Gold package is priced at €399 and gives you additional benefits such as HEVC H.265 (v2) – HQ and 6x Core support.
For more details head over to Cinemartin.
Claim your copy of DAVINCI RESOLVE - SIMPLIFIED COURSE with 50% off! Get Instant Access!