Editors and video professionals working on Macs have long benefited from an industry-proven and solid ProRes workflow. It is often the codec of choice for most editors for both broadcast applications, with many post-houses heavily invested in a Mac-centric workflow.
Up until the introduction of the Blackmagic Cinema Camera, ProRes was not readily available in lower priced, but still professional camera as an acquisition codec, and you had to go up the ladder and bump up your budget for an Alexa or record externally on the AJA Ki Pro for example.
Different flavours of Apple ProRes are a common choice among Red and Alexa productions, as the Raw footage is often transcoded into ProRes 422/LT or even proxies for quicker editing. Then the BMCC and BMPC 4K came along and you could have an in-camera and post-workflow in the same codec – an end-to-end ProRes workflow. But then if you were a Windows user, then you didn't have many options.
Today things are a bit different. Cinemartin offer Windows encoding for ProRes as well as a Standalone Video denoiser, and just recently a small company from Panama City called Acrovid – released FootageStudio 4K – a standalone video encoder for Windows, which offers quick and easy transcoding/encoding of your footage into ProRes and other formats such as DNxHD and Motion JPEG.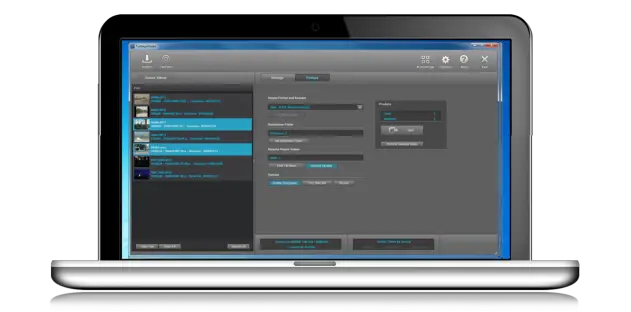 FEATURES
Supports common formats and containers like

AVI,MOV,MP4,MKV,etc, pro formats like DNxHD and ProRes*, image sequences, and video cameras formats from

consumer to prosumer/pro models, including HDV, AVCHD, newest HDSLRs from Canon, Panasonic or Sony,

GoPro cameras, and XDCam HD/EX, MXF, AVC-Intra and DVCProHD

Import any video standard/format, in SD/HD/4K, NTSC or PAL, any resolution,

any aspect ratio, any frame rate, interlaced or progressive, and then just select

any output video standard in SD/HD/4K.

Different video formats can be mixed for processing, for instance, you can

import several videos in different formats like 720p60, 1080i60, 4Kp30,

480i30 or 1080p25.

When downscaling 4K 4:2:0 to HD or SD in 8/10-bit, the produced videos get crisp luma and real 4:2:2 or 4:4:4 chroma.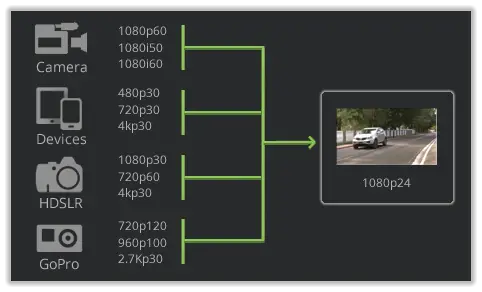 FootageStudio 4K offers also colour correction options and also can act as a denoiser, as well as the ability to over crank your footage to give impressively smooth slow-motion from standard footage, as well as the option to add motion blur and noise reduction. CUDA acceleration is also supported providing a capable graphics card. The one thing to keep in mind that internal processing is done at 8bit depth, and the company are working on a 16bit processing option to be implemented in a future "Pro" version.
FootageStudio 4K for Windows is available now for a special introductory price of $129.00 USD from the Acrovid online shop.
PRESS RELEASE
Acrovid announced the immediate availability of FootageStudio 4k x64 1.0, a revolutionary stand-alone batch processor tool for video professionals and advanced amateurs, featuring a high quality video processing workflow solution, from fast transcoding to complete video transformation.
FootageStudio is an essential all-in-one tool designed to solve your workflow problems, using high quality algorithms to produce clean and crisp videos. FootageStudio is designed for ease of use, simply import your footage and set the processing options in the single window interface. The processing options can be set in a few clicks or, for tasks like aspect ratio conversions or denoiser, using a visual interface with real-time preview.
FootageStudio supports a broad range of input formats including most video formats and containers, image sequences, and video camera formats from consumer to prosumer/pro models including HDSLR formats,GoPro formats, AVCHD, HDV, XDCam, AVC-Intra and DVCProHD. Produced videos can be transcoded/encoded to high quality pro formats like VC-3/DNxHD,MJPEG or ProRes, in 8-bit and 10-bit, and to distribution formats like h.264 or webm.
FootageStudio's key features include:
– Standards conversions, framerate conversions and corrections with automatic audio pitch correction, using motion compensated algorithms to produce the best quality conversions. Converts any standard to any standard in SD,HD or 4k, NTSC or PAL, or custom dimensions and frame rate, interlaced to progressive or progressive to interlaced. Other video operations include conversions to slow motion, motion adaptive deinterlacing, tff/bff conversions and 1080i60 pulldown removal to 24p/25p.
– Video resample supporting SD/HD/4k and custom formats, with aspect ratio conversions using a visual interface, and support for video and film aspect ratios like 2.35:1. Digital Zoom, for instance to remove lens vignetting.
– Frame rate down conversions to 24p/25p/60p/50p/30p from any format,interlaced or progressive, with several configurable modes including simulated film blur mode to reduce motion-judder. It allows for instance convert to 24p with 1/48 shutter speed film blur, or convert from 120p or 240p to standard frame rates reducing motion-judder.
– High quality chroma upsampling and downsampling. The chroma is processed to produce the best quality depending on the video format, for instance chroma 4:2:0 can be upsampled to 4:2:2 or 4:4:4, or 4k 4:2:0 can be converted to HD with real chroma 4:2:2 or 4:4:4, in 8 or 10 bits bit-depth.
– Bit-depth upscaling and downscaling, with dithering and DCR upscaling mode 8-bit to 10-bit increasing dynamic range.
– Frame accurate video cutting with timecode on most formats.
– Audio sample rate/bps/channels conversions and channels to tracks remapping. Multiple audio tracks supported.
– Overcrank feature multiplies video frames for perfect slow motion.
– Video filtering: color correction, simulated motion blur configurable by shutter angle or shutter speed, film grain, cinetone, color space conversions between Rec.601(SD), Rec709(HD) and rec.2020(4k), and more.
– New professional video denoiser to remove the unwanted noise while preserving the fine details.
– Powerful and flexible smart batch processing
The smart batch-processing feature allows to import several videos in different standards, NTSC or PAL, SD, HD or 4k, any dimensions or frame rates, and just select the output format in one click. Each video conversion is configured automatically for the best quality. For instance, the user can import videos any mixed formats like 1080i60,720p60,4kp30 or 1080i50 and convert all to high quality 1080p24,1080i60,720p50 or any format.
– Convert different sources to match your project format
FootageStudio easily provides to your favorite video editor all the videos matching your project format, speeding up the edition and avoiding low quality conversions.
– Transcode/encode to edit-ready pro formats like VC-3/DNxHD in 8-bit or 10-bit
FootageStudio enables users to produce top-quality videos in edit-ready formats like VC-3/DNxHD, MJPEG or ProRes. VC-3/DNxHD format is supported in 8-bit or upscaled to 10-bit with dithering or DCR mode. Any processing feature like format conversions or denoiser can be applied in the workflow.
– Blazing speeds with parallel processing and CUDA GPU
Optimized to 128-bit, with multi core CPU and CUDA GPU support, up to 4 videos can be processed simultaneously enabling ultra-fast transcoding/processing speed.
Pricing and Availability
FootageStudio for Windows is available now for a special introductory price of $129.00 USD from the Acrovid online shop.
[via RedShark]
Claim your copy of DAVINCI RESOLVE - SIMPLIFIED COURSE with 50% off! Get Instant Access!