One common aspiration is being met for 4K internal shooters with another on the way in early 2015, each catering to different desires: one being to shoot for longer periods of time without swapping cards, and the other being to shoot for the classic cinematic 2.35:1 frame without losing too much data and using as much of the imaging area of the sensor as possible. These are being accomplished with the introduction of the Transcend 256GB UHS-I SD card, and the SLR Magic 2X Anamorphot lens adapter.
The majority of 4K cameras on the market today shoot to SSDs and CF/CFast cards, but for those looking to shoot 4K on an SD card (GH4 owners come to mind), media performance has lagged behind camera abilities.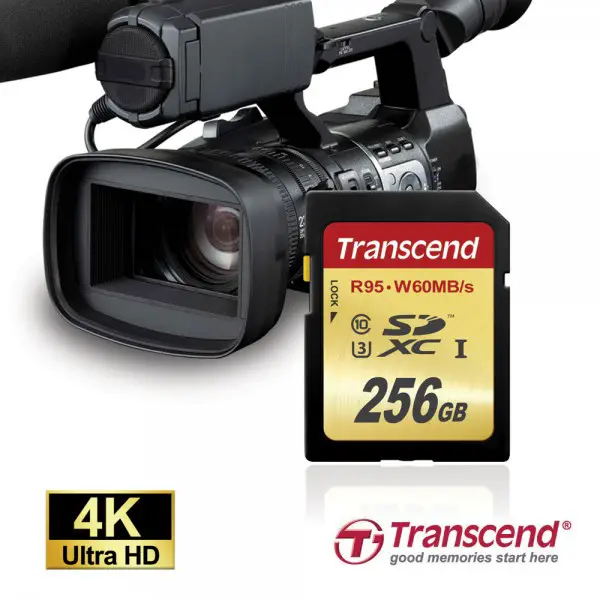 Transcend's latest offering looks to change that. Their new 256GB UHS-1 Speed 3 SDXC card is designed for 4K and 3D filmmaking. It has a 95MB/s read speed and a 60MB/s write speed to handle the writing and transfer of the large files, as well as a quarter-terabyte of storage space to ensure that your DIT doesn't die of exhaustion running between the camera and their station during long shoot days.
At $289 it's priced in line with SSDs of the same storage size, albeit in a smaller package.
From the Press Release
Unmatched Storage Space up to 256GB for 4K Recording
With a wide range of capacities from 64GB to an enormous 256GB, Transcend's UHS-I U3 memory cards are fully equipped to handle the increased capacity requirements of professional photography and filmmaking. For instance, the 256GB SDXC UHS-I U3 card can store more than 40,000 high-resolution JPEG images (12 megapixel camera, 6MB file size), over 16,000 RAW images (based on 14MB file size), or a full 16 hours of 4K Ultra High-Definition footage (4096×2160 35Mb/s H.264 AVC compression). Moreover, Transcend's SDXC UHS-I U3 cards make extended video recording sessions possible thanks to the use of the exFAT file system that allows users to exceed the 4GB size per file limit of FAT32.
95MB/s Transfer Rate with Top-Quality MLC Flash Chips
The Ultra High Speed Class 3 specification guarantees a minimum constant write speed of 30MB/s to facilitate cinema-quality video recording. Transcend's SDXC UHS-I U3 cards, however, can achieve at least double this performance with top-quality MLC flash chips, offering blazing-fast read and write speeds of up to 95MB/s and 60MB/s. Such performance ensures continuous lag-free smooth 4K and 3D video capture in stunning real-world color and clarity. In devices that do not support the UHS-I specification, Transcend's SDXC UHS-I U3 cards still offer constant write speeds of at least 10MB/s (SD Speed Class 10 performance), which makes them perfect for Full HD video recording as well as fast-action consecutive shooting.
Transcend's Free RecoveRx™ Software
For added value, Transcend's exclusive RecoveRx software features a user-friendly interface that allows users to search deep within a storage device for traces of erased files that can be rescued; the files include digital photos, documents, music and videos. With just a few mouse clicks, users can easily recover virtually any type of digital files. Moreover, RecoveRx supports SD Card Formatting and Data Protection functions, providing the ultimate convenience to manage any memory card.
All Transcend memory cards are fully tested for compatibility and reliability, and carry Transcend's renowned Lifetime Warranty. The SDXC UHS-I U3 cards are available in 64GB ($49), 128GB ($109) and 256GB ($289) capacities.
For decades, anamorphic lenses have carried a mystique about them. Their ability to compress an image vertically to make the most of your film, while still being able to produce a cinematic wide image, the unique bokeh they provide, and of course the lens-flarriffic imagery first put to heavy use by Steven Spielberg (and most recently adored by J.J. Abrams).
Digital cinematographers looking to achieve this look have been had to "Panavise" their systems to adapt Panavision lenses, or go for PL-mount cameras and spend a truckload on renting Hawke or Cooke anamorphic lenses. Today there's a more affordable option for entry-level cinematographers looking to give it a go.
SLR Magic 2x Anamorphic Test HD from Jurek Ugarow on Vimeo.
SLR Magic has released a 1.33x Anamorphot adapter already (designed for use with 16 x 9 sensors), and with word of the GH4's new firmware allowing for more use of the sensor in specific shooting settings, it appears to be a perfect time to announce a 2.0x Anamorphot adapter for early 2015 as well.
The 2.0x "squeeze" is considered by many the be the "proper" way to do anamorphic as it produces a lovely 2.39:1 image and such lenses were designed for 4:3 sensors or film gates back in the day. The ARRI Alexa has this option, however, shooting on the Alexa is out of the budget for most of us. It would be fun to try it on the GH4 with the new 4K Photo mode which allows for a 4:3 frame in firmware update 2.0.
The piece itself attaches onto the lens you chose to mount for your shot, so focal length is unaffected. However, as with many lens adapters on the market today, be prepared for a slight drop in optical quality between your original imaged and your new "squished" video.
And to answer the question of the day: yes, the adapter creates a fairly true anamorphic lens flare effect. No word on a release date, but if it's pricing is in line with SLR Magic's 1.33 offering, expect it to be in the $900 range.
via [43rumors.com]
Claim your copy of DAVINCI RESOLVE - SIMPLIFIED COURSE with 50% off! Get Instant Access!