Well, it's here! Happy 2015 for those of you east of the Greenwich meridian! For those who are still in 2014 we hope you have a fantastic New Year's celebration! The past year was quite an exciting year not just for 4K. We saw the release of some incredible cameras, stabilisers, recorders, and drones during 2014. In March, the release of the Lumix GH4 from Panasonic gave us a manageable 4K recording in-camera at a very affordable price. Panasonic spearheaded 4K acquisition in a small package that gave shooters on a budget the ability to shoot not only 4K, but also beautiful 1080p up to 96fps slow-motion. Such high-speed options were unheard of in a mirrorless camera before the GH4. The GH4 continued Panasonic Micro 4/3 support with a 16MP sensor that was a welcomed improvement from the GH3 sensor in both low light and far less aliasing and moire artefacts.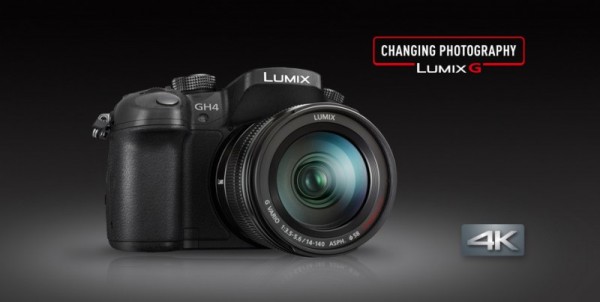 Then later in the year, Panasonic followed up with the Lumix LX-100, which featured 4K on-board recording in the same 4K codec as in the GH4, albeit in a smaller compact package, featuring an excellent Leica Elmarit 24-75mm full-frame equivalent fixed lens, and ditching the flatter picture profiles from the GH4, but it costs twice as less and fits in you pocket.
4K was the big unofficial theme of this year's NAB Show in Las Vegas. Sony unveiled their incredible low-light performer – the Sony A7s, proudly carrying the badge of being the 1st Full-Frame mirrorless camera to feature a full-pixel readout and Ultra HD (3840 x 2160) recording out to an external recording via HDMI. It featured S-log2 as well, normally a flat gamma curve usually found on a lot more expensive, and dare I say it, "pro" cameras.
The camera needed a recorder to extract the 4K goodness, so Atomos came to the rescue by announcing their new flagship recorder – the Atomos Shogun 4K HDMI recorder, which featured a beautiful 7 inch 1920 x 1200 IPS screen and a ton of professional image control features. The unit took until the end of the year to ship, and even though there's a few more key bits to add such as Playback, the wait was worth it, and now that the Shogun is out in the wild, it is making it possible for many A7s and GH4 shooters out there to get beautiful 4K ProRes images form their mirrorless cameras.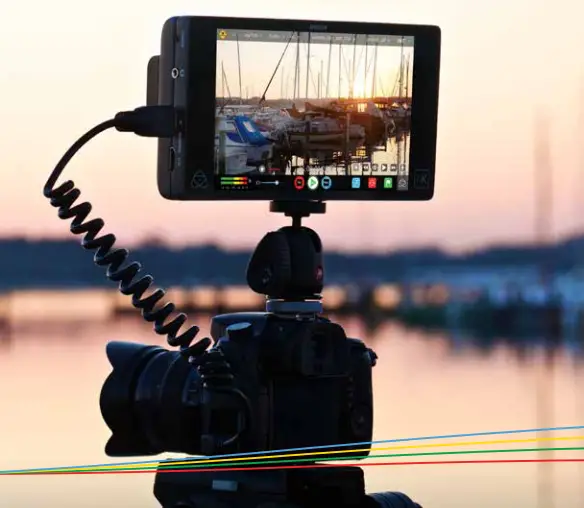 Blackmagic Design were up to more mischief at NAB 2014 and as usual decided to disrupt the market once again announcing a few new 4K cameras – the 4K URSA (in 4 versions – EF, PL, B4 and HDMI recorder only) and a couple of Studio Cameras one of them UHD of course. Sure, the URSA records in UltraHD as well, but it is a beast of a camera, and a major departure from the usual form factor we were accustomed to seeing from Blackmagic Design.
The Blackmagic URSA features a massive, rugged body with a Super 35mm size CMOS chip capable of Ultra HD at up to 60fps upon release (80fps in later firmware), global shutter, proper XLR audio connections, a giant 10 inch fold out touch-screen and a couple of more smaller screens to boot. The key feature tough – was the ability for the user to change the sensor in the future, making the URSA – the first of it's kind. Although we're yet to see the B4 and HDMI versions (guessing those are coming at NAB 2015) the PL and EF versions have been out for some time and we've seen some absolutely breathtaking footage.
AJA took a queue from rival Blackmagic Design and showed us a marvellous 4K/2K/HD ProRes and Raw shoulder designed Large Sensor camera – the CION. Priced at $8,995 and boasting a well known Apple codec inside, plus a design oozing of craftsmanship and attention to detail, the CION get a lot of eyeballs at NAB. Facing the harsh realities of camera manufacturing, especially when it's your first time, the CION saw some delays, but slowly began shipping earlier this month. We're yet to see footage from the finalised version of a production model shot by someone who bought it, but I am sure that will come soon in January.
DJI gave us a very well built Movi alternative in the face of their Ronin – a 3-axis hand held gimbal that could take a variety of camera/lens combos from DSLRs to Red Epics. The DJI Ronin sets itself apart as it is easy to balance and very well built. Announced at NAB 2014, the Ronin was expected to cost around $5K, but DJI slashed the price throughout the year to about $2,999 making it even more accessible. Definitely one of our top picks of 2014 alongside the GH4 and A7s.
In November, DJI announced their Inspire 1 aerial system giving 4K from the sky to the masses. The futuristic design of the drone coupled with the 4K recording on board, 2015 will definitely see amazing aerial photography, just as we witnessed in 2014. The 4K drone from DJI is expected in early 2015 and it is available for pre-order at B&H starting at $2,899.
By Fall it looked like the whole filmmaking world has gone 4K mad… and even ARRI jumped on-board by announcing a UHD ProRes upgrade to their beloved new AMIRA. The legendary German manufacturer went even further by dropping a massive 6K bomb with their ALEXA 65 – a 5-perf 65mm film equivalent Large Format Digital Cinema camera. Yeah, no need to drool, it's a rental option only, primarily aimed at high-budget productions or maybe secretly conceived for the sole purpose of convincing Chris Nolan to shoot digital, but you may need to sell your house to buy it if they ever decide to sell it to the public.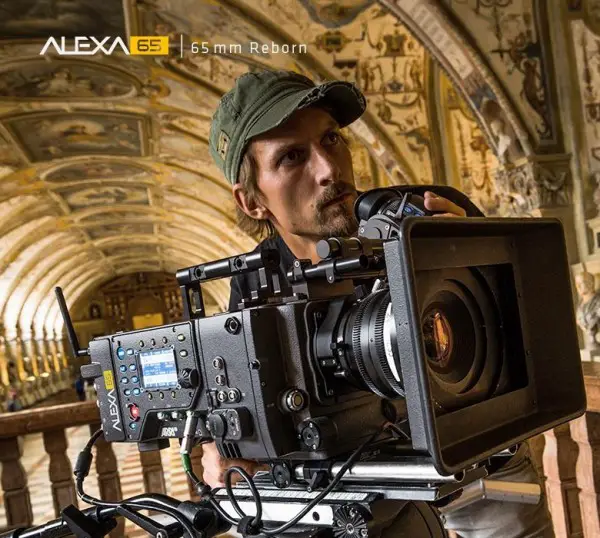 GoPro unleashed their long-awaited Hero4 giving it usable 4K recording and some high-frame rates at 1080p making GoPro the most popular camera in the world. Again. A constant fixture into any camera professional's bag or adventure junkie, the Hero4 Black, as well as previous versions, can be spotted on multi-million dollar productions as well as shoe-string budgeted ones too, proving it the most versatile camera sold today.
Post-NAB, Sony shook things up again later in the year during the IBC trade show in Amsterdam in the Fall announcing the FS7 – a full-fledged Super 35mm 4K XDCAM professional camcorder with an ergonomic shoulder design in a manageable size. Although it made a few F5/F55 owners angry at the fact the FS7 cost a lot less then their recently purchased F cameras, the $8K 4K camera quickly became the star of the show and alongside the Atomos Shogun, possibly the most awaited piece of 4K kit in 2014.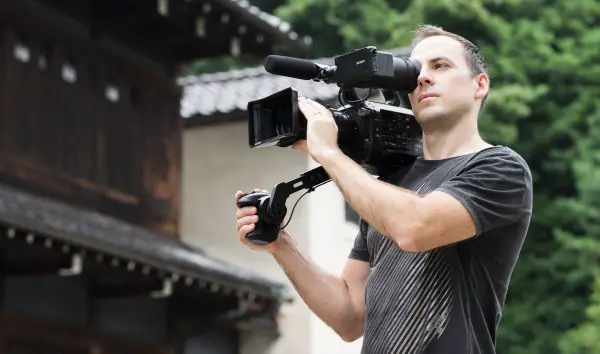 The FS7's ability to record 4K on-board in the Sony latest generation XAVC codec onto XQD cards and the built-in high frame rates up to 180fps in Full HD continuously, made a lot of folks (and competitors) wondering if Sony is not devaluing their 4K cameras and in essence competing with themselves in this segment, due to the lack of competition from arch-nemesis Canon.
Which brings us to 2015… What do we want to see in 2015 from Canon and other manufacturers. Here's my list in no particular order:
Need I say the magic words here?… 4K on-board in a decent codec please (ProRes is a stretch, but at least give us an equivalent 200+ Mb/s bit rate and 10-bit 422 colour sampling). Oh, and also price it accordingly under $10K. It's 2015, not 2011, a lot has changed in the industry. No more overpriced cameras. Just what is needed – new sensor, new 4K codec, ergonomics aside – a lot of folks are already used to the design of the original. Just make it shoot 4K and add decent slow-motion for 1080p. 1080p/60 doesn't cut it anymore, think 120fps. At least.
The C300 is adored by many DP's, producers and commissioners alike and for a good reason – it does what was needed in 2011 out of the box. Broadcast codec, good low-light, professional audio, ergonomics (?! not so sure, but like I said, we're used to it), but in 2015 that alone won't cut it anymore. Rumour is the next EOS Cinema camera we'll see at NAB 2015, whether it's called a C300 Mark II (why not the C100 has a Mark II now) or not, will have 4K on-board. It must have it. The game's changed, either play by the new rules or get out.
The C500 may be a stellar camera, but the lack of internal 4K recording and the five digit price tag, aren't exactly hot selling points, so I won't be surprised to see Canon drop it altogether after NAB 2015. Whatever they do, Canon need a solid 4K cinema camera if they are to stay in the digital cinema segment at all.
The same 4K on-board request goes for Sony too. Even at the expense of pixel-binning, 4K on-board is indispensable. That's why I'd pick up a GH4 over an A7s personally. The A7s is a staggering achievement in mirrorless technology, no doubt about it. But its "Achilles heel" is the lack of on-board 4K recorder. Fix it Sony! Oh, and add 5-axis stabilisation from the A7II while you're at it. 10-bit 422 on-board too, but I am getting ahead of myself and I don't want angry F55 owners emailing me at 4 am telling me they took a loan out to buy a real camera…
OK then, 8-bit 422 in-camera seems maybe a bit more realistic, but as as the tide is turning and more and more manufacturers see the light that it is no longer about market segmentation and product life cycles, but about more and more shooters using an A7s as a B-cam to an F5 or an FS7 or a C300…
More of the same, but better. Better sensor for low-light, higher bit rate in internal 4K at least 200Mb/s. Ditch the YAGH box, no one bought it anyway. 4K/60p – internal – that's the next logical step. 10-bit 422 internal? Why not?
Panasonic AF101 Successor
It's been a long time, and it makes me wonder if Panasonic forget about their first large sensor camera – the much beloved AF101. I used to own one and utterly loved it. Some speculate we'll never see an AF101 successor, as they argue that Panasonic considers the GH4/YAGH combo a good enough successor… I beg to differ, maybe Panasonic are too busy now trying to make up for the 2 years they worked on their Varicam 35, which is a spectacular 4K specimen, but aimed at a much higher customer base.
The AF101 is due a worth successor and I hope to see one at NAB 2015 sporting a 4K AVC Intra/Ultra badge, a new Micro 4/3 sensor and a fitting design for an all-purpose large sensor camera. Do it, Panasonic, there's a lot of us waiting to jump ship to Sony or Canon, and some have already done so long time ago.
More H.265 in Mirrorless/Large Sensor cameras and NLE support
Sure the Samsung NX1 may have been the first to feature this codec, and it makes sense, H.264 compression is getting old, and the benefits of the next generation are evident. We just need better NLE support so we don't have to transcode and get back to 2010 again. Adobe, definitely Adobe needs to step up here.
Blackmagic Pocket 4K version
Rumours are some 4K BMPCC's are out in the wild with beta testers, but until NAB, this will probably remain just a rumour. The original Pocket has been around for some time now, and given Blackmagic's tendency to bring out new cameras every year, I'd love to see a 4K version of the Pocket Cinema Camera in the same form factor, it just makes sense. A bump to a Super 35mm sensor size maybe asking for too much, but BMD know people want it. I don't know if it's technically possible due to the lack of cooling fan in the tiny BMPCC, but a 4K version we definitely be the next step in the evolution of the smallest digital cinema camera.
What about you guys? What do you want to see in 2015? Let us know if the comments below. Happy New 2015!
Claim your copy of DAVINCI RESOLVE - SIMPLIFIED COURSE with 50% off! Get Instant Access!