Australian based Rode Microphones, who make some really awesome microphones (I still use my RODE VideoMic Pro and NTG2 on a daily basis), just had their biggest product launch in the companies history. Easily associated with high quality microphones for broadcast and film production, the exclusive event, dubbed the "RodeShow 2015" in San Diego turned out to be a sound recordists' and ENG cameraman/woman "mini-NAB" with multiple product launches including new shotgun microphones, audio production ribbon mics, and a new wireless radio mic system at a very aggressive price point. The road to NAB just got more interesting, as more and more companies are going the "exclusive event" route instead of choosing a major trade show for big announcements, possibly due to the fact that there are so many product launches and announcements at shows like NAB, that many companies get overshadowed by announcements from competitors.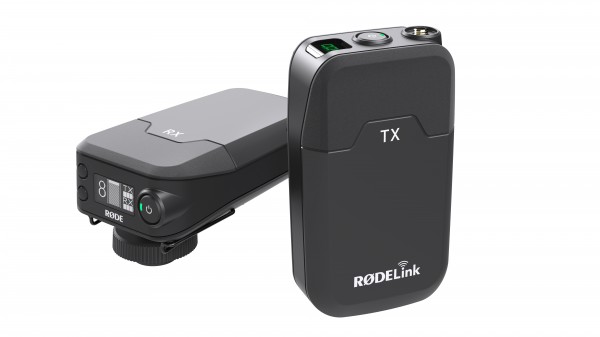 The first one out the gate, is the RODELink Wireless System. RØDELink represents the next generation of digital wireless systems, using a series II 2.4GHz digital transmission with 128-bit encryption, it is able to constantly monitor and hop between frequencies to maintain the strongest possible signal level at a range of up to 100 metres, yes Meters, not feet! For our friends not familiar with the metric system – that's over 100 yards!
The RØDELink Filmmaker Kit provides everything you need to start shooting video wirelessly, including a receiver, transmitter and broadcast-grade lavalier microphone. The receiver (RX-CAM) features an OLED display with information on level, battery status (receiver and transmitter), mute and channel selection. The unit can be mounted on a standard camera shoe mount, 3/8″ thread or belt-clip, and for added versatility the shoe mount can be located in one of two positions.
The lightweight transmitter (TX-BELT) can be fitted to a belt or clothing and features a locking thread to ensure the microphone connection is as secure as possible. RØDE's omnidirectional Lavalier microphone is included in the kit to provide the highest possible audio reproduction quality.
RØDELink Filmmaker Kit Features
Series II, 2.4GHz digital transmission
128-bit encryption
Up to 100 metres range
OLED display (on receiver)
One button pairing
Three level gain control
AA battery or USB powered
Includes RØDE's broadcast Lavalier microphone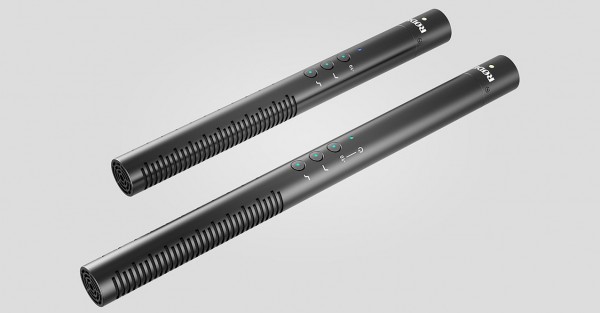 Next are the successors of the venerable NTG1 and NTG2 shotgun mics – the new NTG4 and NTG4+. These mics are next generation microphones with some really useful new features such as digital switching via buttons and LED indicators, and a built-in battery (NTG4+ only) which can be recharged in less than 2 hours from any USB power source such a power bank, laptop, or a power socket. The most impressive of which is the 150+ runtime of the battery.
NTG 4 Features:
Super Cardioid Broadcast Quality Sound
Low Noise Circuitry
Condenser Transducer
Rugged Metal Construction
On-Board Power Button and LED
High Frequency Boost Button
High Pass Filter (Flat or 75 Hz)
-10 dB PAD Button
Low Handling Noise
Ten year extended warranty with online registration
NTG 4+ Features:
Super Cardioid Broadcast Quality Sound
Low Noise Circuitry
Condenser Transducer
Rugged Metal Construction
On-Board Power Button and LED
High Frequency Boost Button
High Pass Filter (Flat or 75 Hz)
-10 dB PAD Button
Low Handling Noise
NTG4 and NTG4+ Comparison Table (via RODE)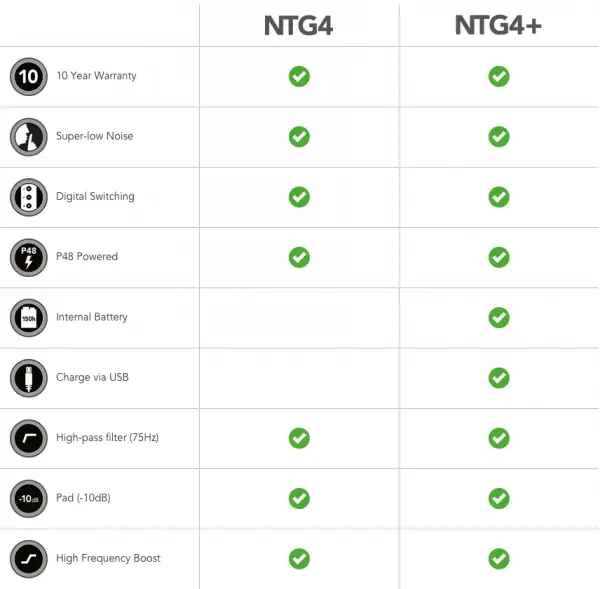 This is really exciting news from Rode, as wireless radio mic systems can be expensive and cost over $700 making it our of reach for many DSLR and low-budget filmmakers. I am definitely considering buying the system, as I mostly hire wireless audio kit such as the Sennheiser EW-100 G3 (most often) or the Sony UWP-D11 lately, and even though I do it on a project by project basis, having a decent wireless audio kit for corporate work and interviews makes a lot of sense in the long run. Come to think of it, I've rented them so many times, I could have probably bought a couple of G3's already.
The RODELink Filmmakers Kit is currently on pre-order with B&H for $399 and is expected to ship in March 2015.
The NTG4 and NTG4+ are expected to be available sooner than that in the first week of February, and are available to pre-order for $349 and $399 respectively.
Press Release:
RØDE breaks new ground with multiple product launch in 2015
Tuesday January 20th 2015, San Diego USA – Australian audio company RØDE Microphones has held the largest simultaneous product launch in the company's history, introducing multiple new products and categories at an exclusive event in San Diego, USA.
Considered by many to be the dominant force in audio for broadcast and film production over the past 10 years, RØDE has solidified this reputation with the launch of the RØDELink Digital Wireless System. A fully-digital wireless audio system, RØDELink utilizes a next-generation 2.4GHz, 128-bit encrypted digital transmission sent on two channels simultaneously, providing a high-resolution 24-bit/44.1k digital audio signal at a range of up to 100 meters (over 100 yards).
The RØDELink system will consist of a number of receiver and transmitter options, and will be available in kits for specific audio solutions across film, news gathering, presentation and stage use. The first of these to be released – The Filmmaker Kit, will consist of a beltpack transmitter, on-camera or beltpack receiver, and RØDE's broadcast quality Lavalier microphone.
"We're very excited to announce the launch of the RØDELink fully-digital wireless audio system. Continuing RØDE's mission to provide premium performance products at an accessible price, the RØDELink system will be one of the most affordable wireless solutions on the market." Commented Peter Freedman, RØDE's Founder and President, at the company event in San Diego. "20 years ago RØDE revolutionized the home recording experience. 10 Years ago RØDE did the same in the video category. Now the time is right for a revolution in wireless audio capabilities, and I believe that RØDELink will become the category leader in a very short space of time."
The RØDELink Filmmaker kit will be shipping globally in April 2015. For more information, please visit www.rode.com/wireless.
Continuing to drive innovation in the broadcast audio industry, RØDE has also announced two new shotgun microphones, the NTG4 and NTG4+. Drawing on the success of the current RØDE shotgun mic range, but with a wealth of innovative features, the NTG4 and NTG4+ are set to once again define RØDE as the industry-standard for broadcast microphones for enthusiasts and professionals alike.
Starting with an all-new capsule, the NTG4 and NTG4+ exhibit lower noise and higher sensitivity, giving you cleaner audio at the source. On-board digital switching now controls a 75Hz high pass filter, 10db PAD and innovative high frequency boost which was first available on the Stereo VideoMic X, allowing you to compensate for any high frequency attenuation when using a DeadCat style furry windshield.
Enhancing the dual-powered flexibility of the NTG2, the NTG4+ comes equipped with an internal rechargeable lithium battery, a world first for a professional shotgun microphone. Providing up to 150 hours operating time, the battery is conveniently charged via any USB power source using the supplied MicroUSB cable.
The NTG4 and NTG4+ will be available globally in February 2015. For more information, please visit www.rode.com/ntg4.
Built on a foundation of studio microphone excellence, RØDE is once again set to re-define the studio microphone landscape with the introduction of the world's very best ribbon microphone, The RØDE NTR.
The NTR is unlike any ribbon microphone ever created. The unique design places the ribbon distinctly separate to the microphone frame and body, allowing the greatest possible acoustic transparency around the ribbon element and minimising resonance. The ribbon element itself is designed completely from scratch, using extremely fine aluminium that is only 1.8 microns thick – one of the thinnest ribbons in existence. An innovative, in-house, proprietary technique was developed to laser cut the ribbon, giving a level of precision and accuracy never before seen in a ribbon microphone.
Surrounding the ribbon element is a chemically etched all-metal layer of mesh – the same used on the SMR pop shield. This is extremely rigid while exhibiting super low density, resulting in greater acoustic transparency.
Married to RØDE's ribbon element is a high output, ultra-low noise, low impedance transformer. Combined with world-class active electronics, this allows the NTR to be used with a wide range of preamps without the additional gain requirements of many other ribbon offerings.
"It's always been a dream of RØDE's to create the world's very best ribbon microphone, but the time was never quite right." Exclaimed Damien Wilson, RØDE's Global Sales and Marketing Director. "As many of you know, our manufacturing capabilities have expanded dramatically over the past few years and now we're proud to say we have a facility unlike any other in the world. These expanded capabilities have allowed us to realize this dream, and bring the NTR to life."
An intricate blend of art and science, the NTR reaffirms RØDE as a world leader in microphones for studio recording of vocals and instruments.
The NTR will be available globally in February 2015. For more information, please visit www.rode.com/ntr.
Claim your copy of DAVINCI RESOLVE - SIMPLIFIED COURSE with 50% off! Get Instant Access!