We've previously covered the previous released by Cinemartin – such as their standalone Denoiser, their Free All-In-One Blu-ray to H.265 converter, as well as their ProRes & H.265 plugin for Adobe After Effects. Windows editors have been long demanding decent ProRes encoding for PC, and with the Cinemartin Adobe AE plugin this is a reality. And today, they are once again upping the ante by offering unprecedented 8K or Super Hi-Vision support with their latest offering. Read the full press release below:
Cinemartin is proud to announce Cinec 4.0, being the world first video converter featuring be able to convert / encode videos to 8K. Cinec 4.0 supports encoding and now scaling videos from / to almost any resolution; SD, 720, 1080, 2K, 4K, 6K, and 8K (TV and DCI). Cinec 4.0 is the first software encoder (and currently the only one) to integrate and produce H265 at up to 8K 422 10 Bit. Cinec now comes with a new codec, the VP9, that adds to its list of pro video codecs including prores, xdcam, etc.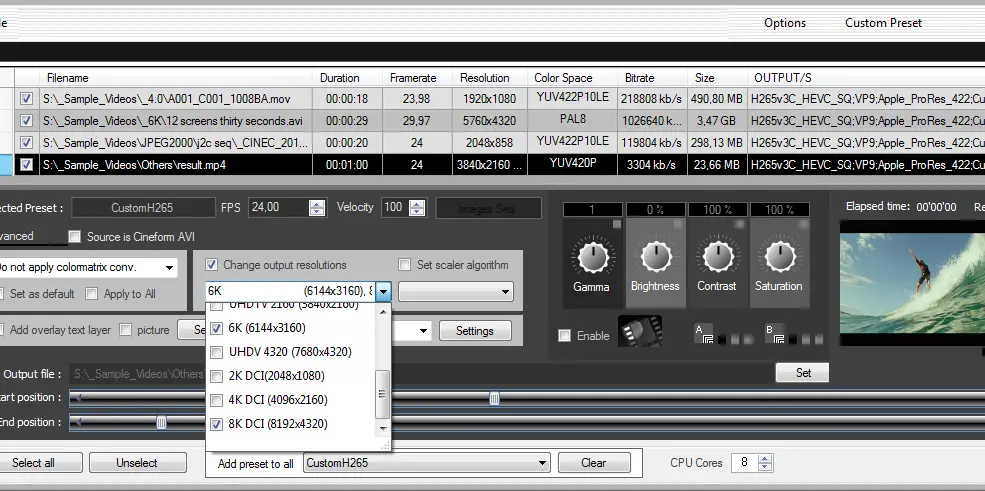 As the demand for high quality video distribution with smaller size – bandwidth has increased, Cinemartin decided to enhance HEVC H.265 and integrate a entry VP9 alternative, the google's codec response to H265. Other features now include a logos overlay, a LUT importer, a SPLIT feature, and other enhancements including support for 8 CPU cores.
8K – UHDTV
Cinec 4.0 is the first video converter / encoder supporting videos with resolutions up to 8K DCI compliant (8192 x 4320), including Sony F65 8K and RED Epic 6K among others. It supports almost any input file with resolutions up to 8K.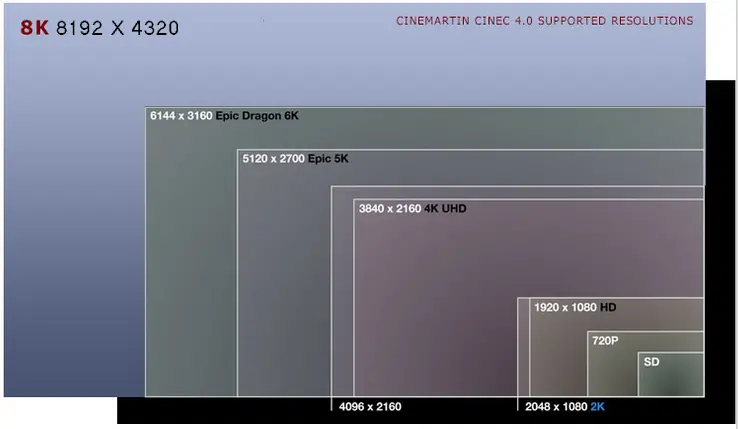 UP-SCALER / DOWNCONVERTER : SD – 8K
Cinec 4.0 features a video scaler that allows you to scale videos in almost any resolution between SD and 8K. This allow users of 1080p cameras to upconvert videos to 4K. 4K videos to 6K & 8K, ..almost all sources are compatible with Cinec, get the videos in 8K, from cameras like Panasonic GH4 or Sony A7S or Panasonic Lumix FZ1000, Sony AX100, PXW-Z100, FDR, F5 F55, FS700, AJA CION, Kinefinity, BMPC 4K.
Users are able to downscale videos from 3840 x 2160 or 4096 x 2160 to 1920 x 1080 clips, 2K – 1080p to 720 & SD etc ..
HEVC H.265 new revision allows to convert 500MB to 200KB With unnoticeable differences
Following picture is a video from a 46 frames Tif sequence (2 seconds) at 545 MB converted to H265v3 at 24 fps in a 271 KB file, download samples from here: http://www.cinemartin.com/cinec/_Sample_Videos/h265v3/tiff-to-h265/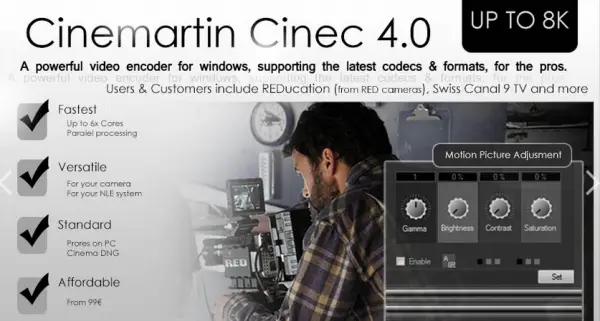 VP9
Cinec 4.0 is the first video converter to include a VP9 video encoder. VP9 codec is the google h.265 response offering similar features with some improvements and enhancments over HEVC H.265.
Custom Presets, Overlays, LUT-S, CROP / SPLIT, Up to 8 CPU cores, and other features just at the PR PDF, download from here: http://www.cinemartin.com/press/201502-cinec4/.
No other software supports all kind of input formats as Cinec. Cinemartin software is used worldwide and customers include REDucation & RED Camera, FOX, Panasonic, Sony, Microsoft Games, JVC Keenwood, EA, LG, Volkswagen AG, etc ..
More information about Cinemartin Cinec 4.0 video converter
http://www.cinemartin.com/cinec/
VP9 encoding video converter
http://www.cinemartin.com/cinec/vp9/
H.265 10-Bit
http://www.cinemartin.com/cinec/hevc-h265/
Video Scaler
http://www.cinemartin.com/cinec/scaler/
Claim your copy of DAVINCI RESOLVE - SIMPLIFIED COURSE with 50% off! Get Instant Access!