Earlier today, Canon officially announced their highly anticipated Canon EOS C300 Mark II professional camera. As expected it features 4K internal recording in a brand new Canon own XF-AVC codec, the ability to output 4K raw, 1080p/120fps and a similar form factor to its predecessor. The camera records onto CFast 2.0 media is expected to cost around $16,000 upon release in August/September. Pricing is not finalised and we hope it will be priced lower, but this may or may not change.
I had the rare opportunity to sit down with Canon a few weeks back and see what they've done with the C300 Mark II and their other new 4K camera, but couldn't talk about it until now as I was under NDA, which expired earlier this morning. Here's what I know about the Canon C300 Mark II – note: this article will be updated as specs come about. As Canon updates their PR materials and website, I'd be sure to update you on additional information about the new Canon C300 Mark II.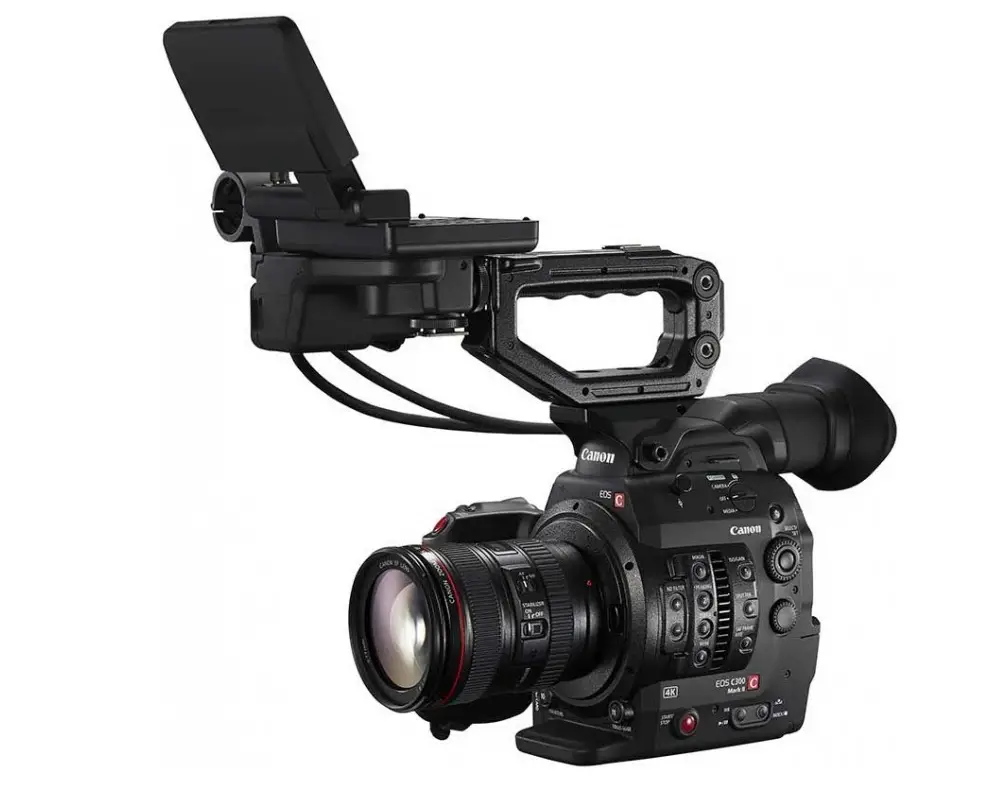 Features and Highlights
4K UHD and 4K DCI 10-bit 4:2:2 in 23.98, 24, 25, 30p
Brand New Super 35mm CMOS Sensor
15 Stops Dynamic Range
CFast 2.0 – dual slots for relay or simultaneous recording
XF-AVC 4K codec (350 Mb/s to 410Mbps) in MXF
DAF – Dual Pixel CMOS built in
Fast Sensor Readout for less Rolling Shutter Artefacts
New Processors – Dual DIGIC 5 Processors
10/12-bit 4:4:4
2K crop mode
1920 x 1080 up to 120fps slow-motion recording in camera
12bit 4K RAW recording to external recorder
dual DIGIC DV5 processors
dual CFast 2.0 slots
4 Channel Audio
A lot of you will compare the C300 Mark II to the Sony FS7, but Canon disagree. When I asked them, they said the new C300 Mark II will outperform the FS7 despite not having 4K/60 and 1080/180fps. Canon are very proud of their new 15 stop DR sensor and their brand new 4K codec. Whether that's the case is yet to be see as I am sure towards the end of the year we'll get a slew of FS7 vs Canon C300 II comparison tests videos.
Either way, I am glad to see Canon seeing the light and getting proper 4K in-camera for their new flagship camera. No word yet on a C500 refresh, and I am guessing this may be left for next year's NAB or later in 2015.
Check out more info on Canon's 4K codec below.
XF-AVC: Primary specifications
Resolution
Bitrate
Color sample
Intra Frame2
/ Long GOP3
File format
Compression format
4K
4096 x 2160
10 bit
8 bit
4:2:2
Intra Frame
MXF
MPEG-4
AVC/H.264
3840 x 2160
2K/HD
2048 x 1080
12 bit
10 bit
8 bit
4:4:44
4:2:2
4:2:0
Intra Frame5
/ Long GOP
1920 x 1080
1280 x 720
8 bit
4:2:2
PRESS RELEASE
TOKYO, April 8, 2015—Canon Inc. announced today the development of XF-AVC, a new proprietary video format for the efficient recording of high-image-quality 4K, 2K and HD video footage. Mainly targeting professional-use 4K video camcorders, XF-AVC will deliver enhanced workflows across various stages of the production process, from shooting to editing.
In recent years, the widespread use of digital data in cinema and video has become commonplace throughout the entire production workflow. Accordingly, amid growing demand for high-image-quality video, there have been increasing opportunities to record in 4K resolution video, which employs more than four times the number of pixels used in HD content. In light of this trend, Canon developed its XF-AVC video format to support greater workflow efficiency and convenience during the production process for high-image-quality video.
The new Canon XF-AVC is a standard that defines each recording method for the visual and audio data components that make up individual video files. Because XF-AVC employs the MPEG-4 AVC/H.264 video compression format, which realizes a high data-compression rate without sacrificing image quality, it supports the efficient recording on memory cards of high-image-quality 4K, 2K and HD video content captured on video camcorders. As a result, not only can external storage and other equipment required during shooting be kept compact, because it enables the recording of high-image-quality video data, the format also facilitates color grading and other high-precision editing processes.
Canon will employ XF-AVC primarily in the Company's 4K-compatible professional-use video camcorders, such as the XC10 (to go on sale in mid June 2015) and EOS C300 Mark II (to go on sale in early September 2015). Additionally, by collaborating with various industry manufacturers in connection with the new video format, Canon will deliver improved ease and convenience during cinema and video production workflows for high-image-quality video.
Disclaimer: As an Amazon Associate partner and participant in B&H and Adorama Affiliate programmes, we earn a small comission from each purchase made through the affiliate links listed above at no additional cost to you.
Claim your copy of DAVINCI RESOLVE - SIMPLIFIED COURSE with 50% off! Get Instant Access!