There are plenty of incredible 4K cameras coming our way later in 2015 such as the newly announced Blackmagic URSA Mini 4.6K, the Canon CX10 4K hybrid, as well as the new C300 Mark II. And if there is one common feature among them, other than the fact that they can shoot in 4K in various resolutions internally, it is the fact these all use CFast cards as their native recording media. The original Blackmagic URSA and ARRI Amira, which are relatively new even though they've been around for a bit over a year also use CFast 2.0 as recording on-board media. However, they are two cameras at opposing sides of the spectrum – one on the lower end of the price scale, and the other at higher end. Despite that, they share the same media, and current prices of CFast 2.0 cards are still much higher compared to SSD for example.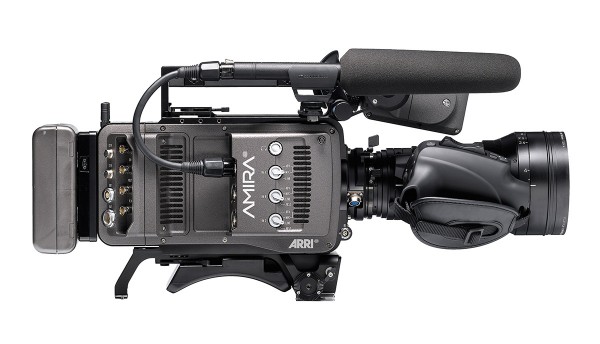 It's one thing to buy a £35,000 camera and another to buy a £3,500 one, but still have to shell out £400/€500 per card. AMIRA owner/operators can definitely afford the higher cost of CFast media, but it's the URSA guys and the future URSA Mini and XC10 crowd that is and will be feeling the pinch.
CFast 2.0 is currently primed as the next media standard for 4K acquisition and already heavily featured in just about any new 4K camera announced this year, and although it is designed for high data rate, high resolution capture, it's still very far off from being anywhere near affordable. But that's the price we have to pay for technology advancement, and as with any new piece of tech, be it media or else, it will cost more in its infancy until it matures enough where it is widely adopted.
So if you're an URSA owner, or if you're considering buying the new URSA Mini, what choice do you have when it comes to media? Luckly, the C-Box SSD System, an innovative solution seeking your support on Kickstarter, is here to help you save some money.
The C-Box is a Dual-SSD bay which interfaces directly with your CFast camera, while being powered-off of any Anton Bauer or V-Lock plate via standard 5V output. You can even use mobile device battery packs to power it.
Check out his pitch video below.
Apart from saving some $$$, SSDs are available in larger capacities such as 1TB for example, allowing for longer recording time, which event shooters require. Read more on the features and benefits of the C-Box below.
Features & Benefits
Truly Uncompressed Footage – This is not an external recorder, it is a way to record your camera's highest quality footage directly to SSDs. External recorders require the camera to which they are connected to send a video signal which then must be encoded by the recorder. Most professional-grade external recorders will only handle up to 4K resolution footage and with a limited number of frame rate options. With the C-Box system you can record all of the frame rate and resolution options that your camera offers for internal cards, directly to external SSDs.
No Camera Modifications Necessary – The C-Box does not require any internal modification of any kind to your video camera. It's truly "plug and play.
Easily Attaches to Modern Rig Setups – With a standard quarter-inch screw thread, you can hook your C-Box to any tripod, light stand, ball-mount, or magic-arm with that size thread.
Use Any SSD You Want – Sustained write speeds for solid state drives varies from manufacturer to manufacturer, and we'll happily suggest our favourites; but you are welcome to use any SSD you want on the C-Box system. We do not require anyone to buy proprietary drives from us.
Have Confidence in Your Data Rates – As of this Kickstarter's launch, the fastest CFast card we could find boasts a maximum sustained write speed of 440MB/s, compared to over 500MB/s boasted by numerous solid state drive manufacturer's highest-performing products.
Draw Powered From Your Anton Bauer, V-Lock, or Wall-Mount Power Supply – The C-Box system comes equipped with a standard 2.1mm x 5.5mm DC female power port. Use this with any 5V 2A power supply and you're ready to go. We recommend using at least 2 amps of power in order to ensure proper powering of device and all connected drives.
Dual-SSD Bay – Plug in two of your favorite SSDs to take advantage of the advanced data-management options on CFast cameras which feature two CFast ports.
Your Camera Can't Tell the Difference – This means you can manage the C-Box system directly through your camera's normal memory management interface. No need to handle multiple interfaces before shooting takes.
Save Thousands – We encourage you to go and look at the price of current CFast cards and compare them to the cost of current top-of-the-line solid state drives. At the time of writing, we calculate a savings of $4,000 or more when using the C-Box system and two 1TB solid state drives compared to the cost of equivalent storage space in high-performance CFast cards.
Longer Record Times – Record up to 4 times longer before needing to swap media with the use of 1TB solid state drives in place of 256GB CFast cards.
First Wave C-Box Systems Arrive in August 2015 – For those of us who have already pre-ordered select CFast cameras, this means a ready-to-shoot rig arriving all around the same time.
A Little Info From The Stress Tests:
During continuous filming sessions over an hour long (average of 3 hours of continuous activity), my SSD of choice – the Samsung 850 Pro 1TB – reached a maximum temperature of approximately  30 degrees cooler than the specified safe operation range posted by Samsung. Additionally the same SSDs ran cooler in the C-Box system than they do inside of the Blackmagic Cinema Camera (2.5K version).
Not a single frame was dropped or corrupted at 4K uncompressed raw 60fps when the camera was recording in dual card mode (Samsung 850 Pro 1TB)
Not a single frame was dropped or corrupted at 4K uncompressed raw 30fps when the camera was recording in single card mode (Samsung 850 Pro 1TB)
I've successfully powered the C-Box system via a 5V 2A cell phone charger, 5V USB port in a Lanparte V-Lock plate, 5V DC port in a Lanparte V-Lock plate, Blueshape's D-Tap to 5V 3A USB cable on an Anton Bauer plate as well as a Lanparte V-Lock plate, and even off of a 5V 2.4A USB port designed for iPads on a mobile backup battery (rated 22,400mah it powered the C-Box system for over 10 hours of continuos activity)
Early bird specials for the C-Box start at at $250 and will ship in August 2015. The C-Box is expected to retail for about $500 after the campaign ends, so better jump on those early bird specials while there's still time. Head over to the C-Box Kickstarter campaign for more info.
Claim your copy of DAVINCI RESOLVE - SIMPLIFIED COURSE with 50% off! Get Instant Access!