Cinemartin's My Video Downloader 1.0.2 is already out in the field and continues to create buzz for users across the board. The revolutionary new YouTube video downloader by Spanish outfit Cinemartin is the first to bring batch downloads of up to 1,024 videos at resolutions up to True 4K (4096 x 2160) and then converting them using the latest HEVC H.265 codec, along with many other features such as clipboard detection, automated functions, partially downloads, Multi-Threading, and more.
Now you can download your favourite clips or entire playlists and video collections with a single click in no time. You can even select the desired resolution of targeted videos that you want to download. Due to the steadily growing demand and numerous requests we've produced a short video tutorial showcasing the most of the features of the first 4K DCI H.265 YouTube downloader.
First and foremost, if you want to download the app head on over to myvd.cinemartin.com and click on the download link. After downloading, Unzip the file and follow the instructions steps. The installation process is really simple and straight-forward and usually takes less than a minute.
Once the installation of MyVD is completed on your PC (at the moment there is only a Windows version), open the app, go to your browser of choice whether it's a Chrome, Firefox or Explorer and search for the video you want to download. In the above example, I've used Chrome. However , you can choose from various browsers such as Explorer, Mozilla Firefox, Safari and many others.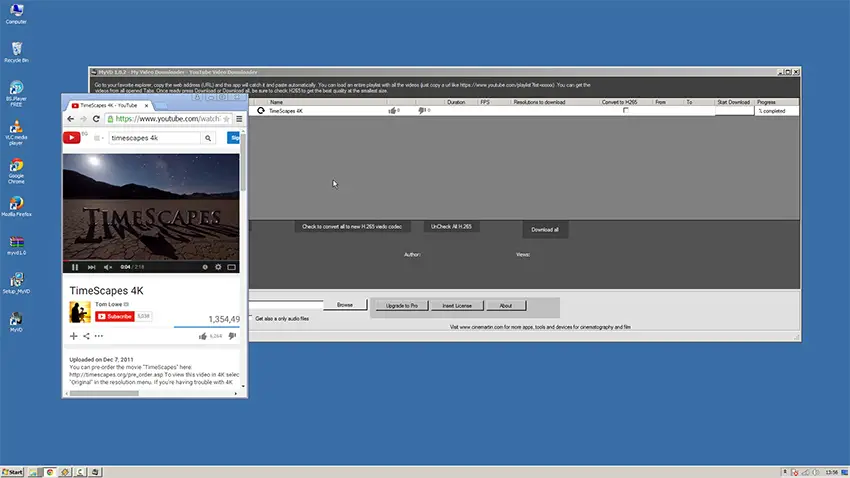 By coping the URL address of the video, the app will instantly paste the YouTube link within the app's browser where you'll find further information about the clip such as its Name, Duration, FPS, Resolution, the option to enable the H.265 conversion and a Download button.
Under the resolution tab, you can set a certain resolution size of the video you are about to download. Optionally, you can also choose a particular place on your hard drive where you want to store your files. Finally, to download the clip directly hit the Download button.
After the process is completed, open the output directory where you will find the downloaded YouTube videos. You can use either VLC, BS Player or any other software of choice to playback the downloaded video. Providing a Multi-Batch processing support My VD also let's you download up to one thousand and twenty-four clips simultaneously by copying Youtube's playlist URL.
You also have the option to get all videos open in your browser's tabs by clicking on the dedicated button.

Furthermore, If you want to take advantage of the full Multi-Threading and H.265 support you should consider upgrading to the ProVersion of the application. The H.265 HEVC support enables substantial hard drive space savings as videos downloaded are up to 50% smaller in the original YouTube format size, maintaining visually the same quality. Some of these features will be disabled after a 30 days trial of the Free Version expires.
Download the FREE version from Cinemartin here or Upgrade to the Pro Version to unlock H.265 and multi-threading at a Special Limited Time Promotional Price of €69 (around $78 / £55) by visiting our Store (regular price is €129).
Disclaimer: 4K Shooters is an authorised partner of Cinemartin and we receive a small commission from Pro Version sales of this app at no additional cost to you. Such commissions help us maintain the blog and continue to provide you with daily news. Thank you for supporting 4KShooters.net.
Disclaimer: As an Amazon Associate partner and participant in B&H and Adorama Affiliate programmes, we earn a small comission from each purchase made through the affiliate links listed above at no additional cost to you.
Claim your copy of DAVINCI RESOLVE - SIMPLIFIED COURSE with 50% off! Get Instant Access!