Some time ago we covered a couple of dirt cheap DIY solutions that provide more power and respectively longer battery life for the Sony A7s camera. The original NP-FW 50 battery is well-known for its mediocre performance as it barely keeps the A7s alive for more than an hour if you are lucky. Changing the battery of your camera system as frequently as swapping your media card can be quite annoying and frustrating experience, especially on a full shooting day. Generally, this is the last thing you should be bothering about while filming so investing in a more reliable external power solution is highly recommended.
Fortunately, Hawk-Woods offers an affordable professional dummy battery adaptor for the Sony A7s at a reasonable price. With more than 20 years of experience in the broadcast industry, the UK-based company offers a wide range of products including broadcast camera batteries, chargers, power adapters, cables, plugs and everything in between. Their LR-16 a7S dummy battery adaptor cable lets you utilise an external power source for extended run-times with the LR-16 dummy cable.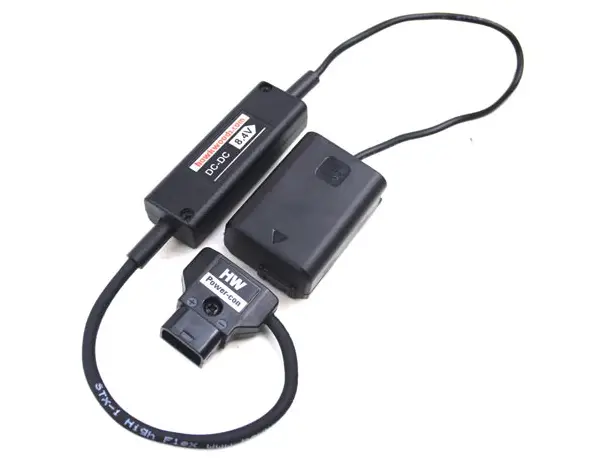 This allows the use of more powerful V-Lok batteries or if you wish to keep weight to a minimum you still can use smaller batteries that have a regular D-tap connection. You can easily attach the extension to your rig by using a touch of Velcro or simply connect it to the V-Mount battery or a power distribution plate directly on your rig.
The one thing that I really like about this adapter is that no further voltage regulation is required as the LR-16 is regulated to the correct volts the A7S requires. This is an essential feature for protecting your A7s as now you can easily extend the battery life preventing your camera from accidental damages due to using a wrong power supply. Many of DYI solutions can also be a great substitute, however, a dedicated professional solution like this is definitely a more reliable option.
The adaptor's retails for £76 excluding VAT  in the UK. If you are interested you can learn more about the LR-16 a7S dummy battery adaptor cable and the rest of the Hawk-woods products by visiting the company's website here.
[via: News Shooter, source: Hawk-woods]
Claim your copy of DAVINCI RESOLVE - SIMPLIFIED COURSE with 50% off! Get Instant Access!