Remember that tiny 4K MFT drone camera we wrote about last month? We'll now it looks like the creators of the Z E1 camera have turned to Kickstarter to raise funds get this camera in your hands. The E1 camera from Z is the smallest 4K ultra-high definition camera with an interchangeable lens system. The E1 features Wi-Fi 802.11N, Bluetooth Low Energy (BLE), and has the Ambarella A9 image processor at its heart. Cinema-quality 4K 4096 x 2160 video at 24 frames per second or UHD video capture at 3840 x 2160 at 30 frames per second with H.264 compression is possible. Advanced 3D noise filters using motion compensated temporal filtering (MCTF ) technology reduces noise and jitter. This allows for incredible low-light performance with the camera's ability to shoot at up to 102,400 ISO while maintaining high image quality, up to 6400 ISO.
Features
4K (4096×2160) at 24fps
4K UHD at 30fps
1080/60p and 120fps in 720 slow motion
Controllable via smartphone
Micro 4/3 sensor and mount
Advanced 3D Noise Reduction
ISO up to 102,400
Open platform for additional functionality
$699 target price for retail.
Early bird pricing available for Kickstarter backers
The mini 4K camera segment is growing fast, with two models from Blackmagic Design – such as the Micro Cinema camera and the Micro 4K Studio camera announced at similar price points. Unlike the BMD cameras the E1 does feature a back LCD screen, which despite the low resolution of 320×240 is better than none. Of course the BMD Micro cinema camera can take an HDMI monitor but that's an additional expense which bumps up the cost.
With it's wireless functionality, MFT sensor and mount, plus versatile recording options in variety of resolutions including 4K DCI, the E1 camera is sure to give the GoPro Hero4 Black a run for it's money when it comes to aerial photography as well, and if the footage is as good as the manufacturer claims, this should be a rather interesting camera. See more about it below.
About Z Camera
Z was founded in March, 2013 by a vibrant team of digital imaging and information technology experts. We love to dream, create images, create video and push the boundaries of electrical engineering. Our goal is to separate ourselves from traditional photo and video products by rethinking things from the ground up.
"After spending years in the camera industry, I realized that most companies are much more interested in cutting costs of their current products than investing in developing new ones and listening to what people want," said Jason Zhang, engineer and creator.
Technical Specifications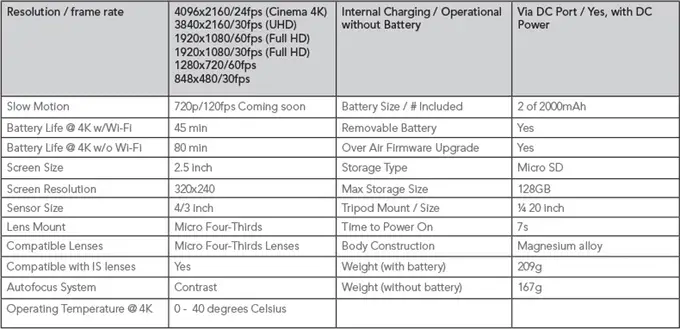 E1's advanced focusing technology allows for continuous autofocus in both photos and video. By using different sensitivity settings, it ensures that users will not lose track of a subject while filming. And for users who are traditionalists and prefer to pull manual focus, the E1 offers an intuitive platform, featuring an automatic, on-screen zoom preview for crystal-clear focus.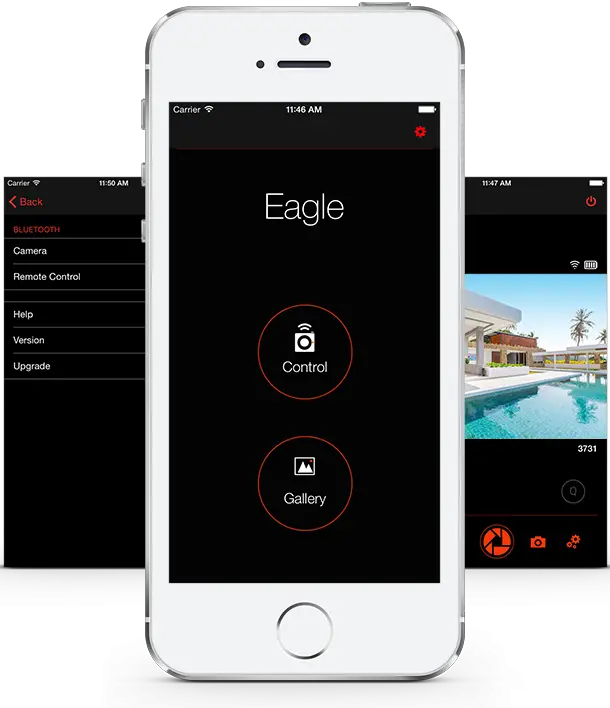 Connect & Control
Our proprietary applications for iOS and Android, are already available in the Apple App Store and Google Play. These apps provide users the ability to control, live stream and manage content via their Wi-Fi or Bluetooth 4.0-enabled devices.
The ultra-low 200-300 millisecond latency allows for easy streaming and seamless content downloads to any Android or iOS device, which makes an exceptional experience for capturing documentaries or shooting live events. A videographer can mount the E1 from the ceiling prior to the event using a standard tripod mount accessory. Aftermarket accessories area easily added in a snap to the E1's standard 1/4"-20 tripod mount.
Since its launch, the campaign has already reached it's funding goal of £42,000 and as of the time of writing of this article, the team behind E1 have raised over $125,000. Early bird special prices at $599 are still available, but likely to be gone really fast.
The E1 is estimated to ship Nov/Dec 2015. To claim your and support them, head over to Kickstarter.
[via Planet5D]
Claim your copy of DAVINCI RESOLVE - SIMPLIFIED COURSE with 50% off! Get Instant Access!