Metabones makes some truly revolutionary accessories for a wide range of today's 4K and non-4K cameras, enabling users to adapt almost any glass out there to their short flange distance camera bodies with E-mount and Micro Four thirds mounts among others. Remember that new Speed Booster we wrote about a few weeks back that was going to be available or announced in the Fall? Well, looks like Metabones just announced it – it's a brand new addition to their Speed Booster ULTRA line of focal reducers and it's called the Speed Booster ULTRA 0.71x designed for Micro Four Thirds cameras like the Panasonic GH4 and Blackmagic Pocket Cinema Camera.
Like the ULTRA series for Sony E-mount, the new Speed Booster ULTRA for Micro Four Thirds mount cameras uses an advanced 5-element 4-group optical design incorporating ultra-high index tantalum-based optical glass.  However, the new design is specifically optimised for the Micro Four Thirds sensor and filter stack, and as a result achieves an astonishing level of performance that sets a new standard for focal reducers.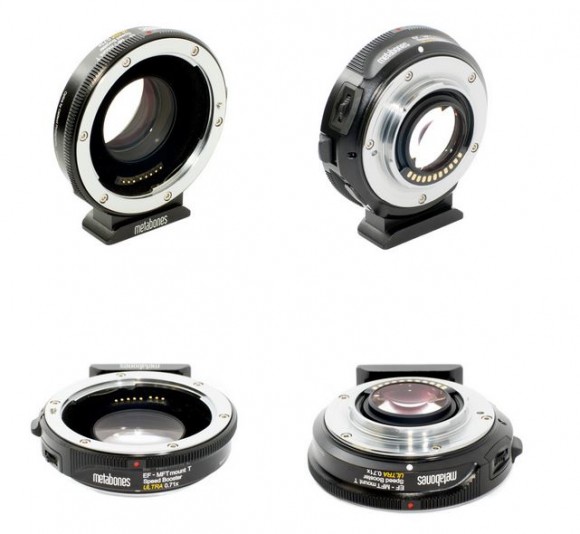 The Speed Booster ULTRA 0.71x adapts Canon EF lenses to Micro 4/3 mount cameras like the Panasonic GH4 and reduces the crop factor in 4K (4096 x 2160) Cinema mode to 1.66x from the normal 2.3x. For comparison, the Speed Booster XL for the GH4 reduces crop to 1.5x in 4K, which is as close as possible to the Super 35 sensor format. The UTLRA does use more advanced quality glass, which can make the images sharper corner to corner, however the XL Speed Booster will give you a more slightly wider image closer to that of Super 35.
What the actual difference in image quality between the two speed boosters is yet to be tested, although I doubt with be visible without heavy pixel peeping, which your client's and probably you, will never notice.
The new Speed Booster ULTRA for Micro Four Thirds also supports Contrast-Detect auto-focus on Panasonic MFT cameras. (For a list of supported lenses scroll to the bottom of this post). Like the revolutionary original Metabones Speed Booster announced in January 2013, the Speed Booster ULTRA m43 has a magnification of 0.71x, and so it effectively reduces the crop factor of mirrorless Micro Four Thirds mount cameras from 2.0x to 1.4x in Full HD.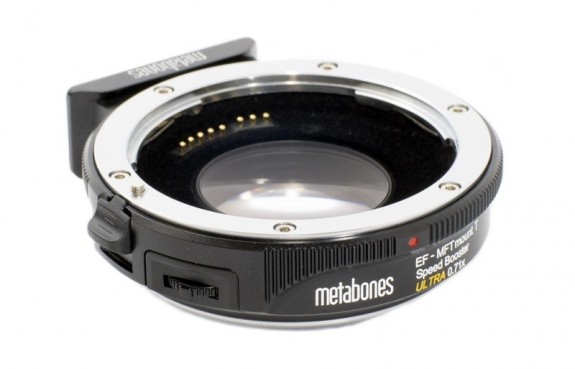 However, the new ULTRA design makes very effective use of exotic materials at the furthest limit of glassmaking technology, and as a result is almost perfectly corrected for use with all full frame SLR lenses regardless of aperture.  The Speed Booster ULTRA m43 will also work extremely well with many DX and APS-C format lenses provided the image circle of the lens is large enough.
Like all Metabones Speed Boosters, the Speed Booster ULTRA m43 is optimized to correctly account for the camera's filter stack located near the sensor surface.  This is especially critical at the extremely large apertures made possible by Speed Booster technology.  As a result of this careful optimization, an enormous range of full-frame optics, ranging from vintage film lenses to the latest digital designs, will function flawlessly when adapted to Micro Four Thirds camera bodies.
Compatibility Chart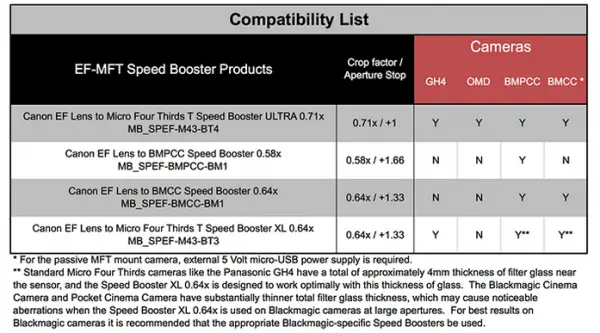 Metabones Speed Booster ULTRA EF to Micro 4/3 Specifications:
Model Code:  MB_SPEF-m43-BT4 (Canon EF mount), MB_SPNFG-m43-BM3 (Nikon F/G mount)
Color: Black Satin exterior; Black Matte interior
Magnification:  0.71x
Crop Factor for Full Micro Four Thirds format:  1.42x
Crop Factor with GH4 in Cinema 4k (4096 x 2160) Video Mode:  1.66x
Maximum Output Aperture:  f/0.90 (with f/1.2 lens attached)
Rectilinear Distortion:  < 0.7%
Lens Elements/Groups:  5/4
Length Reduction:  5.5 mm
Camera Mount:  Micro Four Thirds
Compatibility:  All Micro Four Thirds cameras are supported
Image Format:  17.3 mm x 13.0 mm (full Micro Four Thirds format)
Lens Mounts:  Canon EF and Nikon F/G at release; other mounts to follow in the near future
Lens Compatibility:  Any full-frame (36 mm x 24 mm format) SLR lens with the appropriate mount can be used.  DX format lenses can be mounted but may result in vignetting when the full Micro Four Thirds format is used, depending on the lens. DX lenses are fully supported when used on the Panasonic GH4 in Cinema 4K mode, and will function without abnormal vignetting.  Canon EF-S lenses are not supported, but third-party EF-mount APS-C lenses can be mounted and will have full electronic functionality.
Autofocus supported for Canon EF version subject to the following known limitations:
Contrast-detect autofocus support on Panasonic cameras only.
AFC (continuous AF) and AFF (flexible AF) modes are not supported.
Video AF may hunt more than a native lens.
Autofocus is not supported with previous generation Tamron VC lenses and Contax N lenses modified to EF mount by Conurus Canada. (Newer Tamron lenses such as the 24-70/2.8 VC A007 and 70-200/2.8 VC A009 work fine.)
Switching from manual focus or full-time manual focus (FTM) to autofocus may occasionally result in focus failing to lock or inaccurate focus. Activating autofocus for a second time will resolve this issue.
AF accuracy is lens-dependent.
Accurate
Inaccurate
Canon EF20-35mm f/3.5-4.5 USMCanon EF24-105mm f/4L IS USMCanon EF35-80mm f/4-5.6Canon EF40mm f/2.8 STM

Canon EF50mm f/1.2L USM

Canon EF50mm f/1.4 USM

Canon EF70-200mm f/2.8L IS II USM

Canon EF70-300mm f/4-5.6L IS USM

Canon EF85mm f/1.2L II USM

Canon EF100mm f/2.8 USM macro

Sigma 18-35mm f/1.8 DC Art

Sigma 18-125mm f/3.8-5.6 DC HSM

Tamron SP 24-70mm f/2.8 Di VC USD A007

Tamron SP 70-200mm f/2.8 Di VC USD A009

Tokina AT-X PRO 11-16mm f/2.8 DXII

Canon EF50mm f/1.8 IICanon EF200mm f/2.8L II USMSigma 50mm f/1.4 EX HS 
Special Features:  Long-throw clickless aperture ring on Nikon F/G version; IS lens support, IBIS camera support, auto-exposure and in-camera aperture selection with Canon EF version.
Dimensions: 25 x 76 x 72mm for Canon EF version
Weight: 161 grams for Canon EF version
Tripod Mount:  Robust removable type with Arca Swiss compatibility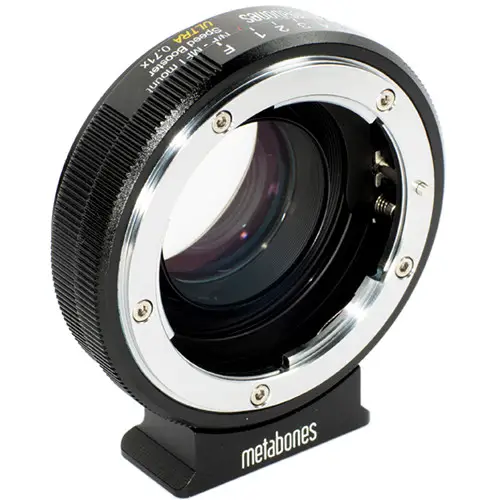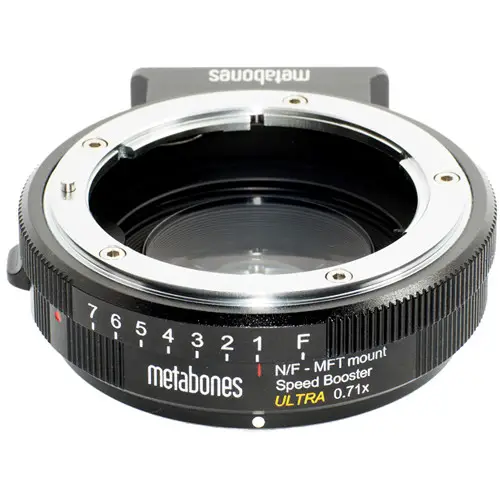 The new Metabones Speed Booster ULTRA 0.71x will come in Nikon F and Canon EF mounts and pricing will be around $479 for the Nikon version (this one will not have electronic contacts, so manual lenses only), and $649 for the Canon EF mount, which will support Image stabilisation, Auto-exposure and IBIS. First units of the Nikon mount ULTRA Speed Booster are expected to ship in Mid August, while the Canon EF version is expected sometime in October according to B&H.
For more information and MTF charts head over to Metabones.
[via 43rumors / source: Metabones]
Claim your copy of DAVINCI RESOLVE - SIMPLIFIED COURSE with 50% off! Get Instant Access!