The Panasonic GH4 maybe about a year and a half old already (where did that time go?.. really…) and even though in camera years this may be a nearing retirement and replacement, it is still a very viable option for getting into 4K for a reasonable amount of money whether you're a professional or enthusiast. Panasonic have been doing a great job at getting firmware updates out for the camera (and hopefully V-log L soon!) adding impressive features such as 4:3 Anamorphic shooting mode at 24p in the latest firmware 2.2 and while we're anxiously awaiting the next firmware with V-log L, you might want to check out what Metabones have been cooking lately for MFT sensor cameras like the GH4 and Blackmagic Pocket cinema camera.
Unlike the new Speed Booster XL 0.64, which comes in EF to MFT and Nikon to MFT mount versions, and has been specifically designed for the GH4 (even though it can be used on the BMPCC too) for a Super 35 (1.5x) crop in 4K, it looks like Metabones will release a Nikon F to MFT 0.71x Speed Booster ULTRA, which can be used on a majority of Micro Four Thirds cameras, with a full compatibility list to be released at some point around the time of release in October 2015.
Here's a snapshot from B&H: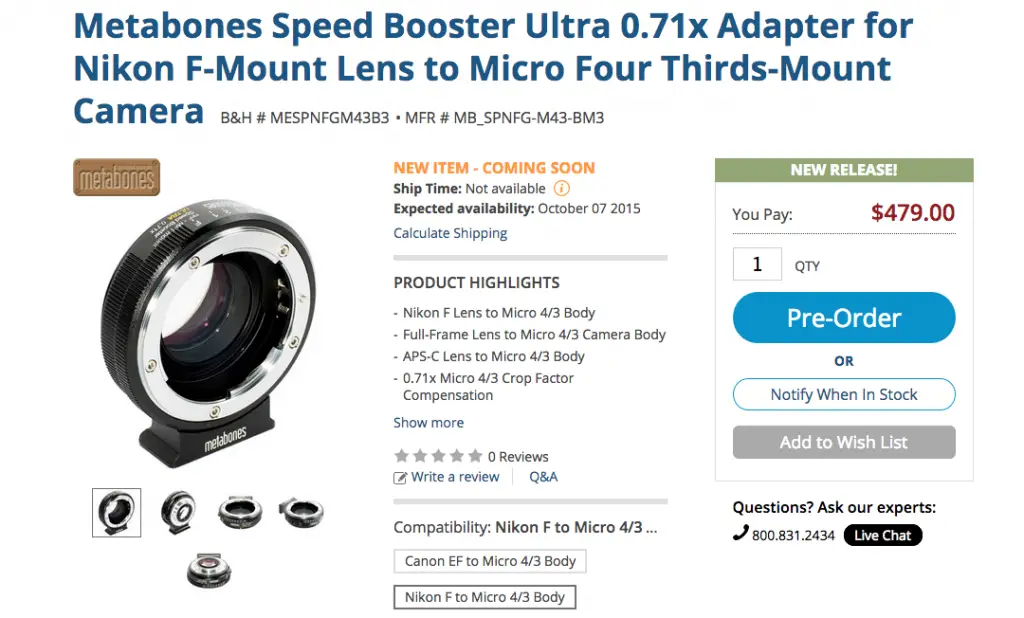 Here's what B&H has listed as features:
Allows a full-frame AI or post-AI as well as an APS-C Nikon-F mount lens to be used with a Micro Four Thirds-mount camera
Maximizes apparent angle of view of combined camera and lens
Provides a 1-stop increase for the camera over the lens's aperture range
Five lens elements in four groups for optical clarity as well as color fidelity
Detachable, Arca-Swiss compatible tripod foot with 3/8″ threads
Aluminum alloy components for weight reduction
Brass mounting rings prevent wear-and-tear
Locking mechanism for secure attachment of lens with push-button release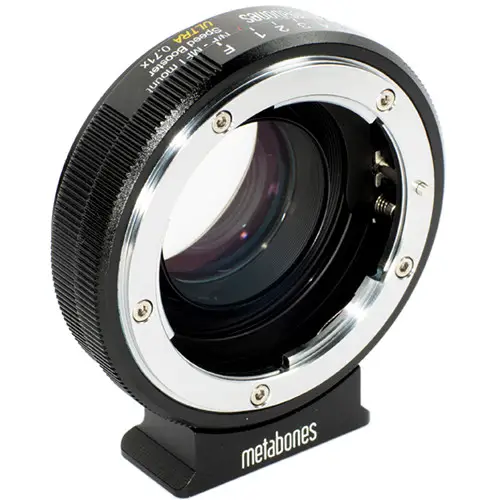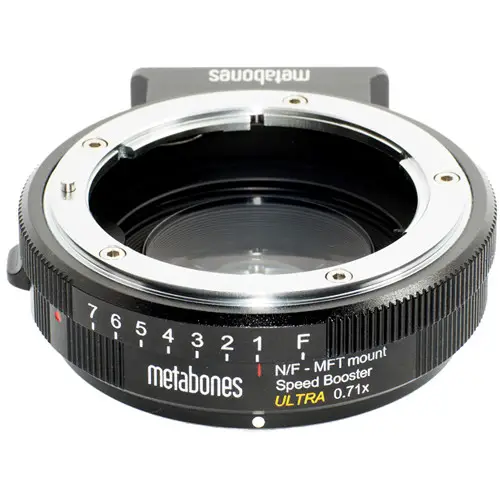 Naturally, the question arises what the difference between the XL 0.64 and the Ultra 0.71x Speed Booster is apart from the obvious crop factor – the XL Speed Booster will still provide a wider perspective for your lenses given its 0.64x crop compared to the 0.71x. For example in 4K a 50mm lens on the GH4 with the XL SB is 50 x 2.34 x 0.64 = 74.88mm, whereas the same lens will have a full-frame equivalent FOV of 83mm using the same formula with the new and upcoming ULTRA Speed Booster.
The ULTRA Speed Booster line, as illustrated by the currently available Canon EF to NEX (E-mount) Ultra Speed Booster ($649 at B&H), "utilises a new optical design featuring advanced 5-element/4-group optical design incorporating ultra-high index tantalum-based optical glass to achieve extraordinary optical performance with improved corner sharpness, distortion and reduced vignetting…"
I would expect the new ULTRA SB to perform exceptionally well, and if you're debating which one to get, given the fact that the XL Speed Booster is available now in EF and Nikon mount and calibrated for the GH4, for me the choice is clear. However, for those who'd want to use their MFT Speed Booster on multiple MFT cameras like the new Blackmagic Micro Cinema Camera, the BMPCC, or even the JVC LS-300 (which has a Super 35mm sensor with an MFT mount) holding-off until October might not be an option.
If you're wondering what the Sigma 18-35mm f/1.8 looks like on the GH4 with the 0.64 XL Speed Booster, check out this test below.
Panasonic GH4 + Sigma 18-35 f1.8 + BRAND NEW Metabones Speedbooster XL 0.64 (test) from Flapjack Films on Vimeo.
To join the conversation about the new Ultra Speed Booster and the 0.64 XL Speed Booster head over to DVXUser.com.
Links B&H:
Canon EF Lens to Sony E-Mount Camera Speed Booster ULTRA – $649
Nikon F-Mount Lens to Sony E-Mount Camera Speed Booster ULTRA – $479
Nikon F-mount to MFT Ultra 0.71x ULTRA Speed Booster Adapter – $479
Claim your copy of DAVINCI RESOLVE - SIMPLIFIED COURSE with 50% off! Get Instant Access!