Sure, there were a ton of camera upgrades in the iPhone 15 Pro announcement. There are the obvious improvements to image quality, ProRes, log shooting, ACES support, and all the lenses to choose from.
The coolest upgrade may be thanks to the USB-C port: the ability to record directly to an external SSD.
That is cool, but the iPhone isn't exactly set up to have an SSD hanging off of it.
Getting the iPhone rigged up in a reasonable way is going to be your next mission if you plan on shooting high-quality video with it. For that, you may want to check out this dope setup from michael tobin.
One of the things that makes the iPhone's camera revolutionary is its size.
A smartphone is already a small device and now they have multiple cameras built into them that have pro-quality features. Keeping the overall package small is important, though there are a few configuration options you can choose from.
Also, the addition of a USB-C port does result in a lot of questions about just how functional that port is—Apple isn't exactly the most open with their implementations of so-called "standards."
A question Michael looks into is whether or not the USB-C port supports dongles for multiple devices at once. He plugs one in that has a charging port and a data port and connects the other devices. It appears to work just fine.
Biggest Setup
You'll have some decisions to make if you want to build a rig for your smartphone. You could go for the sleekest possible setup. Or, you could build it out where you can throw every possible accessory onto it. This first config is going to be the biggest.
If you want to throw on some add-on lenses, have a ton of mounting points, a hefty grip, and more then this is the rig for you.
At the heart of this is the Beastgrip Pro Cage which has all the mounting points you'll need. He added a mini magic arm and an SSD holder to the top. This cage does have some lens options if you want them.
One concern of his is that the bottom of the phone (where the USB-C port is) is pointed at your grip. This has the cable for your SSD coming right at your hand where it could be bumped.
To fix this he added a nifty right-angle USB-C adapter to have the cable point straight up.
A final note is that lenses still have a purpose even though the latest iPhones have three good cameras.
The reason for using them is the main camera is still objectively better. So, if you want a wider (or longer) look and want to benefit from the best camera you'll still need to use an add-on lens.
This is the biggest setup if that's what you want. Most of you are probably looking for the next setup though…
The Smallest iPhone SSD Setup
This whole rig begins with a tiny 180-degree USB-C adapter. You'll need one that supports data transfer at decent speeds and that takes a small male-to-male adapter from the iPhone's USB-C port and essentially turns it around and provides a female USB-C plug that is turned around on the back of the phone.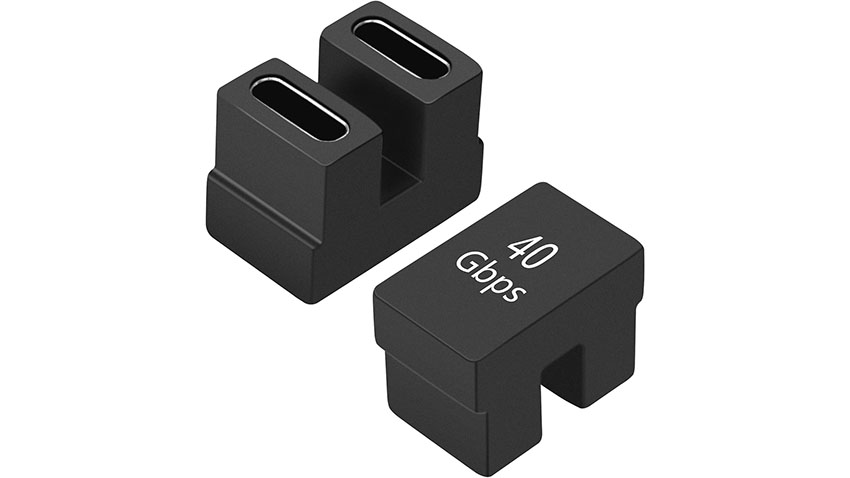 Then, he uses another USB-C male-to-male adapter to connect that side of the adapter to a super sleek SSD.
He actually picked up the Angelbird Pocket2Go SSD since it has a recessed USB port that protects it from being bumped around. And that's all you need to enjoy some SSD direct recording.
It isn't absolutely perfect. The rig can have some wobble since none of the components are absolutely perfectly mounted and flush with the phone. It's also a decent amount of weight you are putting on the USB points.
Michael addressed these concerns by gluing a few components together.
If you wanted to be even more serious you could use gaff tape or some sort of Velcro to secure the drive to the back of the phone better. That will mess with the look of the phone if that matters to you.
Functionally it is great though. If you wanted to always keep the drive on you could essentially add on storage to your phone on a near-permanent basis.
You'll have to check the size of any drive you want to make sure it keeps a sleek form factor and fits behind the phone. Something like the Angelbird or a non-rugged Samsung T7 seems to be the model that could work the best.
What do you think about this setup? Is it sleek enough to elevate your everyday camera without making your phone ridiculous?
[source: michael tobin]
Order Links:
Disclaimer: As an Amazon Associate partner and participant in B&H and Adorama Affiliate programmes, we earn a small comission from each purchase made through the affiliate links listed above at no additional cost to you.
Claim your copy of DAVINCI RESOLVE - SIMPLIFIED COURSE with 50% off! Get Instant Access!