Last week, lens adapter wizzards Metabones announced their long-awaited Canon EF to Micro Four Thirds Speed Booster had officially started shipping, thus making quite a few GH4 shooters very happy.
The specialised optical adapter turns the Panasonic GH4 and other cameras with a native Micro Four Thirds mount (such as the Blackmagic Pocket Cinema Camera or BMCC 2.5K MFT) into Super35 sensor cameras by "boosting" light transmission on lenses by a full f-stop in addition to increasing the field of view by 0.71x.
Thus your Micro Four Thirds sensor becomes a Super35 sensor with a 1.42x crop to Full-frame (instead of the standard 2x crop). Now some may say that some black magic (no pun intended) lens voodoo trickery going on here, but its a scientific fact – the Metabones Speed Booster adapters make your lenses faster and wider! See the Speed Booster white paper for more technical stuff on how the magic actually happens.
Another great thing about the Metabones Speed Booster adapters is that they support a multitude of lens mounts ranging from Minolta MD, Olympus OM, Leica R, Nikon G, Sony Alpha, Contax Yashica and others making it possible to adapt these lenses to a variety of camera mounting systems such as Micro Four Thirds, Sony NEX E-Mount, and Fuji-X. In essence, saving you money on having to buy lenses to match your camera mount.
For me coming from a Canon DSLR onto a Blackmagic MFT mount camera, this Speed Booster will be a life-saver as I can now fully use my EF glass on my BMPCC. Keep in mind there is a specific Canon EF to BMPCC speed booster (0.58x magnification and 1 and 2/3 stops light transmission increase), but I'd rather go for the regular MFT mount as this way I can use it on a GH4 for example, and this way I don't have to buy 2 x Speed Boosters, as they are fantastic piece of kit, but aren't cheap.
Despite the influx of competing budget-oriented brands of focal reducers, the Metabones optical and build quality is almost impossible to match, hence why some may say these adapters are selling at a premium. However, due to their quality and craftsmanship, Metabones adapters (both Speed Boosters and Smart Adapters) have become a must have accessory for shooters wanting to adapt their existing Canon/Nikon/Olympus lenses to their MFT/Sony NEX E-mount/Fuji-X mount camera.

Recently Metabones released a revised version of their (non-Speed Boosted) EF to Sony NEX E-mount Mark IV Smart Adapter primarily designed for full-frame mirrorless cameras such as the 4K capable Sony A7s. And now they are elevating their Speed Booster line with their new Metabones EF to Sony NEX Speed Booster ULTRA turning your Super35 sensor camera into a full-frame equivalent. 
Note: As the Sony A7s is a full-frame camera, the Speed Booster adapter needs to be used in APS-C Capture (crop) mode ONLY in order for it to work, otherwise it will vignette.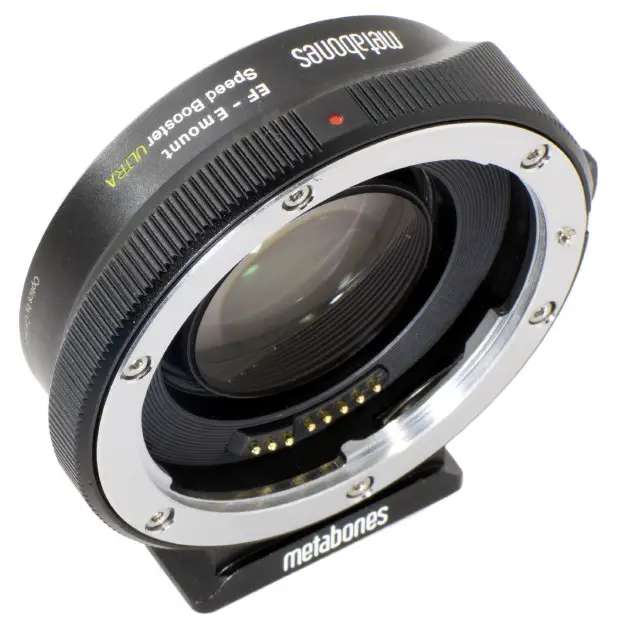 Metabones Speed Booster ULTRA Key Features
Increase maximum aperture by 1 stop.
Increase MTF.
Makes lens 0.71x wider.
Advanced 5-element/4-group optical design incorporating ultra-high index tanatalum-based optical glass.
Electronic integration of aperture diaphragm, controlled by or from the camera body.
Partial autofocus support for late-model (post-2006) Canon-brand lenses.
Powered by camera body – No external power source required.
High performance 32-bit processor and efficient switched-mode power supply.
The tripod foot is detachable and compatible with Arca Swiss, Markins, Photo Clam ball heads.
Here's what Metabones and Caldwell Photographic Inc. have to say about their latest Speed Booster addition:
Like the revolutionary original Metabones Speed Booster® announced in January 2013, the Speed Booster ULTRA has a magnification of 0.71x, and so it effectively reduces the crop factor of mirrorless E-mount and X-mount cameras from 1.5x to 1.07x.

However, the new ULTRA design makes very effective use of exotic materials at the furthest limit of glassmaking technology, and as a result is well corrected for use with virtually all fullframe SLR lenses regardless of exit pupil distance.

Thus, the Speed Booster ULTRA performs extremely well with professional-grade f/2.8 zoom lenses such as the 24-70mm f/2.8 and 70-200mm f/2.8 zooms by Canon and Nikon to produce 17-50mm f/2.0 and 50-142mm f/2.0 high-speed zooms, respectively. Similarly, high-speed fixed focal length lenses such as a 50mm f/1.2 will be transformed into a 35.5mm f/0.9 lens with excellent contrast and resolution from the center all the way to the edges of the image
The potential benefits of using you Canon EF glass on the A7s in APS-C mode with the Speed Booster ULTRA are massive – you get 1 full stop more light into the sensor and effectively the same full-frame FOV but with much less rolling shutter or aliasing at 120fps for example. Also Sony FS700 shooters can utilise the full potential of the Super35 sensor in the FS700 in essence making it full-frame and get the most out of their EF lenses as well.
The new Speed Booster EF to Sony NEX ULTRA can be purchased directly from B&H for $649, and the Nikon-G to NEX version is priced at $479.
For more information check out the full press release.
[via EOSHD]
Disclaimer: As an Amazon Associate partner and participant in B&H and Adorama Affiliate programmes, we earn a small comission from each purchase made through the affiliate links listed above at no additional cost to you.
Claim your copy of DAVINCI RESOLVE - SIMPLIFIED COURSE with 50% off! Get Instant Access!