LED lighting has come a long way in the last few years and Aputure have been serving the indie filmmaking community for a few years now, producing numerous affordable LED lights while at the same time raising the bar in light and build quality. Aputure, are of course, a well known brand that has been on quite the roll in the last couple of years announcing a few amazing new lighting products, namely their Light Storm LS 1C LED fixture and more recently the Light Storm COB 120d and 120t single, large chip LEDs, and even foraying into the world of pro audio with new microphones such as the Aputure Deity.
Some of you may know them for making affordable and high quality on-camera monitors such as the VS-5 Pro, or even tiny pocket LED lights such as the the Aputure M9, however as of late, they've been stepping up their LED lighting game significantly. You may have seen their latest Light Storm 300D LED fresnel at NAB 2017 or IBC 2017 at the Aputure stand, and now they are ready to officially launch their biggest LED to date.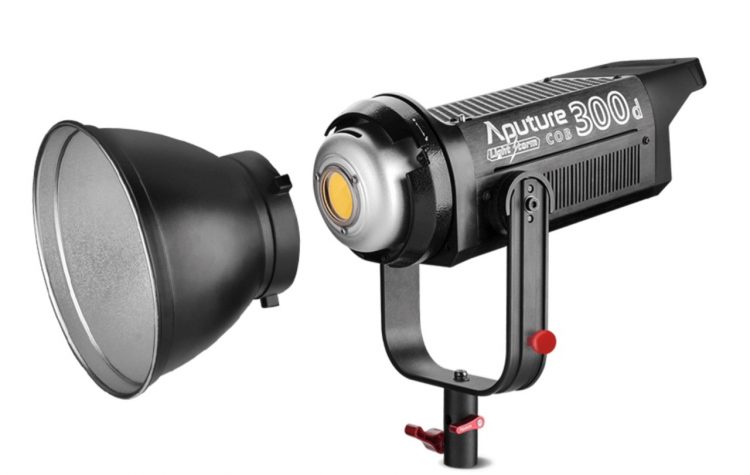 Boasting an incredible 187,000 lux at 0.5m, and a CRI/TLCI rating of over 97+, the new Aputure 300D is a powerhouse of a light, that is also very portable and lightweight (tipping the scales at just under 5 lbs)!
Aputure Light Storm C300D Highlights
2K Tungsten equivalent output
Single Source Chip On Board LED
High quality light output with TLCI of 97+
Wireless Remote with 492′ Range
Daylight 5500K balanced
Bowens Front Mount, Quiet Fan
Compatible with various Bowen mount accessories

Light Dome
Light Dome Mini
Space Light
Fresnel lens attachement
Fibreglass soft umbrella

Optional V-Mount or AB Battery Plates
Weight: under 5 lbs
Built-In Handle
Includes Carrying Bag
Despite it's huge light output, the Aputure LS C300d maintains high colour fidelity without any compromise to weight. Its light output is comparable to that of a 2000W tungsten lamp, while weighing less than a quarter of that. The 300D can be easily held with one hand, and its design makes it possible for gaffers, DPs and filmmakers to modify your light using just one hand.
Just like the 120D and 120t in the Light Storm series, the 300D features a versatile and professional Bowens mount, making the light compatible with a wide array of light modifiers such as the Aputure Fresnel attachement, the Light Dome Mini, Light Dome and Space Light. If you own other Bowens mount accessories you can mount those as well.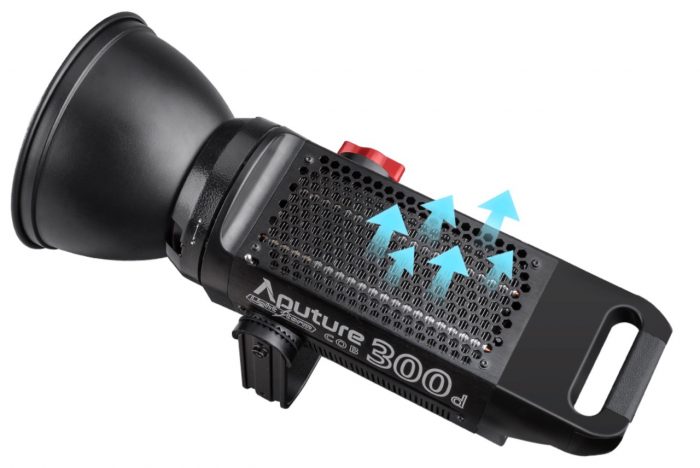 One of the major obstacles with high powered LED lights is the temperature control of the light itself, hence why the LS C300d has a remarkably intelligent temperature control system. Aputure uses smart fans that come with advanced internal thermometers and vary their speeds based on the system's temperature. According to Aputure, even at maximum speed, these fans are impressively quiet and keep the light from getting too hot, eliminating the need for grip gloves.
The LS C300d is built to give users maximum control over your light by featuring easy-to-use and intuitive control box allows you to change things like brightness, remote channels and fan speeds. With a control box that is separated from the light's power ballast, top weight is greatly reduced, allowing for maximum portability.
Anyone that has ever used Aputure LED is familiar with their awesome 2.4G remote control; using FSK technology, the LS C300d can be adjusted in brightness wirelessly using a remote up to 150m away.
The LS C300d can be powered either via AC, or for location shoots you can mount either 2 x V-Mount or 2 x Anton Bauer batteries, eliminating the need for a costly generator. Aputure recommends 190 watt hour batteries at minimum for better performance.
What's included: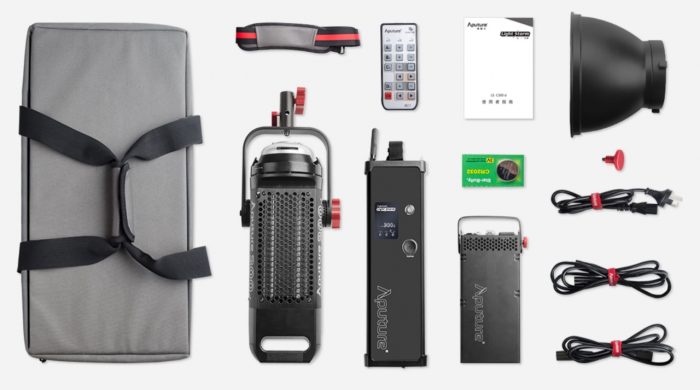 I've used the Aputure 120t prior and have been very happy with the light, and given that the 300D is more than 2x brighter, I can see myself using it in situations where I need to throw lots of light into an interior or even some exterior locations. Having the option to power from V-mount batteries frees me up from having to hire a generator or rely on house power, which is a huge plus. And of course, the price is just over $1,000, which for what the light is looking at other alternatives is quite a steal IMHO.
To learn more about the Aputure 300D and Aputure's wide range of LED lights and other filmmaking accessories head over to their website here.
Claim your copy of DAVINCI RESOLVE - SIMPLIFIED COURSE with 50% off! Get Instant Access!