The world of documentary filmmaking is anxiously awaiting the release of the new 4K Panasonic AG-DVX200. Just like its predecessor the mighty DVX100, the DVX200 is set to revolutionise the way we capture events, sports, documentaries, weddings, corporate videos and just about everything in between. The DVX200 bridges the gap between the small chip handheld camcorders we are familiar with and the world of large sensor cinematography. The most beautiful thing is that the camera features a larger than normal chip – a 4/3 type CMOS sensor and internal 4K recording. It is an out-of-the box solution for projects which require little time to setup and for shooters who are on the go. Not having to worry about changing lenses or adding cages around the camera can be a huge time saver on set.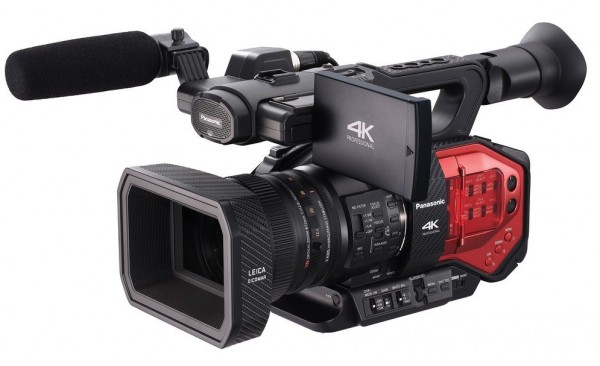 From the limited hands on videos and posts online by folks who've gotten their hands on the camera, we've learned that apparently Panasonic have done an outstanding job incorporating a beautiful Leica Dicomar 4K lens with 13x zoom on a 4/3 type CMOS sensor which was unheard of up until recently. As a matter of fact the AG-DVX200 is the first of its kind ENG style handheld camera to feature a fixed lens and a large sensor bridging the gap between cinematic filmmaking and ENG style broadcast type shooting.
Noel Evans is an Australian based DP, who recently got the chance to spend some time and use the AG-DVX200, so he put together a video of his first impressions, which you can see below:
Panasonic AG-DVX200 Features
Newly developed F2.8 LEICA DICOMAR 4K lens with 13x zoom, 4K (4096 x 2160) 24p: 29.5 mm – 384.9 mm // FHD: 28mm – 365.3 mm(35 mm film equivalent).
Beautiful Bokeh effects from a 4/3-type, large-format sensor.
12 stops of imager latitude faithfully recorded by new V-Log L gamma curve.
Variable Frame Rate with a maximum of 120 fps (in FHD resolution).
IR shooting capability.
5 axis Hybrid Image Stabilizer.
Intelligent Auto Focus, Custom Auto Focus.
Variety of Manual Focus Assist function.
ND filters (1/4, 1/16, 1/64).
3 rings for independent Zoom, Focus, Iris control, mechanical zoom.
4.3 inch touch screen type LCD (Approx. 2.76 Mil dots).
0.39 inch high quality OLED viewfinder (Approx. 1.77 Mil dots).
Battery cover for great handheld shooting experience.
Camera Remote control support.
Supports 4K, FHD and SD recording*4 on to SD memory card*5.
Simultaneous, backup, relay or dual codec recording function using two card slots.
Recently, Panasonic also released the 2nd instalment of their DVX200 video series. You can see the video below, which demonstrates the 12 stops dynamic range, V-Log and the shallow depth of field achievable thanks to the relatively fast lens and the larger 4/3 type CMOS sensor.
Although I wouldn't rush to judgment on the quality of images from the horrid youtube compression, but I really want to get my hands on this camera at IBC. Panasonic have been making a huge push for this camera and I really hope it's the panacea some people have been talking about.
Claim your copy of DAVINCI RESOLVE - SIMPLIFIED COURSE with 50% off! Get Instant Access!