The contemporary UAV technology has inevitably and irreversibly revolutionised aerial videography by taking the world of independent filmmakers and enthusiasts alike by storm. Yet, as any other relatively new piece of technology, the consumer UAVs also have their flaws and imperfections. A common downside, for instance, many of the mid-range and even high-end models share is the limited flight time they provide.
The battery capacity fluctuates significantly during flight due to a few different factors such as the net weight of the load a drone is carrying, the type and capacity of the battery itself, the speed of the drone, wind velocity etc. Now, the creator of a brand new unmanned aerial vehicle called the Tesla Drone, hopes to make this issue a thing of the past. Designed by the UK-based industrial designer Fraser Leid, the Tesla Drone comes with a brand new innovative design defying the status quo.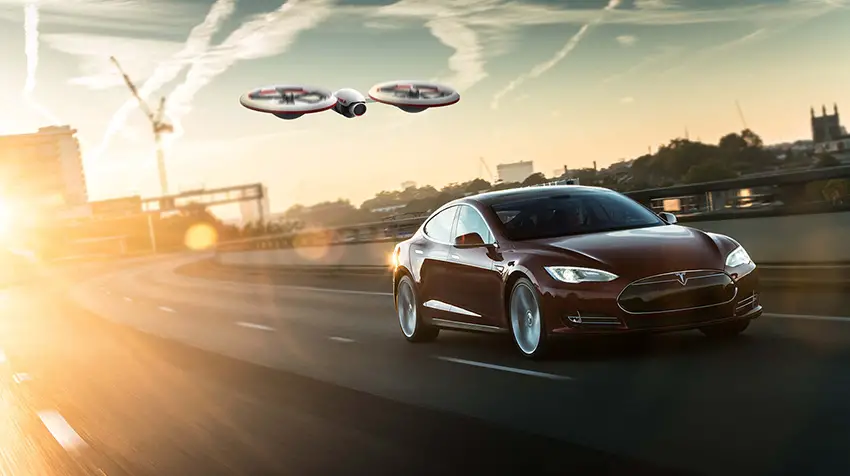 Comprising of two independent propellers that can be altered to either vertical or horizontal positions, the Tesla Drone will be capable of advanced stability control eliminating the need of a gimbal for further and more precise camera stabilization. This new configuration also makes the drone more battery efficient, since the propellers themselves create an immense amount of lift for their given surface area.
"If the operator requires the drone for slow, wide-angled panoramic video's, the propellers in a vertical configuration will allow the drone to move slowly and steadily. If the operator requires the drone for fast-paced, low-angled action video's, the propellers in a horizontal configuration will make the drone nimble, quick and easy to handle at faster speeds while also steadying the camera." Leid explains.
The craft will also feature a 10,000mAh Li-ion Powercell battery providing a flight time of 60 minutes and can be recharged to full capacity in only 20 minutes. The drone will be equipped with a 30 MP camera capable of shooting 4K video, yet more of the specs are about to be specified.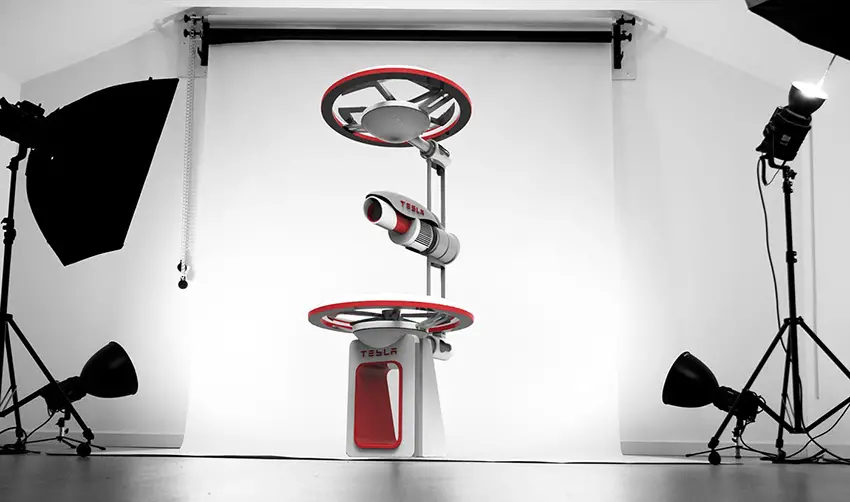 Unfortunately, the Tesla Drone is purely conceptual at the moment, so it hasn't reached the manufacturing process yet. However, if it's priced right at the time it hit the shelves and performs as promised it will do extremely well.
Besides the overall positive feedback the project receives from creative people, there are still many engineering challenges in front of the creators so it's really interesting to see whether the craft will turn into reality. Whatever the case, it's one of the boldest drone concepts we've seen lately.
[source: Behance]
Disclaimer: As an Amazon Associate partner and participant in B&H and Adorama Affiliate programmes, we earn a small comission from each purchase made through the affiliate links listed above at no additional cost to you.
Claim your copy of DAVINCI RESOLVE - SIMPLIFIED COURSE with 50% off! Get Instant Access!