These days, 4K cameras are a dime a dozen and seems like a new 4K camera is released just about every other week. In a post IBC 2015 world, where the majority of filmmakers await the arrival of the Blackmagic Design URSA Mini 4.6K and the new Sony PXW-FS5, which are due to land before the end of November (especially in the case of the former), it is a good idea to start thinking about basic and vital accessories for such cameras and more like them.
Of course, media cards and batteries come to mind immediately, which are sadly often time overlooked and though of at the last minute before a shoot. There are quite a few manufacturers of SDXC cards in particular – Sandisk, Kingston, Lexar and of course, the more budget friendly Transcend. Some camera manufacturers like Sony and Panasonic also make their own SDXC cards.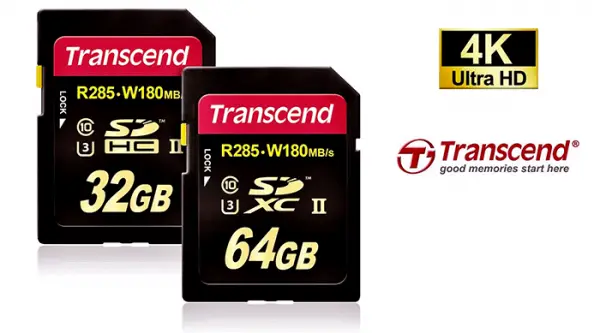 However, despite the fact they are very cheap, SDXC and SDHC cards are considered not as reliable as other more expensive and faster media – such as Panasonic Express P2 cards or Sony SxS Pro+ cards – which are the de-facto media cards for higher end 4K cameras like the Varicam 35 or the Sony F55 for example.
These cards cost in upwards of $1,000 depending on capacity and generation, but do offer substantial performance and reliability benefits, such as built-in error correction and longer life cycle compared to consumer recording media such as SDXC. For example, SxS Pro cards are guaranteed by Sony in a way that they'll recover lost data (in almost 100% of the cases) at no additional cost at an engineering facility in Belgium. In the world of professional broadcast production especially, reliability and performance are key factors, which more often than not influence purchasing decision as to what cameras are to be used on productions.
Recently, Transcend announced some new USH-II U3 compliant 4K SDXC cards with some staggering read/write speeds of up to 285MB/s and 180MB/s respectively. What is more impressive than the sheers speed here is that the new cards also offer X-ray, hot and freeze protection in addition to water-proof features up to 1 meter for 30 minutes.
Features & Highlights
UHS-II U3 Class (Read 285MB/s Write 180MB/s)
RAW images and Ultra-high quality 4K, 2K and Full HD video
Top-Tier MLC NAND flash chips for consistent long-life durability and endurance
3 x faster speed than UHS-I U3 SD memory cards
Available in 32GB and 64GB Capacities
Waterproof: meet the JIS IPX7 standards and can immerse in 1 meter of water for up to 30 minutes
Temperature Proof: endure extreme temperatures from -25° to 85°C
Static Proof: meet the EMC IEC61000-4-2 standards and can withstand static electricity
X-ray Proof: meet the ISO7816-1 standard and are immune to Airport X-rays
Shock Proof: provide excellent shock, vibration, bending and twisting resistance
Transcend's latest SDXC UHS-II U3 4K compliant memory cards are perfect for shooters, who often have to brace the elements and shoot in harsh environments at both ends of the spectrum – from extremely hot to freezing temperatures of -25 degrees Celsius. Not only that, but thew new Transcend cards also feature built-in Error Correcting Code (ECC) which checks data in transmission for errors and correct them upon detection to prevent data loss or corruption, offering an optimum protection inside out with durable design.
There are no set release dates or pre-order dates for these new cards yet, and according to 43rumors.com they won't be cheap – will probably cost around 1,500 Euros for the 64GB version and 900 Euros for the smaller 32GB capacities.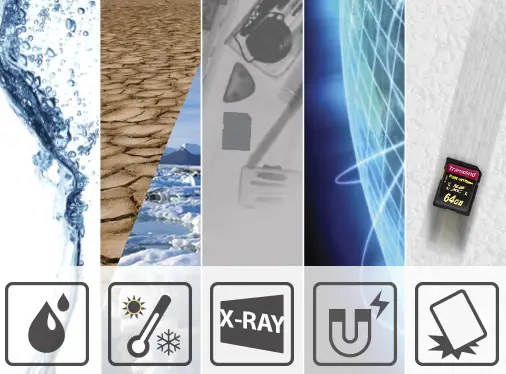 Specifications
Size
32mm x 24mm x 2.1mm (0,04 x 0,94 x 0.08 inches)
Weight
2g (0,07oz)
Op. Voltage
2.7V~3.6V
Op. Temperature
-25°C(-13°F) ~ 85°C(185°F)
Durability
10,000 insertion/removal cycles
Transfer Rate (Max)*
Read 285MB/s, Write 180MB/s
Compatibility
Ideal upgrade for UHS-II SD card compatible cameras and camcorders

Also backwards compatible with UHS-I U3, UHS-I and SDXC/SDHC Class 10 devices.

*Note
Speed may vary due to host hardware, software and usage.
Warranty
Limited Lifetime Warranty*
*Please access here for more information about Transcend Warranty Policy
PRESS RELEASE
Transcend Information, Inc. (Transcend), a leading manufacturer of storage and multimedia products, proudly announces a high-end UHS-II U3 compliant memory card featuring the maximum read speed of up to 285 MB/s along with write speed of up to 180 MB/s. With MLC flash embedded, Transcend SDHC/SDXC UHS-II U3 memory card provides enhanced performance and long-term reliability ideal for 4K video recording and burst shooting.
Speedy Performance & Smooth Playback
By utilizing the new UHS-II bus standards with a UHS Speed Class rating of 3, Transcend SDHC/SDXC UHS-II U3 memory card rolls out the maximum read/write speed of up to 285/180 MB/s respectively. Consumers may consider Transcend multi-functional RDF9 card reader which is specifically designed for UHS-II memory cards. Professional photographers shooting in RAW or JPEG images and videographers filming in Full HD, 4K or 3D videos are assured uninterrupted consecutive shooting and smooth playback with the large storage capacity of up to 64GB supported.
Embedded with the top-tier MLC NAND flash chips, Transcend SDHC/SDXC UHS-II U3 memory card provides enhanced durability and prolonged endurance for storage of precious shots and videos. Not only does it support the latest advanced cameras and high-end camcorders that are capable of higher burst rates and 4K video capture, Transcend SDHC/SDXC UHS-II U3 memory card is also backwards compatible with UHS-I and conventional SD bus standards.
Optimum Protection & Durable Design
Transcend SDHC/SDXC UHS-II U3 memory card comes with waterproof, static proof, X-ray proof and shockproof capable of delivering peak performance under harsh environmental conditions and extreme temperatures ranging from -25°C to 85°C. Additionally, the built-in Error Correcting Code (ECC) checks data in transmission for errors and correct them upon detection to prevent data loss or corruption, offering an optimum protection inside out with durable design.
Exclusive Software – Free Download
Transcend RecoveRx™ is a software specifically developed for the recovery of lost photos or videos, documents or songs that are accidentally being deleted. With just a few clicks, users can easily recover virtually any type of digital files. Moreover, RecoveRx™ supports memory cards formatting and data protection functions, providing the ultimate convenience to manage your memory card.
Capacity & Warranty
Transcend SDHC/SDXC UHS-II U3 memory cards, available in 32GB and 64GB capacities, are fully tested for compatibility and reliability, and backed by a limited lifetime warranty.
Claim your copy of DAVINCI RESOLVE - SIMPLIFIED COURSE with 50% off! Get Instant Access!