The big question for a lot of shooters out there today, who own mirrorless 4K cameras like the Panasonic GH4, Sony A7RII, and Samsung NX1 is often – how to get a better 4K footage in a 10bit codec. There are the usual suspects when it comes to 4K recording devices – namely Convergent Design with their Odyssey7Q+ and Atomos with their Shogun and newer and more affordable HDMI only – Ninja Assassin. You are probably aware, but not very familiar with the PIX-E line of 4K recorders from Video Devices, the video product arm of quality pro mixers & other audio gear maker – Sound Devices.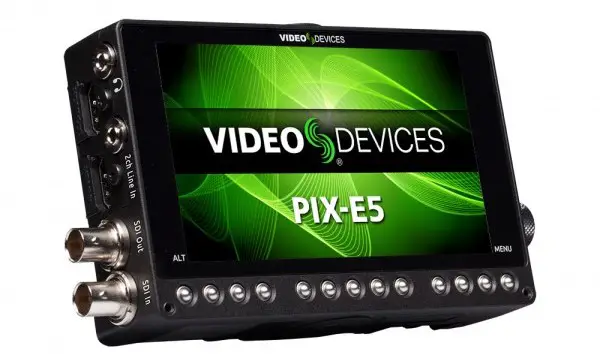 Announced at this year's NAB trade show in Las Vegas, they have some pretty neat features such as 4K ProRes recording up to 12bit 4444 XQ on the 5-inch PIX-E5 (SDI model, $1,395 at B&H) and the yet to be released – PIX-E7 (7 inch version), in addition to a solid metal construction, mSATA SSD speed drives for media, awesome Full HD 1080p touch screen with tactile dedicated buttons for just about any pro image control function you can think of. There is also a more budget friendly HDMI only version called the PIX-E5H (5 inch, $1,195) which also tops out at 4K ProRes 10bit 422.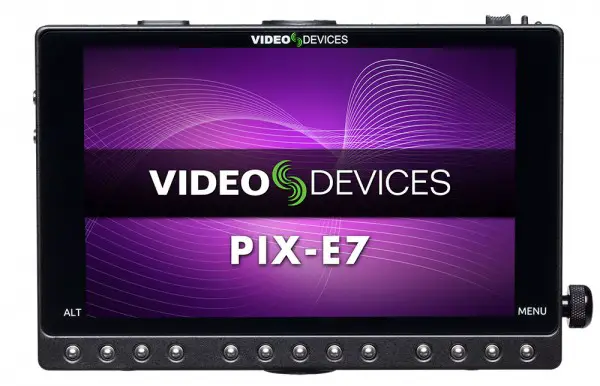 I am looking for a 4K recorder for my Canon XC10 and Sony RX10 II, but also considering the original A7s. For those who are considering the PIX-E5, or own an A7s or GH4, here's a couple of quick instructional videos from Video Devices explaining how to setup recorder trigger for these cameras. One more cool thing about the PIX-E5/5H is that the units now have 3D LUT support with the latest firmware update 1.05.
GH4 Recorder Trigger Setup
Sony A7s Record Trigger Setup
PIX-E5 Features
5″ 1920 x 1080 Touchscreen Display
Records 4K (4096 x 2160) up to 24 fps
Records 1080p up to 60 fps
ProRes 4:2:2 and 4:4:4 Encoding
Uses mSATA SpeedDrive Media
4K-Capable HDMI Input with Loop-Through
3G-SDI Input with Loop-Through
Analog Audio Input
Physical Button and Jog-Dial Controls
For those who want to know more about the Video Devices PIX-E line of 4K recorders check out this video from IBC 2015 below:
B&H Links:
PIX-E5H 5″ 4K Recording Video Monitor (HDMI) – $1,195
PIX-E5 5″ 4K Recording Video Monitor (SDI/HDMI) – $1,395
PIX-E7 7″ 4K Recording Video Monitor (7-inch 1920 x 1200) $1,595
Adorama Links:
PIX-E5H HDMI 4K Recorder Monitor – $1,195
PIX-E5 SDI 4K recorder (SDI/HDMI) – $1,395
PIX-E7 4K Recorder Monitor (7-inch) – $1,595
Claim your copy of DAVINCI RESOLVE - SIMPLIFIED COURSE with 50% off! Get Instant Access!