The Panasonic DVX200 has a lot to live up to as a 4K all-in-one fixed lens camera in an already over saturated market. It picks up the torch from where the legendary DVX100 left off, which in its time was hugely popular with documentary and corporate filmmakers in the mid-to-late 00's. Panasonic took their time to unveil the DVX100 successor, and surely the Panasonic DVX200 has a lot to live up to. I have already shot with the camera and posted my findings so far here and also my first impressions with footage here.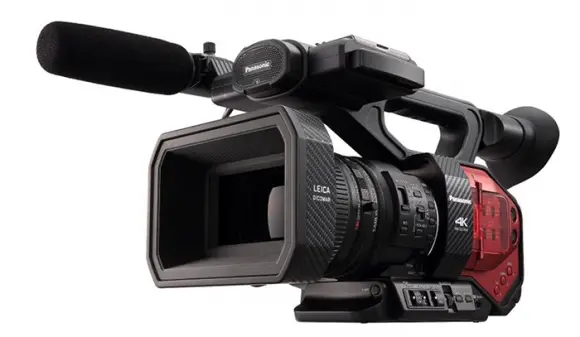 I find the DVX200 is a really good all-rounder of a camera, with a rather unique design in the sense that it combines a 4/3 CMOS sensor (same size as in your Panasonic GH4, an in actuality the sensor in the DVX200 comes from the Lumix GX8) and a fixed 13x Leica zoom lens. Dual XLR inputs and other popular image monitoring functions such zebras and waveform are present. V-Log L is also built into the camera giving a manufacturer stated 12 stops dynamic range.
Aimed at run n' gun type of shooters who mainly do events, weddings, corporate gigs, and also documentary shooters, the DVX200 ticks all the major boxes from an ergonomics perspective – decent zoom lens, dual professional XLR audio inputs, good viewfinder and LCD screen and solid build quality.
Theoretically you only need to attach a shotgun microphone to the camera, like the Rode NTG4 for example, insert a couple of 64GB SDXC cards (preferably) plus a battery and you're ready to start filming.
Speaking of batteries, the AG-DVX200 comes with a 5800mAh VW-VBD58 Battery Pack ($159 at B&H) which in my hands-on test shoot lasted me for a good nearly three hours non-continuous shooting. Now, IDX have announced some brand new batteries for the AG-DVX200 – the SL-VBD64 ($128 at B&H) and the SL-VBD96 (9600mAh) Capacity battery, which goes for $143 at B&H.
IDX SL-VBD96 High Capacity Battery Features
9600mAh / 69Wh capacity
Compatible with Panasonic AG-DVX200, HC-X1000 and AJ-PX series camcorders
USB (Type-A) power output for powering USB devices, smart phones and tablets
7.2V X-Tap power connector for powering camera accessories (C-XTap accessory will be necessary for use)
4 Power Indicator LEDs
Protected from over-charge, over-discharge, and over-currents at high loads
Environmentally friendly and can be recycled
Some of the cool features of the two new batteries, other than the fact that both batteries are more powerful than the supplied Panasonic one, are the LED indicators (which are also featured on the original Panasonic made battery) and the USB output for powering other low-power draw devices such as smart phones and an X-tap for powering accessories such as LED top lights.

The IDX C-XTAP is a DC cable utilizing the X-Tap, the new standard connector for powering 7.4V accessories from the SL-VBD96 and future IDX power products. With the open lead design, the C-XTAP is capable of powering virtually all 7.4V accessories.Simply solder your desired connector to the positive and negative leads. The "T" Terminal is placed for future use. It goes for about $52 at B&H at the moment.
C-XTap Features
Provides DC power via X-Tap to equipment when used with SSL-JVC75 and future IDX products
Open leads adapts to virtually all 7.4V DC connectors
Rugged connector with reverse polarization prevention design
Compatible with virtually all 7.4V DC products when DC plug installed
October – Panasonic DVX200 4K Test Footage V-Log L: Part 2 from 4K Shooters on Vimeo.
B&H Links:
Panasonic AG-DVX200 4K Camcorder – $4,195
SL-VBD64 7.2V Li-ion Battery – $128
SL-VBD96 7.2V Li-ion Battery – $143
IDX C-Xtap Cable – $52
Adorama Links:
Panasonic AG-DVX200 4K Camcorder – $4,195
SL-VBD64 7.2V Li-ion Battery – $128
SL-VBD96 7.2V Li-ion Battery – $143
IDX C-Xtap Cable – $52
Disclaimer: As an Amazon Associate partner and participant in B&H and Adorama Affiliate programmes, we earn a small comission from each purchase made through the affiliate links listed above at no additional cost to you.
Claim your copy of DAVINCI RESOLVE - SIMPLIFIED COURSE with 50% off! Get Instant Access!