With cameras these days regardless of make or price point, the camera itself is only the starting point in the equation. When it comes to "rigging" cameras to make the field production friendly those of us coming from a DSLR background certainly can attest to the pain, trials and tribulations of finding the right parts for our Franken-Rigs. I've been there, through multiple cameras and rig configurations, having to live with a lot of compromise due to budgetary restrictions or otherwise. There's cheap stuff out there, and there is lots of professional, field-proven solid gear that is made to withstand the rigours of modern digital cinema production.
Wooden Camera is one of those companies that make anything but "wooden products" – their gear is rock solid and certainly premium. They have recently come up with some accessories for the Blackmagic URSA Mini 4K and 4.6K cameras that you can check out below.
In total there are three kits – Base, Advanced and Pro. See the details of all three below.
Wooden Camera URSA Mini Base Kit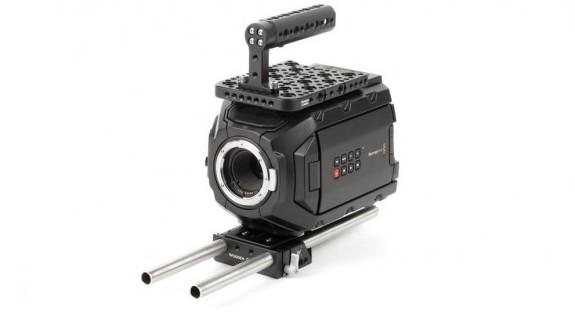 Included Items: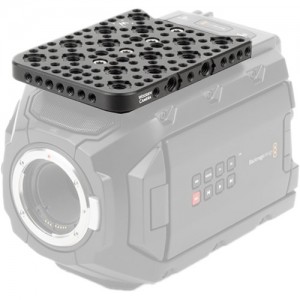 Top Plate (URSA Mini) – $295 at B&H: Top mounting cheese plate for Blackmagic URSA Mini Camera. Attaches to camera top by (4) 1/4-20 screws. Arrays of 1/4-20 holes in standard 9mm spacing and multiple 3/8-16 holes for large accessories. ARRI accessory mount also available in several places (3/8-16 screw hole with locating pins adjacent). Includes tape hook for accurate focus measuring. Original Blackmagic handle can be reinstalled on the Top Plate using center 1/4-20 threaded holes.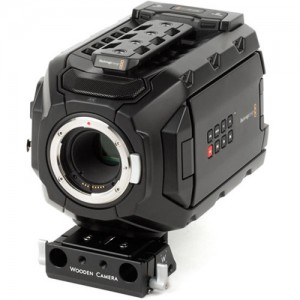 Fixed Base (URSA Mini) – $399 at B&H: A bolt on baseplate for the Blackmagic URSA Mini that provides lightweight 15mm pass through rods at the correct lens height. The baseplate can attach to any tripod plate or ARRI standard bridgeplate such as Bridgeplate (19mm) or Bridgeplate (15mm Studio). When studio rods are not needed, a Dovetail Clamp can be added instead to interface with 2060 Dovetails, Safety Dovetails, or Shoulder Rigs.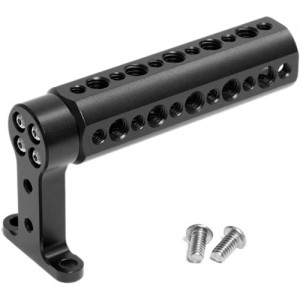 Top Handle (Cheese) $140: A bolt on top handle for secure camera carrying. 1/4-20 and 3/8-16 threaded holes for accessory attachment.
2x 15mm Rod (12″)  –  Two 15mm diameter iris rods 12 inches (30cm) in length.
Wooden Camera URSA Mini Advanced Kit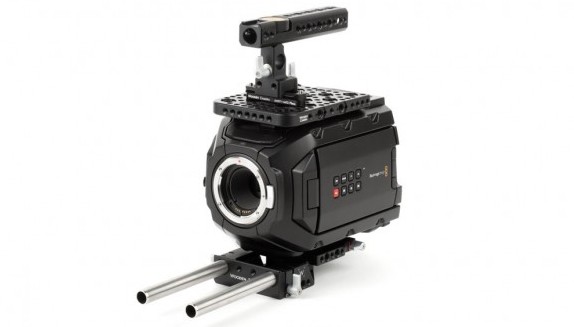 The BMD URSA Mini accessory package is a bit different than the Base Kit as it includes a QR type base plate, unlike the fixed base plate on the Base kit, and also includes 2 x 15mm Rods (6″) at the correct lens height, and a NATO Handle Kit (Plus, 70mm) for a quick release handle that attaches to the top plate with a rotating top grip, multiple mounting points for accessories, integrated shoe mount, and a 15mm/19mm rod opening. The price of the Advanced kit is $1,108
Wooden Camera URSA Mini Pro Kit ($1,933)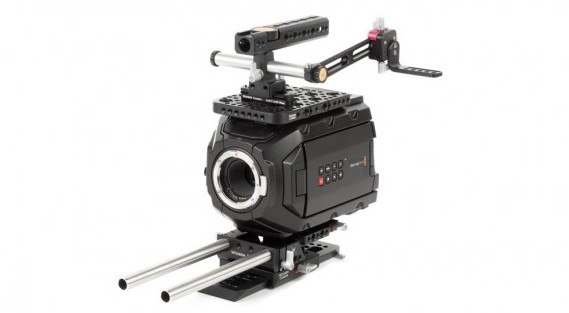 The Blackmagic URSA Mini Accessory Kit (Pro) includes:
Top Plate (URSA Mini),

a top mounting camera cheese plate for accessory attachment,

Quick Base (URSA Mini),
A quick release baseplate
2 x 15mm Rods (9″)

NATO Handle Kit (Plus, 70mm)

UVF Mount (No Clamp) for holding EVFs & LCDs

Dovetail Clamp for easy mounting to an ARRI standard dovetail like the included Safety Dovetail (8").
These are most certainly not cheap and not for every budget out there, but it's one of the most solid pieces of kit you can buy out there – definitely an investment rather than expense. Also, Wooden Camera stuff is usually portable to other equipment, so if you end up changing your camera in the future to one of similar size, chances are most piece would work for it too.
For more info on these kits head on over to Wooden Camera.
[via Cinescopophilia]
Claim your copy of DAVINCI RESOLVE - SIMPLIFIED COURSE with 50% off! Get Instant Access!