CES 2016 started off with a few major announcements by Nikon and DJI, and while Sony's press event may have come and gone with no new E-mount lenses or Alpha series camera, but the Japanese electronics behemoth just announced the brand new M-series XQD and SDXC cards for high-performance 4K DSLR's such as the new Nikon D5 and D500. Of course, new 4K DSLR cameras like Nikon D5 or D500 are not the only cameras using the XQD media format, the Sony PXW-FS7 Super35 camera uses XQD media and so does the Sony PXW-Z100 fixed lens 4K camcorder. On the DSLR front, the Nikon D4s and D4 also sport the high-speed cards.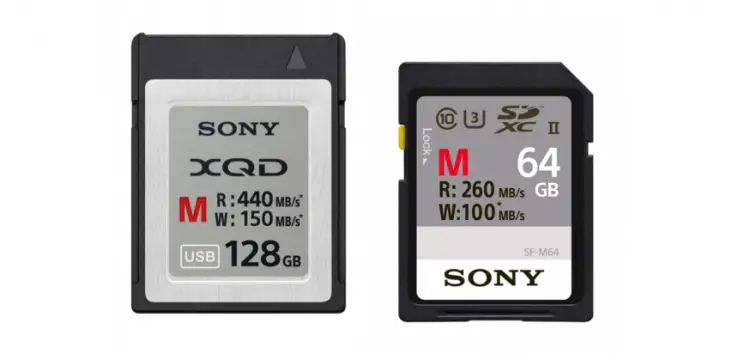 Sony's brand new XQD-M series provides users ultra-high data transfer speeds of up to 440MB/s (read) and 150MB/s (write) for stable burst shooting, and the ability to backup 64GB of data in approximately 3 minutes, when using Sony's newest card reader technology.
The XQD format's unique and robust structure, featuring card thickness and pin protection, and a tough, reinforced outer case is made for reliable use.
Compared to the Sony G-Series XQD cards, who have a read speed of 400MB/s and write up to 350MB/s, the M-series XQD cards at least on paper appear to be slower, but as tested by some, even the slower and older generation S-series XQD cards by Sony (Read/Write 180MB/s) work fine in the Sony FS7 when recording in 4K. Yes, the new M-series XQD appear to be even slower at 150MB/s, and until tested one can't really be sure, but there is a chance they may be an option for the FS7. Third party manufacturers like Lexar also make XQD cards so there are options out there.
In addition, Sony's newest SD cards, SF-M series, are UHS-II supported cards optimized for digital imaging devices including professional, DSLR and mirrorless cameras.  With high-speeds up to 260MB/s (read) and 100MB/s (write), SF-M series contributes quick data transfer to and from a PC with Sony's new UHS-II supporting card reader, which maximizes SF-M series' performance. The new SDXC M-series do look pretty sweet and should be a blast to use in the Sony FS5 for and Sony A7s II for example.
Both new media offerings are extremely dependable and durable, dust-proof, X-Ray proof, anti-static and magnet proof to protect the most sensitive photo and video content.  Downloadable File Rescue Software aids in the recovery of photos and videos that may have been deleted, including RAW images, MOV files and 4K XAVC-S video files.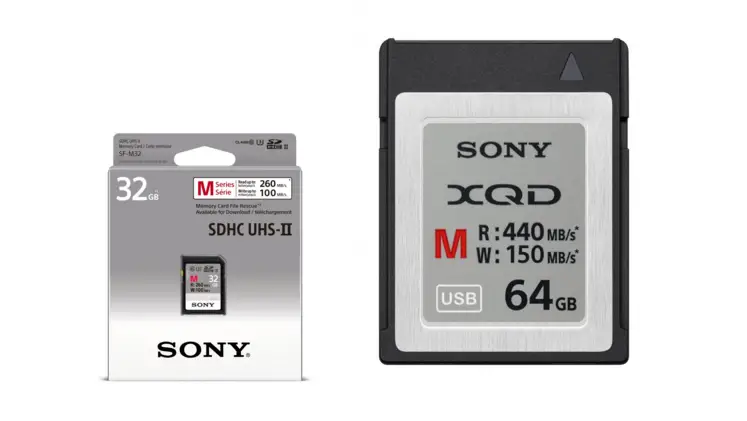 In addition to the new card options, Sony also announced the world's first XQD/SD card reader – MRW-E90, which supports reliable, ultra-high speed data transfer to a PC from all XQD series and UHS-II SD cards, eliminating the need for multiple adapters and readers. The new card reader also supports SuperSpeed USB (USB3.1 Gen. 1).
QDA-SB1 is a USB XQD adapter compatible with the M and G Series XQD cards. The adapter is streamlined to occupy only one USB port, and comes with an extension USB cable.
Pricing and availability is yet to be finalised and announced, but once we find out, we'd be sure to let you know.
Claim your copy of DAVINCI RESOLVE 16 - SIMPLIFIED COURSE with 50% off! Get Instant Access!