Video Devices announced their new line of 4K recorders – the PIX-E series back at NAB 2015 last year, which have stirred the interested of the filmmaking community. Even though sometimes touted as great monitors, who happen to recorder 4K, these devices are quite the powerhouses when it comes to features and build quality. For example, the Video Devices PIX-E7 – the flagship 4K recorder/monitor in the PIX-E Series, which started shipping in late December thus joining the 5-inch PIX-E5 (SDI and HDMI) and the more affordable PIX-E5H (HDMI Only) boasts the ability to capture both 4K DCI and UHD up to record in an industry standard Apple ProRes codecs up to 4444 XQ 12-bit.
The unit also features both SDI and HDMI Inputs/Outputs and sports a beautiful 7-inch 1920 x 1200 Touchscreen Display (in comparison the PIX-E5 and PIX-E5H have a 1920 x 1080 displays). The PIX-E5 series have already received some substantial firmware updates, which enabled 3D LUTs and 4K via 6G-SDI.
They may not be able to recorder Raw, but they do carry that Sound Devices DNA when it comes to great audio and build quality. So for those of you who already own a PIX-E5 or a PIX-E7, you can learn how to configure audio, including selecting an input source, and arming or disarming a track in this overview video of the Audio menu for the Video Devices' PIX-E Series 4K recorder/monitors.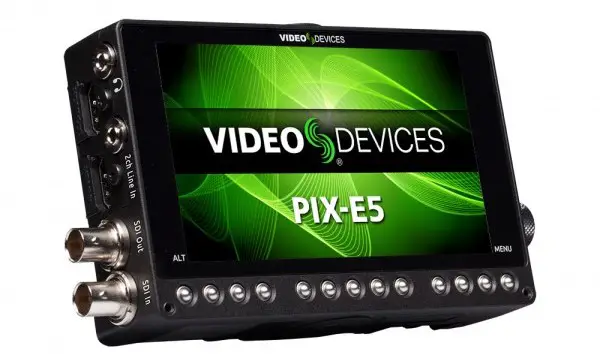 The cool thing about the audio side of the PIX-E series 4K recorders is that they can record up to 8 channels of professional SDI embedded audio. The Audio user interface on the PIX-E series is quote simple and straight forward.
You can access the Audio menu via the Audio tactile button and enable any of the 8 tracks (if you are feeding via SDI) via the Control knob on the side. Users can enable any of the tracks even if they are not sequential. Quick shortcuts such as Enable All are also available to save you time on set.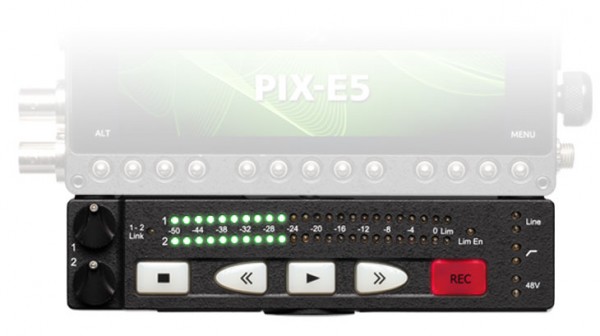 For those who do require XLR inputs – the PIX-LR ($349 at B&H) audio interface is a screw-on accessory that is compatible with all three PIX-E recorder/monitors – the PIX-E5, PIX-E5H and the larger PIX-E7 featuring Dual XLR inputs and outputs, and legendary Sound Devices-caliber mic preamps, hyper-accurate LED metering, and dedicated transport and gain controls.
At the moment all PIX-E series recorder/monitors are shipping, and the PIX-LR audio interface is expected to start shipping towards the end of the month.
[via Video Devices]
Ethics Disclosure: Video Devices are currently advertisers on the site, however all our opinions are our own and not in any way influenced or paid for by any advertiser.
Disclaimer: As an Amazon Associate partner and participant in B&H and Adorama Affiliate programmes, we earn a small comission from each purchase made through the affiliate links listed above at no additional cost to you.
Claim your copy of DAVINCI RESOLVE - SIMPLIFIED COURSE with 50% off! Get Instant Access!