There are numerous hardware enclosures on the market these days that utilize multiple RAID configurations. Picking the right one for your particular creative needs, though, might be a serious challenge. But, what is RAID anyway? In essence, it's a data storage virtualization technology that combines multiple physical disk drives into a single logical unit for data redundancy, performance improvement, or both.
Typically, the RAID array is controlled by a RAID controller that provides the CPU power behind backing up or optimizing the performance of the disks in the enclosure. Ahead Gary Martin from RGG EDU provides a quick RAID overview by sharing his knowledge on how to utilize these RAID configurations when it comes to video editing and color grading.
It's worth noting that the distribution of data across multiple drives can be managed either by dedicated hardware component or by a software application. A software solution may be part of the operating system, part of the firmware and drivers supplied with a standard drive controller, or it may reside entirely within the hardware RAID controller.
The latter is the less common option. It's also the cheaper one. In that case, the enclosure itself is utilizing the CPU power of your workstation. The ThunderBay 4 Hard Drive Enclosure from OWC / Other World Computing, for instance, is a good example of a device that utilizes software RAID for its disk setup.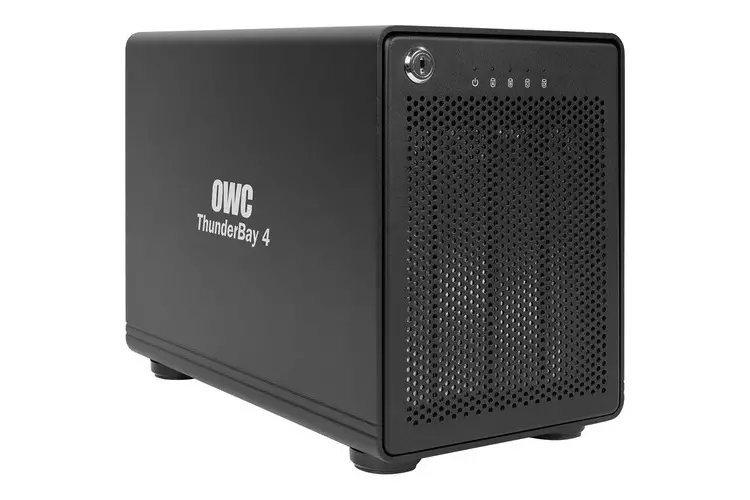 The second type and more common RAID configuration is entirely controlled by the hardware provided by the enclosure itself. As you might guess, such an enclosure comes with a built-in RAID controller that manages the disks and works independently from your system.
Furthermore, RAID employs the technique of either disk mirroring,  disk striping, or a combination of both which involves partitioning and managing each drive's storage space differently. Usually, the RAID level is marked with numbers, such as RAID 0, RAID 1, RAID 5, etc. Here is a quick chart that will give you some basic insights on what are the different types of RAID configurations.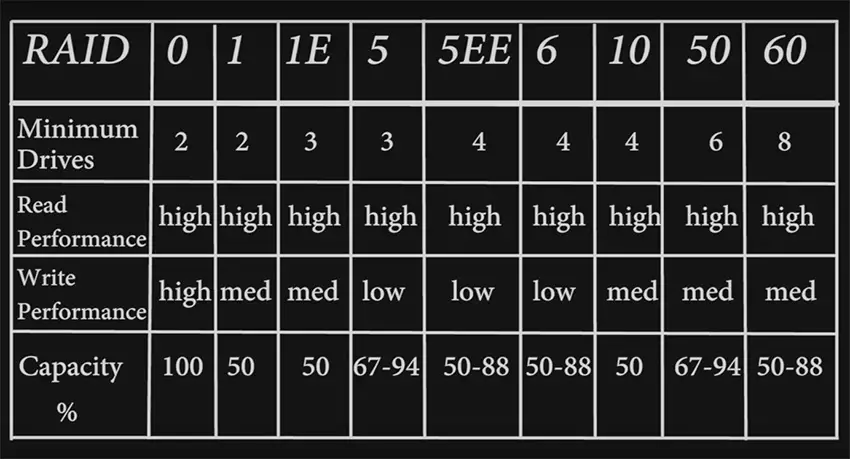 If you want to know what is the best option for your particular workflow here are three videos that explain the main differences between the RAID 0, RAID 1 and RAID 5 configurations.
RAID 0, for instance, requires a minimum set of two drives. This configuration has striping but no redundancy of data. It offers the best performance but no fault-tolerance. It provides more speed for your workflow, so the more hard drives you have in your enclosure, the more speed it will provide. Unfortunately, it won't give you the option to back up your data which might not be a viable option for some users.
RAID 1, on the other hand, provides redundancy for your data, so that every time you copy a file on your enclosure it will be stored on two disks in the RAID array. However, this configuration won't be as fast as the RAID 0 one. Read performance is improved since either disk can be read at the same time, whereas write performance is the same as for single disk storage.
If you want to take advantage of both the RAID 0 and RAID 1 assets you might want to utilize the RAID 5 configuration. In this mode, your enclosure will typically combine the functionality of the above modes by providing more speed and redundancy at a certain level.
You should keep in mind, though, this way you won't be able to take advantage of the full capacity of your enclosure. The typical rate is around 75%, but it may vary depending on the type and the number of hard disks you choose for your external storage device. RAID 5 requires, at least, three disks, but it is often recommended to use five or more for performance reasons.
If you want to get to even more insights on the topic make sure that you also check out the other informative videos in the RGG EDU's YouTube channel. Further, we'll be more than happy if you share your personal experience on the topic in the comment section below.
[source: RGG EDU]
Disclaimer: As an Amazon Associate partner and participant in B&H and Adorama Affiliate programmes, we earn a small comission from each purchase made through the affiliate links listed above at no additional cost to you.
Claim your copy of DAVINCI RESOLVE - SIMPLIFIED COURSE with 50% off! Get Instant Access!