After weeks of teasing new 4K raw functionality for their CineAlta PMW-F55 and F5 cameras, such as 4K Raw at 120fps slow motion and 4K raw cache recording, Sony just announced a brand new 4K Raw recorder called the AXS-R7, new AXS cards and upcoming Firmware 8.0 for the F55/F5 cameras. I suspected it was going to be a new raw recorder (potentially to work with the new CineAlta cameras to be announced at NAB) as the CineAlta range is definitely due a refresh. And looks like Sony listened to customer feedback on this one as apparently the new AXS-R7 4K Raw recorder is a direct result of listening to what F55/F5 users wanted.
Here's the new Sony AXS-R7 Raw recorder: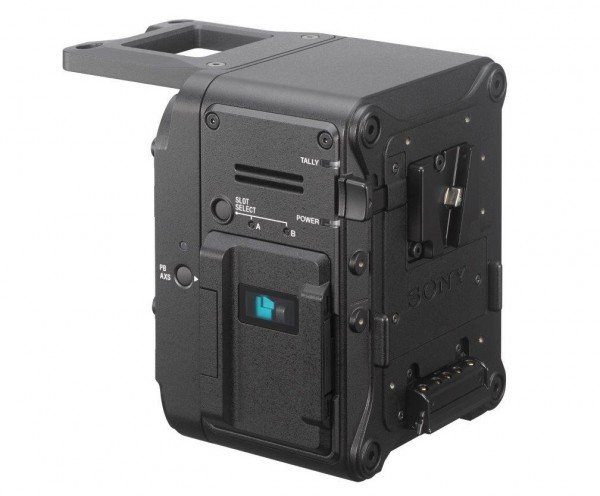 "We're answering the question, "why shoot in 4K 16-bit RAW?" said Peter Crithary, marketing manager for large sensor technologies at Sony Electronics. "These new products make working in 4K RAW and High Dynamic Range (HDR) just as easy as HD RAW, while maintaining the highest level of image quality."
Compared to previous Sony 4K recorder – the AXS-R5, a key feature in the new AXS-R7 doubles the maximum record frame rate in 4K RAW from 60fps up to 120fps with the Sony F55 camera. Similar to the AXS-R5, the new recorder is docked to the F55 and F5 and records 16bit 4K Raw from those cameras. 2K RAW at up to 240 frames per second from the F55 and F5 is also possible.
The other major feature of the new AXS-R7 is that it can now do RAW cache recording at 23.98P for up to approximately 30 seconds while in standby mode, which is kind of a big deal for documentary and wildlife productions where capturing spontaneous action is required.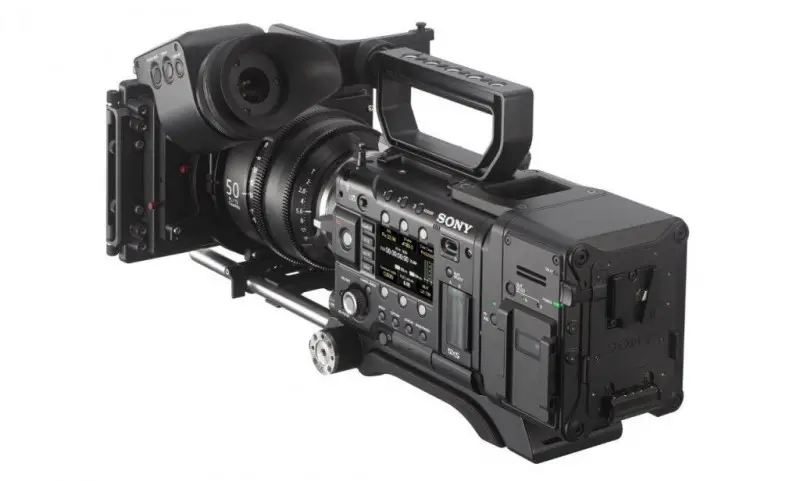 The AXS-R7 features a rugged design and a metal filter that seals the recorder's ventilation shaft from the electronics, making the recorder dust- and water-resistant. The recorder's connection to the camera is secured with a top bracket that employs four widely spaced 1/4 inch screws.
New AXS Memory Cards
The additions to Sony's CineAlta line also include new high-performance AXS memory cards. Available in 1TB and 512 GB capacities, these cards can support sustained read and write speeds of 4.8 Gbps, delivering 44 minutes at 59.94p or 22 minutes at 120 FPS (1TB version).  The dual-slot recorder also accepts current A-series AXS media, but the new cards are designed to support the write speeds required for 4K RAW 120 FPS recording for those who require that level of performance.
PMW-F55/F5 Firmware Version 8
The upcoming Firmware Update version 8.0 for the F55 and F5 (only those with the 4K license) enables support for XAVC 4K Class 480 recording at 23.98p, 24.0p, 25.0p and 29.97p. Leading third-party vendors already support XAVC 4K Class 480, for creative professionals requiring a higher data rate version of XAVC. The class number represents the approximate bitrate value at 29.97p.
"These newest additions and updates to our CineAlta platform are all the direct result of user feedback," Crithary added. "It's no longer about simply delivering a product. It's about delivering the right products that can grow with a customer and fit within a workflow that is constantly evolving as production requirements change."
Sony will have more details on all of the above at NAB, but for now they have released the following availability schedule:
AXS-R7 New RAW recorder: Summer, 2016
AXS-A1TS48 Media (1TB): Summer, 2016
AXS-A512S48 Media (512 GB): Summer 2016
F55/F5 Firmware Update Version 8.0: Summer 2016
Claim your copy of DAVINCI RESOLVE - SIMPLIFIED COURSE with 50% off! Get Instant Access!