Not content with announcing new cameras at every major trade show such IBC and NAB, Sony are determined to fill every market segment possible by announcing new 4K camera and doing so at a breakneck pace every month. Last month Sony announced the PXW-Z150 pro camcorder (announced last month at BVE in London) plus the exciting and much more compact 4K APS-C mirrorless a6300, and now it's time for an upgrade to the RX10 II. That's right, Sony has just announced the RX10 III, a super-zoom 4K camera with a 1-inch 20 megapixel sensor and some impressive slow-motion capabilities. And even though this is not the sort of camera I'd expect to be announced at a major trade show, with less than 3 weeks to NAB, I am sure Sony have something really exciting up their sleeve in the pro camera department (FS5/FS7 range I've heard).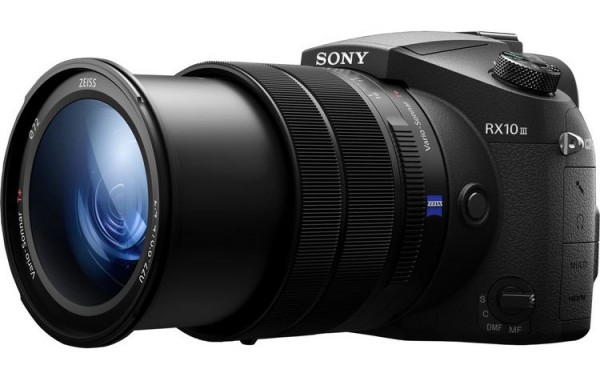 As an RX10 II owner, my heart sank a little bit earlier when I saw the B&H notification email in my inbox… I thought to myself – What!? Sony is replacing my camera already? It hasn't even been a year since the RX10 II started shipping! 
OK, so what is new with the RX10 III? 
Looking at the exterior, nothing much seems to have changed body-wise, the design seems the same – button placement, same – but at the front lays the big difference. Unlike the 8.3x zoom fixed Zeiss lens (24-200mm f2.8 in 35mm equivalent) on the previous model, the RX10 III boasts a gigantic 25x zoom – the lens is now a 24-600mm f2.4-4.0, which is a massive increase in range at the expense of a variable aperture, which even at f4.0 still remains rather decent.
As on the RX10 II, the new zoom lens is stabilised, but this time around features a larger 72mm front thread as it is a beefier lens. The RX10 II for comparison has a 62mm front filter thread.
There now appear to also be 3 rings on the lens – one for zoom, one for focus and an aperture one; the RX10 had one for zoom/focus and one for aperture. This is a nice touch for shooting video where you want to have as much manual control over these parameters as possible, although the focus-by-wire makes repeating focus almost impossible.
Going through the specs, I am no seeing any other changes – there is the same 20.1 Megapixel 1-inch sensor, 4K at 30p in XAVC-S, 1080/120fps and also 240fps/480 and even 960fps super-slow motion in burst cache intervals. I am not however seeing a built-in 1-stage 3 stop ND filter as on the RX10 II, which is very useful in video mode as Slog2 starts at ISO 800 and up.
On the side of the camera I see a headphone and a 3.5mm microphone input – a major plus for those planning on using the camera for run-n-gun applications such as documentaries or event work.
Sony RX10 III Frame rates/Resolutions
4K/UHD 3840 x 2160 – 24/25/30p (XAVC-S 100Mb/s)
1920 x 1080p: 60 fps, 30 fps, 24 fps
1280 x 720p: 30 fps
1920 x 1080p (upscaled): 960 fps, 480 fps, 240 fps

1824 x 1026p: 240 fps
1676 x 566p: 480 fps, 240 fps
1136 x 384p: 960 fps, 480 fps
800 x 270p: 960 fps
Sony RX10 III Features & Highlights – $1,498 at B&H
20.1MP 1″ Exmor RS BSI CMOS Sensor
BIONZ X Image Processor
Zeiss Vario-Sonnar T* f/2.4-4 Zoom Lens
24-600mm (35mm Equivalent)
2.36m-Dot OLED Tru-Finder EVF
3.0″ 1.228m-Dot Tilting Xtra Fine LCD
UHD 4K/30p Video, Full HD 1080p /120fps
S-Log2/S.Gamut
240fps and above in reduced resolutions
Built-In Wi-Fi with NFC
ISO 12800 and 14 fps Continuous Shooting
Optical SteadyShot Image Stabilization
Here are a few video examples of the features and slow-motion capabilities of the new RX10 III produced by Sony:
Would I be upgrading my RX1o II to the III? The RX10 II is currently 1,298 USD at B&H, and the RX10 III costs just $200 more, but I doubt I would go for it – I really like my RX10 II, and I don't think I need the 25x zoom range, as useful as it may be for sporting events and other applications.
At this stage, I find the Clear Image Zoom on the RX10 II to give me all the range I need. Plus, I still get to have a built-in ND filter and a more compact lens.
Sony RX10 II 4K to 1080p S-Log2 Test from 4K Shooters on Vimeo.
The Sony RX10 III will start at $1,498 at major authorized resellers such as B&H with pre-orders starting March 31st at 11:00 AM Eastern time.
Claim your copy of DAVINCI RESOLVE - SIMPLIFIED COURSE with 50% off! Get Instant Access!