If you are looking for an alternative power solution for your Sony A7-Series camera or just want to replace any of the old NPF-970 batteries for your favourite Sony camcorder, the SWIT S-8972 Replacement Lithium-Ion Battery might be a viable option. This battery not only provides a built-in meter that shows how much charge is left but also offers a 7.2V DC output allowing you to power simultaneously another device such a small LED panel or a field monitor. After playing around with a bunch of those, Emm of Cheesycam shares his insights on the real-life performance of the SWIT S-8972 battery in the quick video below.
If you are not familiar with SWIT, the company specialises in developing and manufacturing broadcast industry products, including HD video monitoring, multiple broadcast camera power solutions, on-camera lightings, studio lightings and more. Unlike any of the Sony NP-series batteries, the SWIT S-8972 Replacement Lithium-Ion Battery provides a 4-level LED indicator that can be extremely useful in the field, especially when you utilise the unit to power up your reference monitor, audio recorder or a LED light panel.
You can instantly get the status of your battery through a quick push of a button, a feature that is a huge selling point for many users. On top, the battery has a capacity of 6600 mAh (47Wh) which is more than enough to keep your Sony A7S II camera running along with a field monitor on top for several hours at least.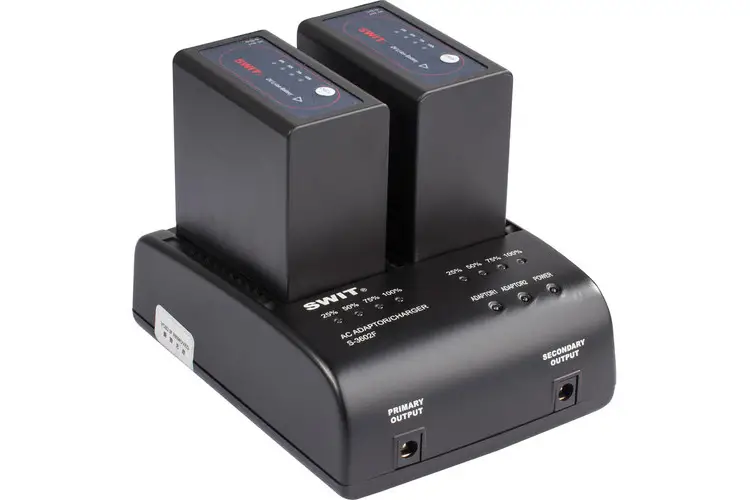 Furthermore, you can take a Sony Dummy battery and use the SWIT S-8972 to power your Sony A7sII or A7RII, along with another accessory. The unit can be charged using the SWIT S-3602F Dual Channel Charger or via the pole tap outlet using the SWIT S-3010D Portable Pole-Tap Charger. The battery also has a built-in intelligent circuit that provides multiple protections of abnormal current, voltage and temperature.
A single SWIT S-8972 Replacement Lithium-Ion Battery will set you back $90 which is somewhere in between the cheaper options available on the market and the more expensive OEM Sony Batteries of this size.
Ultimately, the SWIT battery is a reliable power solution that will give you the most bang for your buck and definitely won't let you down over time.
[source: Cheesycam]
B&H Order Links:
SWIT S-8972 7.2V, 47Wh Replacement Lithium-Ion DV Battery with DC Output for Sony L-Series Batteries
SWIT S-3010D Portable Charger for SWIT DV Batteries
SWIT S-3602F Dual Charger/Adapter for Sony NP-F970/770/960/950 Batteries
Claim your copy of DAVINCI RESOLVE - SIMPLIFIED COURSE with 50% off! Get Instant Access!