Just hours after releasing a major update to DaVinci Resolve, Blackmagic Design are unleashing the next firmware update in their camera division. Blackmagic Camera 6.7 Update adds  Blackmagic RAW recording support to URSA Broadcast cameras along with a new image processing pipeline that improves overall image quality.
The new imaging pipeline in Camera Update 6.7 features an all new de-mosaic algorithm that dramatically improves sensor response. This improvement results in better colour fidelity and cleaner images with less noise, enabling an extra 6dB of gain control (for a total of +18dB) which is now adjustable in 1/3 of a stop increments.
Blackmagic RAW is a big deal, and the format is gaining ground fast among camera users and post-production folks, and with Camera Update 6.7, Blackmagic Design engineers have created a specific profile for the image sensor used in URSA Broadcast so Blackmagic RAW understands how the camera sees images. This update also removes the good old Cinema DNG format from the camera.
New features for URSA Broadcast in Camera Update 6.7
Added new features/functionality:
language localization support.
new de-mosaic algorithm for improved sensor response.
extra level of gain control up to +18dB.
gain slider and 1/3 stop gain adjustment.
lens correction for B4 lenses.
ability to remap buttons on broadcast lenses.
Blackmagic RAW recording format.
LUT embedding in Blackmagic RAW clips.
720p SDI output on main SDI and 720p SDI input.
sensor pixel recalibration in camera.
ability to adjust line level audio and sidetone level adjustment.
improved ballistics and scaling of audio meters.
choice of -18 or -20dB reference levels for audio meters.
ability to remap the HFR button/ability to disable function and HFR buttons.
press-to-focus for EF, PL and B4 lenses with focus servo.
quick media switching from the heads up display.
support for HDR metadata in SDI output.
'LUT' icon to status text overlays.
'PRE' icon to status text overlays for preset timecode.
2:1, 1:1 and 4:5 monitoring frame guides.
customizable frame guides.
ability to lock timecode to SDI Input.
Retain jam synced timecode after power cycle.
Improvements in Camera 6.7 Update
Improved jam sync timecode accuracy after playback.
Improved stability when using external or program reference.
Improved compatibility for embedded audio on SDI outputs.
Improved thermal performance.
Improved ND filter status text.
Improved Canon B4 lens support/EF lens support.
Improved auto exposure speed and performance.
Improved auto focus performance.
Improved media formatting user interface.
Improved clip playback for renamed clips.
Numerous performance and stability improvements.
Removed old Cinema DNG format.
New features for URSA Studio Viewfinder
Add support for new URSA Broadcast gain settings.
Add support for new 4:5 and 1:1 frame guides.
Add improved ballistics and scaling of audio meters.
Add choice of -18 or -20dB reference levels for audio meters.
Fixed bug where focus assist changes colour on power cycle.
New features for URSA Viewfinder
Add support for new URSA Broadcast gain settings.
Add support for new 4:5 and 1:1 frame guides.
For those yet to experience the power of Blackmagic RAW, the proprietary Blackmagic Design raw format combines the high end image quality of RAW with the ease of use, speed and file sizes of traditional video formats such as the very familiar to many ProRes. Editing Blackmagic Raw is buttery smooth even on not-so-powerful machines, and this flexibility alone can add huge gains in post when it comes to the overall editing experience.
Broadcast Camera users can now benefit from the better image quality at high compression ratios of Blackmagic RAW. Plus, the files are small and all processing is GPU and CPU accelerated, making them fast to use and easy to work with.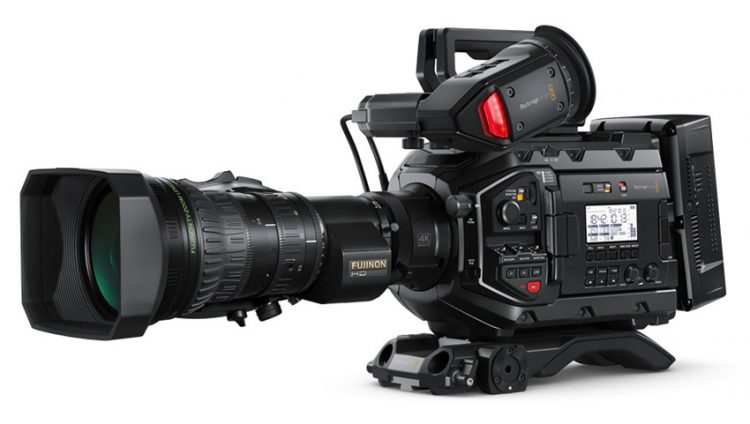 In addition, Blackmagic Camera 6.7 update features image adjustment controls to compensate for B4 lens colour fringing and aberration, as well as enhanced B4 and EF lens support.
Other improvements include sidetone adjustments for talkback so camera operators can speak loudly in noisy environments while keeping their voice mixed down in their earpiece, and you can now lock timecode to the SDI input.
Jam sync accuracy is also greatly improved so that timecode sync is maintained between power cycles. Camera 6.7 Update also gives users the ability to remap the camera's HFR button, 720p output via SDI and more.
This update also adds support for the new URSA Broadcast features to the overlays on both URSA Viewfinder and URSA Studio Viewfinder.
During the last Production Update, Blackmagic Design CEO Grant Petty hinted at the upcoming new international language support and now in the latest update, international URSA Broadcast language settings are also made available in popular languages such as English, Chinese, German, Spanish, French, Italian, Japanese, Korean, Portuguese, Russian and Turkish.
Blackmagic Camera 6.7 Update is available now as a free download from Blackmagic Design.
Claim your copy of DAVINCI RESOLVE 16 - SIMPLIFIED COURSE with 50% off! Get Instant Access!