Wow, Metabones now have a PL to Sony E-mount CINE (locking) Speed Booster ULTRA 0.71x! This means you get an extra stop out of full-frame PL lenses when paired up with cameras such as the latest Sony FS7 II. You may recall that Metabones recently also announced a few new Canon EF to E mount CINE Speed Boosters and Smart Adapters allowing for a locking-type connection between the EF lens and the adapter, which paired up with the strong locking-type E lens mount on the Sony FS7 II makes for a match made in heaven (at least on paper).
The new PL to E mount CINE Speed Booster from Metabones opens up new creative possibilities for fast cine lenses such as the Rokinon/Samyang XEEN, which are already pretty fast at T1.5/T1.9 (depending on focal length) and also available in PL mount, to get you a stop extra light, which can go a long way in certain situations in low-light conditions.
Metabones PL to E CINE Speed Booster Highlights
Optical/Mechanical
Design for attaching full-frame PL Prime Lens to Sony E-mount cameras/camcorders
Increase maximum aperture by 1 stop.
Increase MTF.
Makes lens 0.71x wider.
Advanced 5-element/4-group optical design incorporating ultra-high index tantalum-based optical glass by Caldwell Photographic in the USA (patent pending).
New positive-lock PL lens mount. (Patent pending).
Felt material flocked inside the opening to reduce internal reflection.
Compatible with Sony FS7 Mark II camera.
The tripod foot is detachable and compatible with Arca Swiss, Markins, Photo Clam ball heads.
Only supported on full-frame PL Prime lenses – such as Zeiss Compact Prime CP.2 lenses, Rokinon/Samyang XEEN, Tokina Cine Primes, Sigma Cine Primes and others. It is worth to note that Super 35 PL Prime lenses are NOT supported due to the limitations of their imaging circle.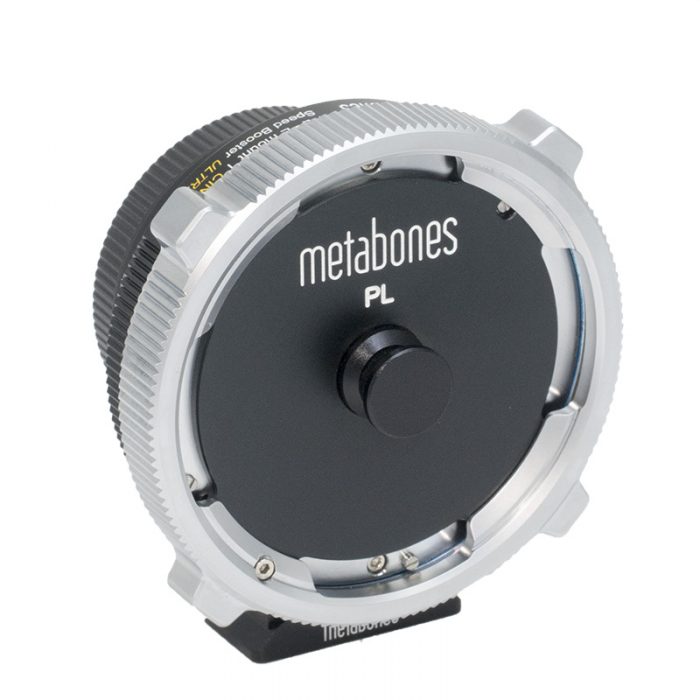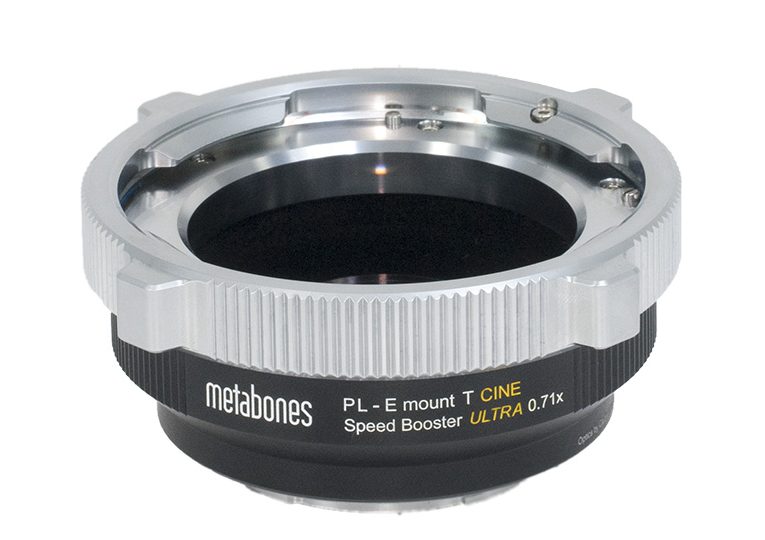 The new Metabones PL to E mount Speed Booster CINE features a new optical design including advanced 5-element/4-group optical design incorporating ultra-high index tantalum-based optical glass to achieve extraordinary optical performance with improved corner sharpness, distortion and reduced vignetting.
Like the revolutionary original Metabones Speed Booster announced back in January 2013, the Speed Booster ULTRA has a magnification of 0.71x, and so it effectively reduces the crop factor of mirrorless cameras with Super 35 camcorder, such as Sony E-mount (i.e. Sony FS7 II), from 1.5x to 1.07x.
However, the new ULTRA design makes very effective use of exotic materials at the furthest limit of glassmaking technology, and as a result is well corrected for use with virtually all full-frame SLR/Prime lenses regardless of exit pupil distance.
The Metabones website says they have tested this adapter on the FS7, FS5, FS700 and other E mount cameras, but as with any of these adapters – best to test first if possible before you buy.
The new Metabones PL to E-mount CINE Speed Booster Ultra 0.71x is currently priced at $720 and available to order directly from Metabones here.
Claim your copy of DAVINCI RESOLVE - SIMPLIFIED COURSE with 50% off! Get Instant Access!