Blackmagic Design just overhauled completely the user interface on the URSA Mini cameras giving users quicker access to major parameters and functions including ISO, white balance, shutter angle, iris, frame rate, frame guides and more without digging through menus. The company also announced a new Blackmagic URSA Studio Viewfinder, a high resolution 7" studio viewfinder with variable tension mounting points, tally, external controls and more that turns Blackmagic URSA Mini into a true professional studio camera.
Here's a summary of the announcements plus a few more new products and updates that may be of interest to you. For the other major camera related announcement – the new Video Assist 4K head over here and for DaVinci Resolve 12.5 updates go here.
1. New URSA Mini User Interface (OS)
The new user interface for URSA Mini and heads up display significantly reduces the number of menus and submenus needed to find specific settings and commands.
Quick access to major settings such as ISO, White Balance, Shutter Angle, Iris, Frame Rate, Frame Guides and more without ever having to navigate through any menus
New Custom WB and White Balance Presets with Tint Control settings
When entering the shutter angle, the new URSA Mini camera OS will even offer smart flicker free shutter angle suggestions
New metadata entry page with predictive entry suggestions and a preloaded dictionary of commonly used terms that can be applied as metadata tags with a simple tap.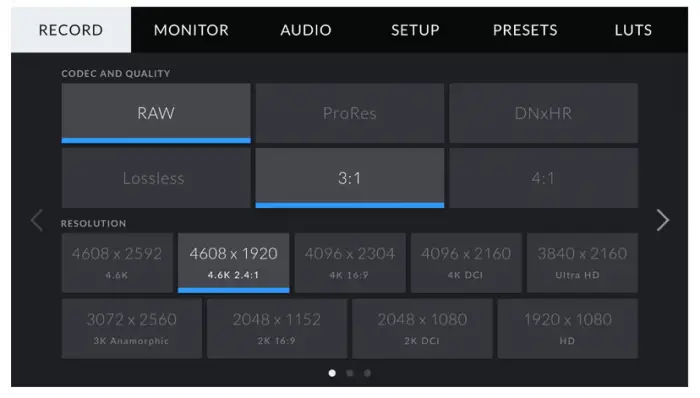 1.33x and 2x anamorphic de-squeeze previews with pan and zoom around the preview on the built in display
Import and store external 3D LUTs and apply the LUT to the LCD, front and main SDI outputs independently
Assign shortcuts to camera function keys, toggle between peaking and colour focus assist, see new percentage based safe area guides and have the ability to toggle SDI overlays
The Blackmagic URSA Mini camera OS will be available later in 2016 and will be a FREE update.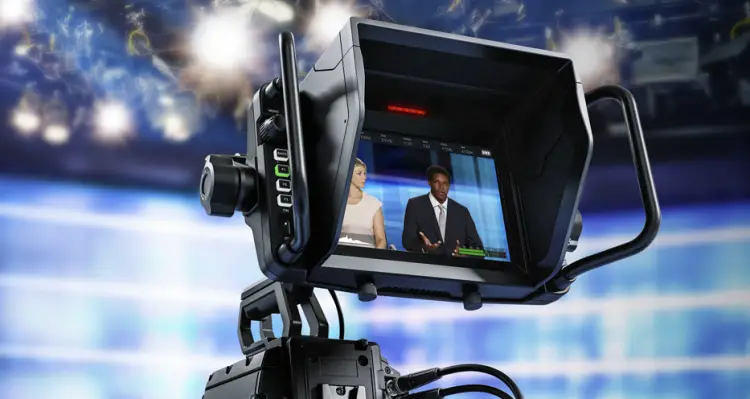 2. Blackmagic URSA Studio Viewfinder – Available in Q3 2016 for $1,795
The new Blackmagic URSA Studio Viewfinder is a high resolution 1920 x 1200 7" studio viewfinder with variable tension mounting points, tally, external controls and more that turns Blackmagic URSA Mini into a true professional studio camera.
Super bright 7" IPS LCD 1920 x 1200 high resolution viewfinder with detachable sunshade.
Large handles and variable tension articulated pivot points to adjust viewfinder position.
Tactile physical dials, knobs and customizable function buttons for quickly adjusting settings.
Large RGB LED tally indicator with clip on perspex camera numbers for easy camera identification.
Integrated V-Lock mounting plate for quick setup and attaching to the URSA Mini top handle.
Connects to SDI input and power from camera, so no extra cables or power supplies needed.
Compatible with Blackmagic Video Device Embedded Control Protocol for full control of camera functions such as talkback, tally, color correction, image detail, gains, all lens functions and much more.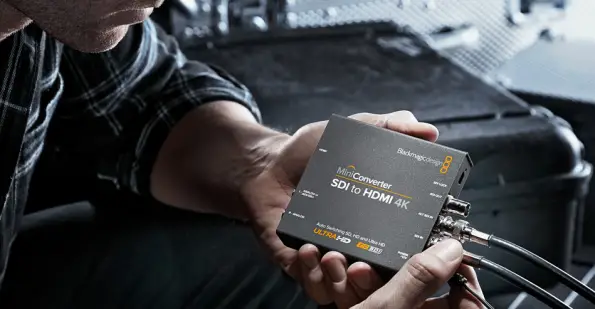 3. Mini Converter SDI to HDMI 4K and Teranex Mini SDI to HDMI 12G Free Upgrades
Both get HDMI Instant Lock feature
Teranex Mini SDI to HDMI 12G will also get new 33 point 3D LUT support for high colour precision
The LUTs are applied to the SDI loop thru output and are also compatible with DaVinci Resolve
4. Blackmagic MultiView 4 – Available now from authorised resellers worldwide. Price $495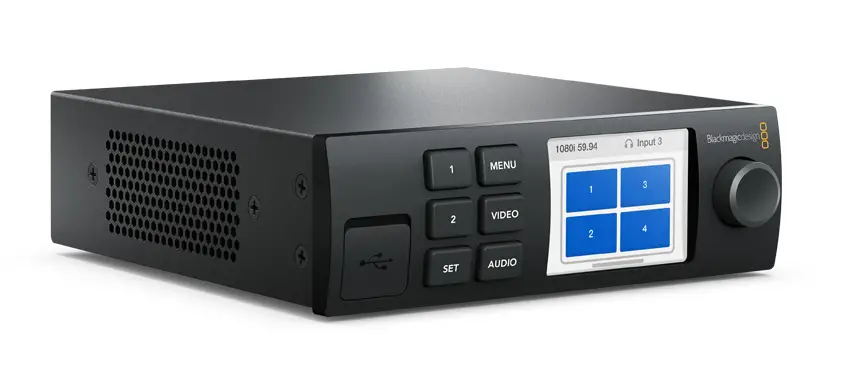 The Blackmagic Multiview 4 is a new multi viewer, which lets you monitor 4 completely independent SDI video sources on a single display. Monitor any combination of SD, HD and Ultra HD formats and frame rates all at the same time. The unit includes 4x completely independent multi rate 6G-SDI inputs with separate loop through outputs that are compatible with existing SD, HD and Ultra HD equipment up to UHD 2160/30p.
All inputs feature automatic frame re-synchronization, so customers can mix and match any combination of video standards and frame rates, including referenced or non-referenced NTSC, PAL, 720p, 1080i, 1080p, and Ultra HD up to 2160p/30, all on the same display all at the same time.
Key Features
Advanced multi view allows the use of Ultra HD television for twice the image sharpness.
Display up to 4 SDI sources on a single HD or Ultra HD display via SDI or HDMI.
4 multi rate 6G-SDI inputs with loop through outputs.
Compatible with all SD, HD and Ultra HD equipment and formats up to 2160p30.
Automatic frame re-sync allows simultaneous display of mixed SD, HD and Ultra HD formats.
Standard quad split view.
Supported output resolutions: 1920 x 1080 and 3840 x 2160.
Compact portable ⅓ width 1RU design with professional connections for easy installation.
Built in 90V – 240V AC international power supply for use anywhere in the world.
Remote control via Ethernet using the included Mac and Windows software.
Supports power over Ethernet (PoE+) which can also be used as a backup power source.
Blackmagic MultiView 4 can be looped for customized display arrangements.
Supports optional Teranex Smart Panel that adds push buttons and built in LCD monitor.
Supports optional Teranex Mini Rack Shelf for installation into equipment racks.
[via Blackmagic Design]
Claim your copy of DAVINCI RESOLVE - SIMPLIFIED COURSE with 50% off! Get Instant Access!