NAB 2016: Zoom Unveils the U-44 and U-24 Mobile Audio Interfaces
After the huge success of the acclaimed H4N, H5 and H6 compact handy recorders, Zoom showcases two more exciting products at this year's NAB. Both new entries, the U-44 and U-24 interfaces, come with all of the essential tools you need for recording and performing high-resolution, 24-bit/96 kHz audio either in the studio or in the field.
Both units feature 48V phantom power along with the same high-quality, low-noise mic preamps of the popular H5 and H6 Handy Recorders. The only difference is that the smaller U-24 unit lacks the S/PDIF connection options and 10-pin capsule support that you can find on the U-44. Besides that, both units provide a full array of inputs and outputs, bus-powering and AA-battery support, multiple monitoring options and more.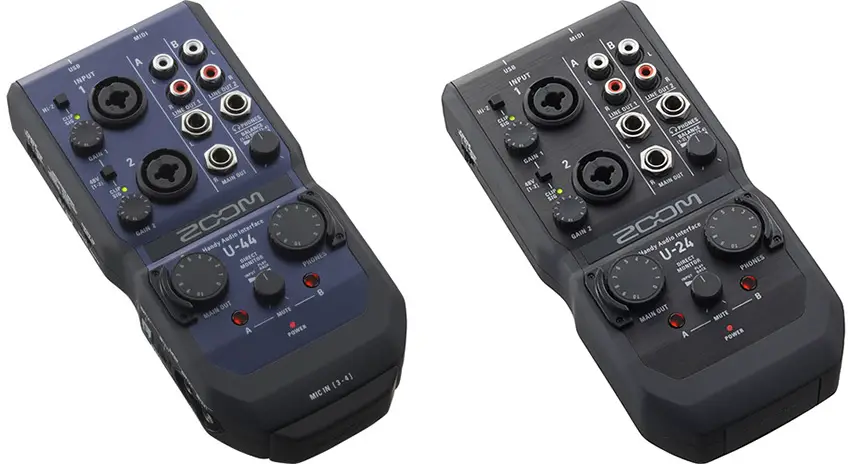 The U-44 interface features two TRS/XLR combo jacks for inputs, in/out S/PDIF Optical Toslink and S/PDIF Coaxial on RCA, MIDI In/Out, two TRS 1/4″ unbalanced jack outputs, RCA line-level outputs and a standard stereo headphone jack. In addition, it is powered by two AA batteries, providing up to four hours of continuous operation with phantom power turned off. The model also functions in stand-alone mode as a high-quality mic preamp and AD/DA converter to ensure complete transparency when converting audio formats.
Thanks to its 10-pin Zoom connector, the U-44 is compatible with all of the Zoom's proprietary interchangeable input capsules known from previous models. Users can choose from six capsules—X/Y, Shockmount X/Y, Mid-Side, Shotgun, Stereo Shotgun, and Dual XLR/TRS Combo Input— each with its own unique application. The U-44 is small enough as it easily fits in a jacket pocket or a backpack without sacrificing features. Plus, all of the connectors and knobs are strategically positioned for fast access providing seamless operation.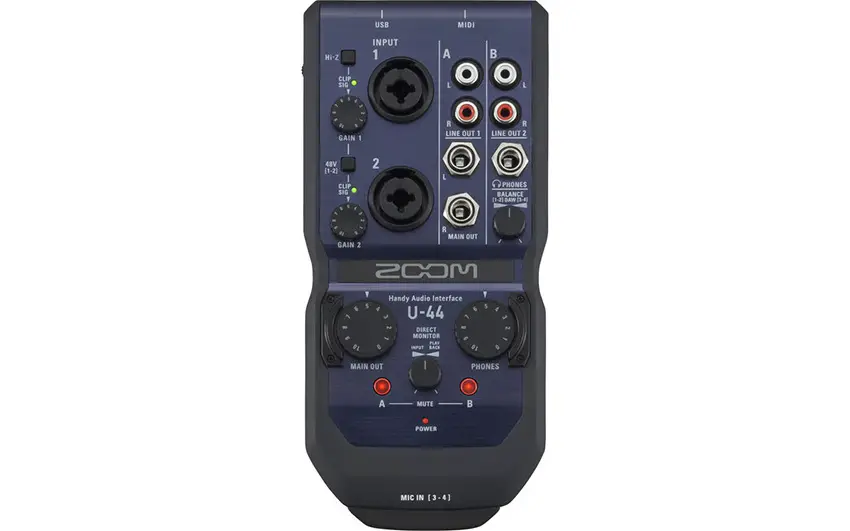 Zoom U-44 Audio Interface Highlights
Record with Mics, Instruments, and More
Fits in the Palm of Your Hand
High-Quality, Low-Noise Preamps
S/PDIF Optical or Coaxial Input
10-pin Capsule Support
48V Phantom Power
24-Bit/96 kHz Audio
Compatible with iPad
Works with Mac and Windows Computers
Price: $199,99
The U-24 audio interface, on the other hand, delivers the same great sound as the U-44 interface, with a more streamlined feature set. The bus-powered unit packs all the essential tools into a compact form factor that, just as its sibling the U-44, fits in the palm of your hand. Users can record high-quality audio with mics, instruments, and more at home or on the go. It can even run on just two AA batteries for recording in the most remote locations.
The U-24 is also equipped with an essential collection of inputs and outputs for streamlined recording. The unit has two combo inputs with independent gain knobs and multi-color level indicators along with 48V phantom power that can be supplied to both inputs. There are also MIDI, TRS and RCA input and output jacks, an independent headphone output with dedicated volume control and more.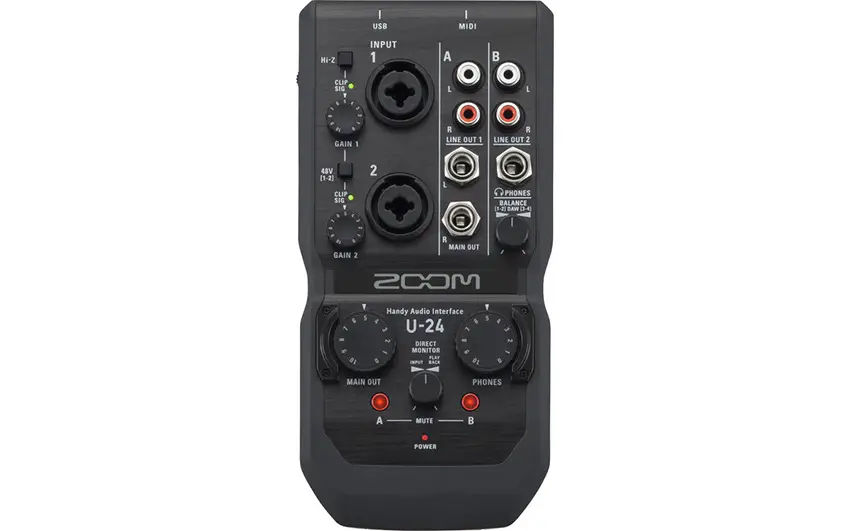 Zoom U-24 Audio Interface Highlights
24-Bit/96 kHz Audio
48V Phantom Power
Record with Mics, Instruments, and More
Fits in the Palm of Your Hand
High-Quality, Low-Noise Preamps
Compatible with iPad
Mac and Windows Computers Compatible
Price: $149.99
The Zoom U-24 and U-44 can now be pre-ordered from Zoom's authorised resellers for a retail price of $149.99 and $199.99 respectively.
[source: Zoom]
B&H Pre-Order Links:
Zoom U-24 Portable Audio Interface
Zoom U-44 Handy 4-In/4-Out Audio Interface
Amazon Links:
Zoom U-24 Portable Audio Interface
Zoom U-44 Handy 4-In/4-Out Audio Interface
Claim your copy of DAVINCI RESOLVE 16 - SIMPLIFIED COURSE with 50% off! Get Instant Access!