Announced earlier this year as the first hardware RAID and display dock solution with a Thunderbolt 3 port, the AKiTiO Thunder3 Duo Pro unsurprisingly got a decent amount of attention at this year's NAB trade show. Developed to handle the data protection and performance requirements for today's ever-growing demand for faster and reliable storage solutions, the Thunder3 Duo Pro offers fast transfer speeds with the added flexibility of a DisplayPort video output in a form factor small enough to fit multiple desktop and mobile workflows and applications.
Due to the available two Thunderbolt 3 ports, the Thunder3 Duo Pro can deliver transfer speeds up to 770 MB/s while simultaneously providing two 4K video streams to connected displays.  All in all, the latest Thunderbolt 3 technology provides roughly 8x faster speeds than USB 3.1 Gen 1 and it's 4x faster than USB 3.1 Gen 2.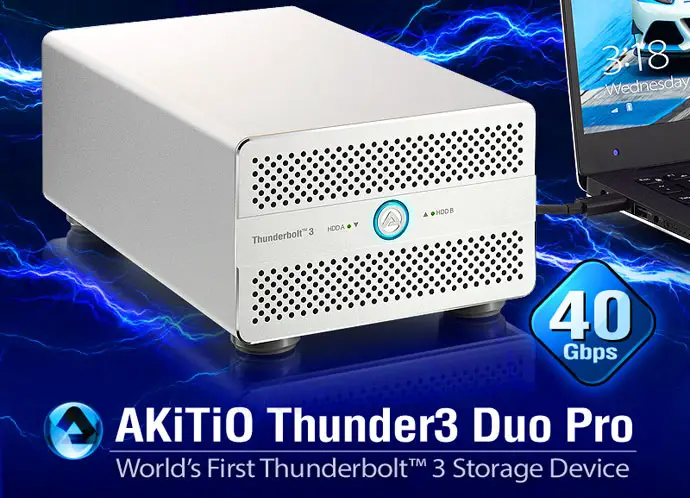 The Thunder3 Duo Pro comes in as a 2-bay RAID enclosure supporting four RAID modes, including RAID 0 striping, RAID 1 mirroring, SPAN, and Non-RAID. The unit features two Thunderbolt 3 Ports, a USB 3.1 Gen 1 (Type-B) port, and a DisplayPort video output that supports the latest 4K 60HZ displays. The second Thunderbolt 3 port on the Thunder3 Duo Pro operates the same as a Thunderbolt 3 computer port by supporting Thunderbolt 3 (up to 5 daisy chained), USB 3.1 (10Gb/s), and DisplayPort devices.
Furthermore, the Thunder3 Duo Pro can accommodate 2.5" SSD/HDD and 3.5"HDDs up to 16TB as the drives can be easily installed or uninstalled. Thunder3 Duo Pro can also run fanless when needed making it the perfect choice for professional audio recording when SSDs are installed on board. The best part is that Thunder3 Duo Pro gives creative professionals the ability to edit and playback multiple streams of HD and/or 4K content with enough headroom to daisy chain multiple 4K displays simultaneously.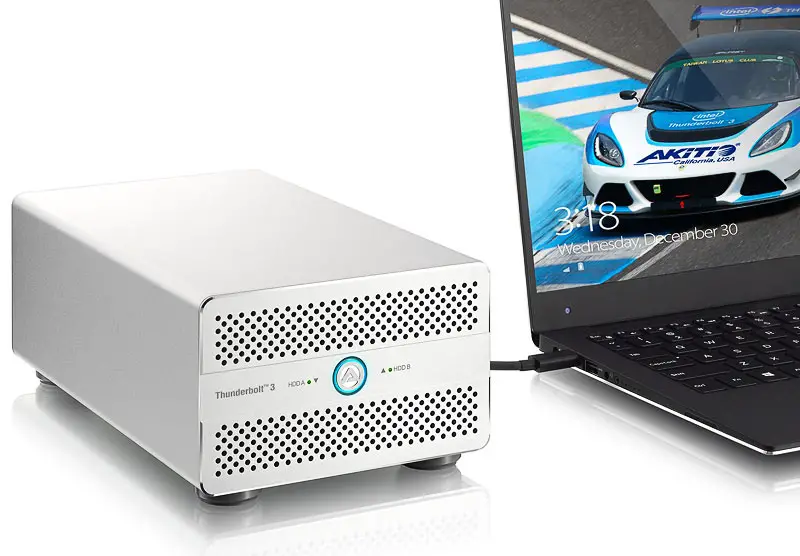 As for the price and availability, the Thunder2 Duo Pro retail price starts at $389 for the enclosure only. The AKiTiO's RAID enclosure can be already purchased at the global authorized resellers. You can also take a look at the other AKiTiO's Thunderbolt 3 storage solutions by visiting the AKiTiO's official website here.
[source: AKiTiO]
B&H Order Links:
AKiTiO Enclosure Only for Thunder3 Duo Pro
Amazon US Order Links:
AKiTiO Enclosure Only for Thunder3 Duo Pro
Claim your copy of DAVINCI RESOLVE - SIMPLIFIED COURSE with 50% off! Get Instant Access!