At NAB 2016, esteemed storage solution and RAID experts Accusys announced they are launching their latest addition to its innovative Thunderbolt 3 shareable storage product line (T-share), the A12T3-Share. Last week, we posted about the world's 1st Thunderbolt 3 RAID from Akitio, but the latest from Accusys is a bit different. The AT12T3-Share is a 12-bay tower storage unit offers 4 x Thunderbolt 3 ports allowing connection to four clients which are able to simultaneously edit, transfer and share data at unprecedented speeds. Using 10 TB HDD, the A12T3-Share can reach a massive storage capacity of 120 TB, which can even be expanded to 480 terabytes.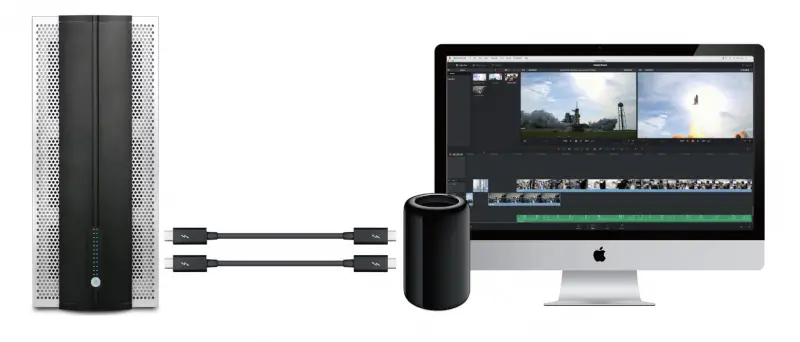 "For media professionals, content creators, gamers, or anyone that works with 4K content, Thunderbolt 3 can offer a faster and simpler experience," said Jason Ziller, Director of Thunderbolt Marketing, Intel. "By utilising Thunderbolt 3, the latest T-share device from Accusys is able to couple high-performance with large capacity offering users a robust storage solution."
The new Thunderbolt 3-based A12T3-Share takes the original Thunderbolt interface and transforms it into a more flexible Thunderbolt storage network and eliminates the high costs of Fibre Channel SAN or 10 Gigabit Ethernet. Users can configure the A12T3-Share as a Storage Area Network (SAN) storage pool when integrated with SAN software, or partition the storage array into several storage volumes and benefit from the high performance Thunderbolt 3 ports as direct attached storage with immense capacity.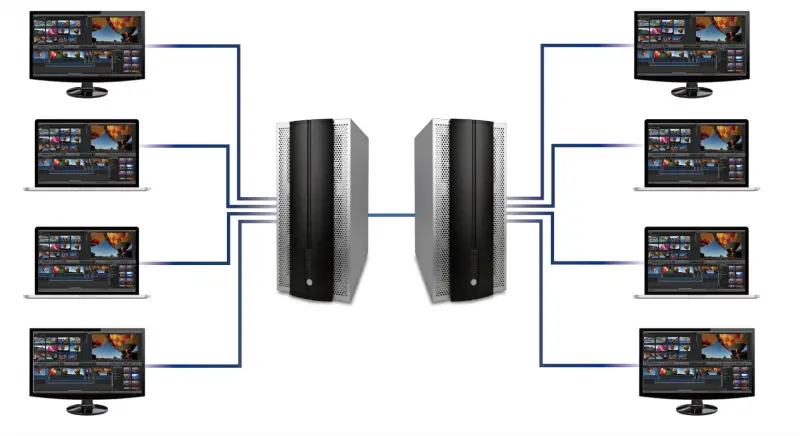 The new T-Share Expansion feature allows users to pair 2 x A12T3-Share devices, doubling the available Thunderbolt 3 ports to eight. Each port provides rapid transfer speeds allowing users to share content and reach blazing transfer speeds up to 2,600 MB/s thus allowing large workgroups to simultaneously collaborate on projects with extreme workflow efficiency.
To get a better idea of how the shareable storage from Accusys works, check out the video below:
T-Share Expansion works by pairing two A12T3-Share devices through connection of PCIe 3.0 ports with a standard PCIe cable. Further expansion can be implemented to increase available capacity by connecting mini-SAS HD cables to A12S3-PS DAS devices. Up to eight devices can be connected (3 per each A12T3-Share) allowing storage capacity of up to a staggering 960 TB.
Pricing and availability has not yet been announced.
Claim your copy of DAVINCI RESOLVE - SIMPLIFIED COURSE with 50% off! Get Instant Access!