At IBC 2016 in Amsterdam, ARRI announced they are expanding their SkyPanel LED range of soft diffusion panels with the introduction of the new S120-C, which just happens to be the biggest member of the SkyPanel family yet. If there is one other kind of pro equipment, other than high-end pro cameras, that ARRI makes really well – that is Professional Lighting for Film and TV. While you will still see a wide range of popular ARRI tungsten workhorses like 650 fresnels, or 300's, redheads, blondes, etc in small studios or as part of owner/operators lighting kits, ARRI have been making waves in the LED arena for some time now primarily with their acclaimed SkypPanel range of soft LED panels.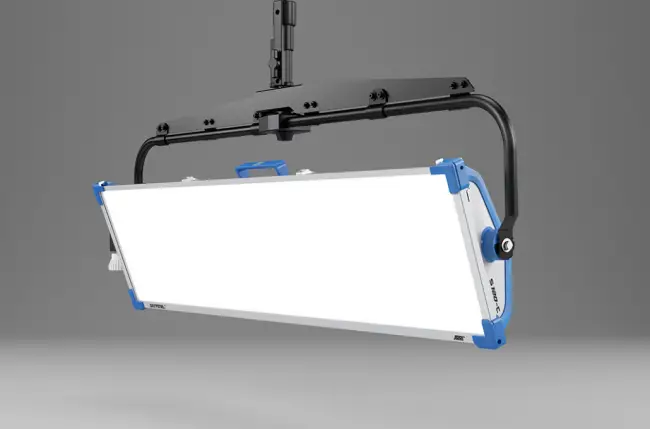 The new ARRI SkyPanel S120-C joins the other 2 Skypanels – the Skypanel S60 and S30 as the latest addition to the innovative range. The S120-C is twice as long as the S60, but weighs nearly the same. Its larger light aperture makes a great soft light even better. Retaining the same features and colour tune-ability as its smaller counterparts, the S120 consumes less than 400 watts, yet it is slightly brighter than the S60-C and has an outstanding efficacy of 90 lumens per watt.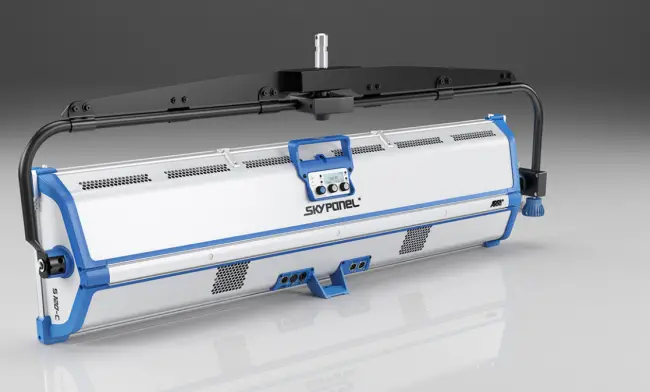 ARRI SkyPanel S120-C Features
Fully Adjustable Colour from 2,800 K to 10,000 K
Vibrant Color Selection (RGB+W Color Gamut)
High Colour Rendering
Large Aperture (1290 x 300mm)
Perfect for Vertical Lighting
Low Power Consumption (400 W Nominal)
Tremendous Output – Brighter than 2kW Tungsten Soft Light
Fully Dimmable from 0 – 100%
Lightweight and Compact
Beautiful Soft Beam of Light
Interchangeable Diffusion Panels
Wide Range of Accessories Available
Thin Profile
On-Board Battery Connection (23 – 36V DC)
Onboard Simple Control Panel
Onboard DMX In and Out
RDM Implementation
USB-A Connection for Firmware Updates
EtherCon port for network connectivity
Available in Blue/Silver and Black
Fan Mode Selection
External Lightweight PSU
powerCON TRUE1 Power Connector
A large surface area is a crucial feature of a good soft light. With an aperture of 1290 mm x 300 mm (50.8" x 11.8"), the S120 outputs a beautifully soft, even beam of light that has a wide range of uses. The long aspect ratio wraps light around objects and is perfect for vertical lighting of people. In addition the S120 works well as an overhead light for large areas, with the increased dimensions meaning that fewer lights and less cables are required.
Released alongside the S120 are all the accessories needed for sculpting and controlling the light. Among the S120 accessories are honeycombs, egg crates, barn doors, diffusion panels, the SkyBender and a new fabric barn door called the FlexDoor. This wide range of accessories makes the S120 more versatile and easier to control.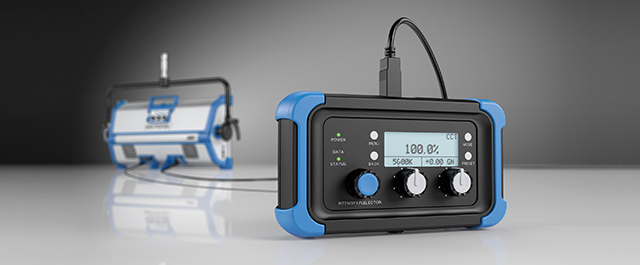 The S120-C, as the rest of the lineup, can be controlled remotely with the SkyPanel Remote, which connects to any SkyPanel via a USB cable and allows for full control of the fixture remotely. This is particularly useful if the SkyPanel is high up on a light stand or in a position where the onboard control panel is difficult to access.
ARRI SkyPanel Remote Features/Highlights
Wired remote control for all SkyPanels
Perfect for when the SkyPanel is in a difficult to reach position
Ergonomic design for handheld use
Mimics functions of on-board control panel
Magnet on back of remote allows for mounting to light stand
Comes with 5m USB cable and carrying case
SkyPanel Firmware 2.5 was also announced bringing new features to the SkyPanel range including:
Master/Slave mode,
Expanded gel library – 41 new colours into the SkyPanel gel library for an increased total of 318 colours; and DMX protocol,
XY coordinate DMX protocol,
Battery low voltage warning
Control panel lock.
The new master/slave mode allows for one SkyPanel to control several other SkyPanels via DMX. When this mode is enabled, any SkyPanel connected to the master fixture by DMX cable will mimic adjustments made to the master's control panel. This is an ideal option for smaller applications where a large DMX network and lighting console are not practical. When coupled with the SkyPanel Remote, the master/slave mode becomes a powerful solution to control a small network of fixtures linked together.
Pricing for the new S120-C is expected be in-line with the rest of the Skypanel lineup around the $6000 range depending on currency fluctuations against Euro, and the unit is expected to be available shortly next month.
[via ARRI]
Claim your copy of DAVINCI RESOLVE - SIMPLIFIED COURSE with 50% off! Get Instant Access!