Earlier today, DJI announced their most compact and awesome 4K drone yet! The new DJI Mavic Pro is a super-compact, foldable 4K flying machine capable of breakneck speeds and packed with the latest quadcopter technologies to take the whole "drone flying" experience to new heights. As seen earlier last week with the GoPro Karma drone, a common trend among new mass-market oriented drones is their super-compact size suitable for a backpack as in the case of the Karma, or the "take-it-anywhere-in-your-back-pocket" approach we've seen with the also foldable Mavic Pro from leading drone maker DJI. Some internet pundits have been quick to label the new DJI Mavic PRO as the "GoPro Karma killer" or "RIP Karma drone"; phrases easily seen in the YouTube comment section and popular forums online. Whether this ends up being the actual case remains to be seen as only time will tell by Q4 sales results, early next year where the masses have flocked to, but in any case, the Mavic Pro is an incredible machine, packed with the latest collision avoidance and tracking advancements.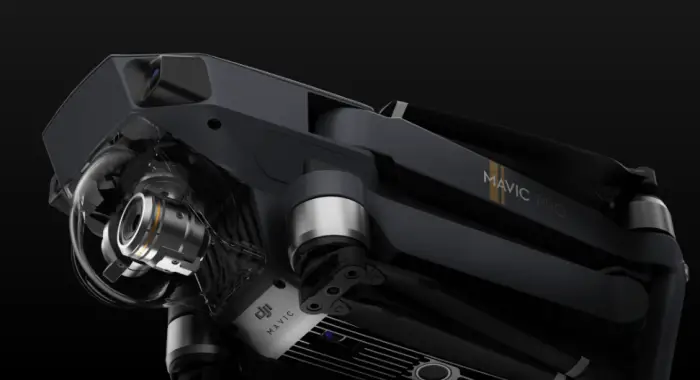 Much like we've come to expect from any new stabilisation device from DJI, whether it be their new OSMO Mobile, or the new DJI MAVIC Pro, the innovative Asian company never seizes to amaze with the amount of power and features they are able to pack in their devices.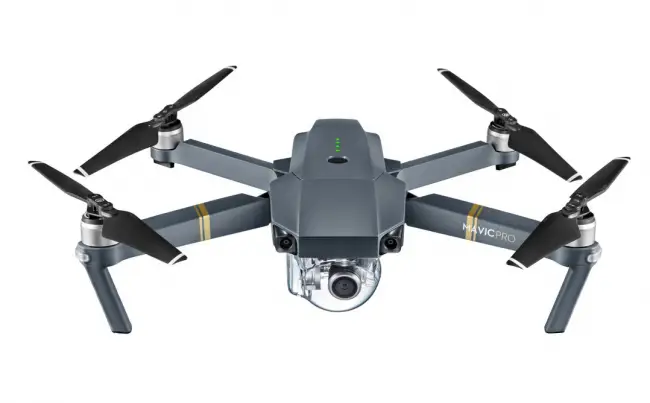 The first striking feature of the Mavic Pro drone is obviously it's radical design – the thing is roughly 1/6th the size of the DJI Phantom 4, and with its foldable propellers can be easily tucked away in a backpack, handbag or even a water bottle belt holder! The reduction in size however, doesn't equate to a diminished flight time – the DJI Mavic Pro is capable of an absolute max flight time of 27 minutes and a maximum distance of 8 miles or 13km thanks to its powerful, high efficiency motors.
The DJI Mavic Pro features a brand new compact remote controller designed for optimum comfort that can also accommodate a smartphone or control the Mavic Pro on its own. That's right, if you don't want to bother with the controller, you can use the virtual joysticks on your smartphone via the DJI GoApp and off you go.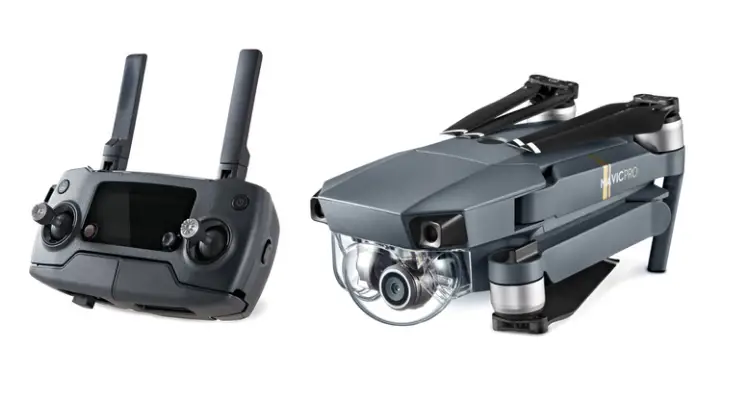 Its built-in LCD screen displays essential telemetry data, while dedicated buttons for functions such as Return-to-Home and pausing during Intelligent Flight modes ensure a confident flight every single time. DJI's video link system called OcuSync supports a range up to 4.3 miles (7 km) and live view resolutions up to 1080p.
Thanks to a new band management algorithm, OcuSync is more robust in environments with many frequencies in operation. DJI's Mavic Pro is also equipped with dual-band WiFi as a secondary link, allowing easy control via your smartphone for close range operation or for quick downloading of content from Mavic Pro straight to your device.
Of course, what good is a super slick and compact drone without an awesome 4K camera? The new Mavic Pro sports a very compact 3-axis stabilised 4K camera with a 1/2.3″ CMOS sensor with 12.3 M effective pixels. The Mavic Pro can record video in True DCI 4K at 24p, UHD and 2.7K up to 30p, and 1080p at 96fps, as well as 720p/120 for some super slow-mo goodness. See the complete video specs below.
Sensor
1/2.3" (CMOS), Effective pixels:12.35 M (Total pixels:12.71M)
Lens
FOV 78.8° 28 mm (35 mm format equivalent) f/2.2
Distortion < 1.5% Focus from 0.5 m to ∞
ISO Range
100-3200 (video)
100-1600 (photo)
Shutter Speed
8s -1/8000s
Image Max Size
4000×3000
Still Photography Modes
Single shot
Burst shooting: 3/5/7 frames
Auto Exposure Bracketing (AEB): 3/5 bracketed frames at 0.7 EV Bias
Interval
Video Recording Modes
C4K: 4096×2160 24p
4K: 3840×2160 24/25/30p
2.7K: 2704×1520 24/25/30p
FHD: 1920×1080 24/25/30/48/50/60/96p
HD: 1280×720 24/25/30/48/50/60/120
Max Video Bitrate
60 Mbps
Supported File Formats
FAT32 ( ≤ 32 GB ); exFAT ( > 32 GB )
Photo
JPEG, DNG
Video
MP4, MOV (MPEG-4 AVC/H.264)
Supported SD Card Types
Micro SD™
Max capacity: 64 GB. Class 10 or UHS-1 rating required
Operating Temperature
32° to 104° F ( 0° to 40° C )
The little drone wonder can even sense your hand gestures, take a selfie and track you. Beginners can use TapFly on their smartphone touchscreen to command the drone on its path. I could write more, but at this point I'm sold. See more below.
Who's buying one? or more? Comment below.
More from DJI:
Most Intelligent Drone Ever
The powerful systems inside Mavic Pro are easy to use, even for beginners. Using just your phone's touchscreen, you can use TapFly to direct Mavic Pro to go wherever you want, avoiding obstacles along the way. When you want to take a hands-free selfie, FlightAutonomy makes it possible to control the drone completely with just your gestures.
In Gesture mode, you can use gestures to have Mavic Pro locate you, center you in the frame and take the perfect shot as Mavic Pro's flashing lights count down to the photo. Sharing your best aerial moments has never been easier with live streaming to Facebook Live, Periscope and YouTube through the DJI GO app.
An updated version of DJI's ActiveTrack recognizes common subjects such as people, bicyclists, cars, boats and animals, which then sends Mavic Pro to follow behind, lead in front, circle above or track alongside the subject, keeping the camera focused on the subject while you concentrate on flight maneuvers. The new Terrain Follow mode means that you can race up a slope behind a subject while remaining at a constant height between 1 ft (0.3 m) and 33 ft (10 m).
At the other extreme, the new Tripod Mode is designed for indoor use, slowing and fine-tuning Mavic Pro's position and angle based on controller movement inputs to allowing for precision framing and safe indoor flight.
Immerse Yourself
Mavic Pro also pairs with DJI's new immersive DJI Goggles, displaying an 85-degree view from the drone in full 1080p for a true bird's-eye view of the world below. With built-in OcuSync, the goggles receive video directly from Mavic Pro in the air and not through the controller, reducing lag to a minimum – and allowing you to share the in-flight view with a friend.
Specially designed for aerial first-person view (FPV) applications, DJI Goggles allows you to flick between third person view and FPV in under a second. You can comfortably wear your glasses while wearing the goggles and quit FPV mode instantly by flipping the mask up.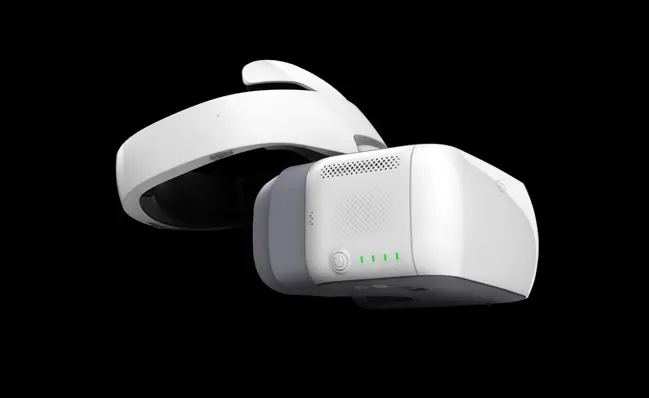 Price and Availability
Mavic Pro's U.S. retail price will be $999 with the remote controller included, and $749 without the remote controller. Additional Mavic Pro Intelligent Flight Batteries will cost $89. A Mavic Pro Fly More Combo, which includes a Mavic Pro, two extra Intelligent Flight Batteries, extra propellers, a charging hub, an adapter, a car charger and a shoulder bag, will be available for $1,299.
Mavic Pro is immediately available for pre-order at dji.com/mavic and will begin shipping October 15. It will also be available in mid-October at DJI's three flagship stores in Shenzhen, Seoul and Hong Kong. Mavic Pro can also be ordered on Apple.com and will be available in Apple Stores in early November.
Pre-order links:
DJI Mavic Pro – $999 B&H
DJI Mavic Pro Fly More Combo – $1,299 B&H
Claim your copy of DAVINCI RESOLVE 16 - SIMPLIFIED COURSE with 50% off! Get Instant Access!