It seems like there is nothing that the iPhone can't do, with the smart folks at LumuLabs now able to turn it into an advanced and accurate light and colour temperature meter thanks to their latest Lumu Power device. Slovenia-based Lumulabs raised over $318K last year over at Kickstarter for the Lumu Power, which is now ready for pre-order at a special discounted price of $229 (regular $299). Lumu Power plugs directly into the lightning connector of an iOS device running iOS 8+ at minimum, so your iPhone 6/6S, Plus and the new 7 and iPhone 7 Plus are good to go. It's basically a half white dome (used for exposure metering providing Ambient light and Flash light metering) and a flat side for Colour temperature, and White balance reading, that can save your life when you are on set with mixed lighting or just using crappy lights with heavy casts or just plain winging it with whatever you can.
According to Lumulabs, the Lumu Power is "insanely accurate"; the innovative light metering device incorporates two state-of-the art sensors – a True Color sensor, based on the colour standard CIE 1931/DIN 5033, and Photodiode with CIE spectral luminous efficiency; apparently they're better than human eyes.
Lumu Power Tech Specs
Illuminance
Measuring range: 0.15 – 250,000 lux
Accuracy: +/- 3%
Flat Diffuser, Cosine-type response
Exposure
Measuring range: EV -4 to 20 at ISO 100
Accuracy: +/- 0.1 EV
Light receptor: fast-response Silicon photo diode, CIE spectral luminous efficiency
Hemispherical Diffuser, Cardioid-type responses
Color (Temperature)
Light receptor: True Color Sensor, CIE 1931 Color standard Human eye perception
Sensitivity: Visible light
Dynamic range: 1:1,000,000
Accuracy: < 0.6 deltaE, Repeatability: < 0.2 deltaE
Flat Diffuser, Cosine-type response
Other
Power source: iOS device
Materials: Housing: Stainless Steel, Diffusers: Polycarbonate Lexan
Compatibility: iOS devices using Lightning connector, running iOS 8+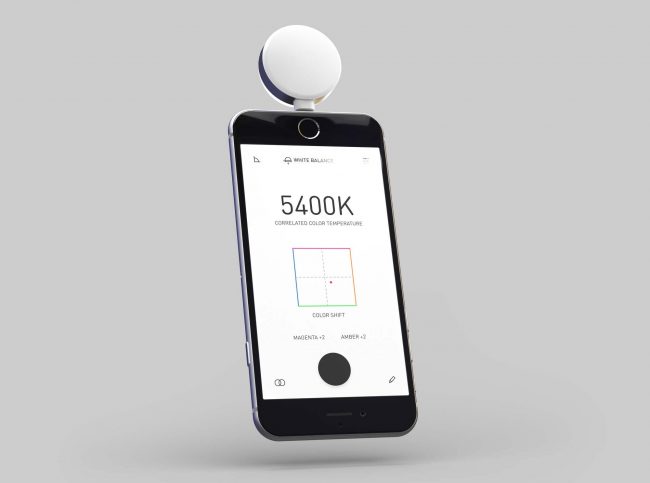 Dedicated light meters for cinematography such as those made by Sekonic for example like their classic L-758Cine (which ain't cheap at $822), can get quite expensive and are usually reserved for DPs working on commercials with big budget and expensive kit plus a big crew (although it's not uncommon to see owner ops with a 758 hanging from their neck, or a different model), not everyone owns or plans to own a pro cine light meter.
This is why I truly believe this little light meter has the potential to bring real light metering and also (possibly more importantly) colour temp metering to even DSLR users, who more often than not, work on shoe-string budgets. And while the Lumu Power is not specifically dedicated just for video users, by catering to both stills and video peeps at such an affordable price, I think it's fair to say it's a win win for everyone. Plus, isn't every photographer nowadays shooting video as well?
You can pre-order Lumu Power from Lumulabs here for $229.
Claim your copy of DAVINCI RESOLVE - SIMPLIFIED COURSE with 50% off! Get Instant Access!