After the Karma drone recall and a generally bad financial year, looks like GoPro's troubles are far from over as the company announces it will slash 15% of its workforce as part of a new restructuring deal. According to a recent Wall Street Journal article (thanks to Erik Naso for the tip on that one), there are approximately 1,700 people working for GoPro, which will be cut down to 1,500 after the restructuring, leaving around 200 people on the dole. One of these leaving will be the company's president Tony Bates, who previously was the top dog at Skype, however failed to lead GoPro into the media market as initially planned according to the article.
Much of GoPro's current financial woes are contributed to the company's attempt to branch out of its core business – i.e. selling you GoPro Hero and Session action cameras, which are pretty nice and easy to use, and instead "attempting" to rival DJI with a consumer quadcopter – the Karma drone.
However, GoPro has been also criticised for resting on its laurels of years past and putting in enough innovation into their core products, whose customer base is continuously eroding, thanks to the huge uptake of cell phone users who use their iPhones and Androids for video – the top models of which do UltraHD/4K video, and have been for some time.

It's not that the high resolution is the top selling point, but for many (present company included) the GoPro Hero hasn't really changed in the last 2-3 iterations of the camera. Sure, the new GoPro Hero 5 Black is a step in the right direction by ditching the outer housing and still getting waterproof protection and adding voice control, however competition out there is really tough. Especially in the consumer quadcopter/drone business – just take a look at the dominance of DJI.
Just look at the new Inspire 2 drone or the DJI Phantom 4 Pro – DJI is killing it. Also, not to mention the DJI Osmo and Osmo mobile, have really put a dent onto the traditional GoPro customer base, that not that long ago had really not other viable alternatives to a GoPro. In recent times however rivals such as TomTom with their TomTom Bandit, Garmin and Sony for example have come a long way in offering innovative and quite competent 4K action cameras.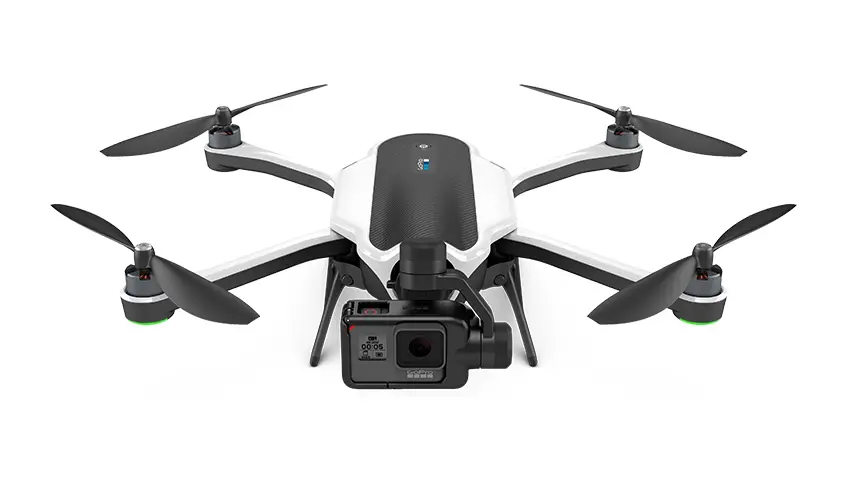 In today's overcrowded capture device and drone market, it sure isn't easy to stay on top of the game. The recent Karma Drone recall due to a sudden power failure may actually spell the premature death of GoPro's consumer drone attempts – as according to Michael N. Sutton a filmmaker/educator and photographer at FrozenProsperity, the Karma may not be returning to store shelfs at all after being recalled.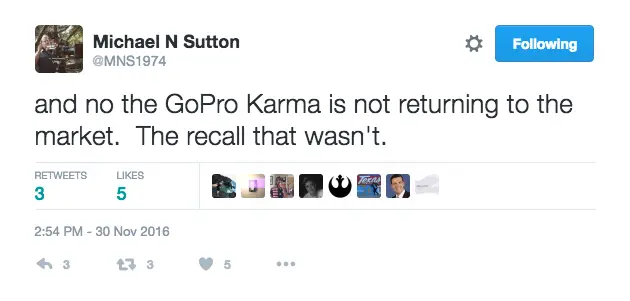 Here are two more relevant tweet from Michael which mention that GoPro will focus on only selling the Hero5 Black and Hero5 Session:
While this is certainly alarming, I am not taking anything away from Mr. Sutton and his inside knowledge of the situation, but at the moment, there is no confirmation of this from GoPro, so I'll treat it as a rumour. If these statements turn out to be the true, this could bring some serious heat onto GoPro and bring even more doubt into consumers and investors as to the company's ability to make anything else than a GoPro Hero style camera.
However, according to CEO Nick Woodman, consumer "demand for GoPro products is solid and the company is narrowing its focus to concentrate on its core business". I really do hope that GoPro rebounds from both the Karma drone fiasco and the recent financial hard times brought upon by the attempt to penetrate new markets, deviate from the core business and increased competition from substitute products.
As someone who's owned the GoPro Hero 4, Hero 4 Black and now considering a purchase of the latest Hero 5 Black, I really don't want to see a world without GoPro's. I don't think they'll go out of business, hardly, but their current position makes them ripe for the taking – a potential purchase by a rival or a bigger company? Apple, DJI, Microsoft? Hell, why not even Facebook?
What do you guys make of all the turmoil at GoPro recently? Let me know in the comments below.
Claim your copy of DAVINCI RESOLVE - SIMPLIFIED COURSE with 50% off! Get Instant Access!