With its tiny, unobtrusive, and extremely lightweight form factor, the latest Lectrosonics PDR audio recorder is the perfect fit for many situations on set when capturing high-quality audio with a traditional full sized recorder or wireless system isn't a viable option. Unlike most of its counterparts of this size, the Lectrosonics PDR recorder provides timecode support that ensures frame accurate sync of the recorded audio in post. The pocket-sized recorder captures industry-standard 24-bit/48 kHz audio in WAV (BWF) formats stored on a microSDHC card up to 32GB. The unit also features an LCD and onboard keypad for quick and intuitive operation and can run continuously for over six hours on a single AAA lithium battery.
Furthermore, the 5-pin TA5M connector of the Lectrosonics PDR accepts line or mic audio signals and features servo-bias preamp for both 2 and 4V lavaliers or headset microphones. In addition, the device delivers a wide frequency range of 20Hz to 20kHz alongside an excellent signal-to-noise ratio allowing users to capture super clean audio recordings. You can also monitor the audio feed directly from the unit through its built-in 3.5mm jack with headphones or any other compatible line-level device.
The Lectrosonics PDR features HD Mono and Split Gain record modes. The former records a single mono audio file with an input limiter that provides 30db of clean limiting, whereas the latter creates a stereo file with the same audio on both channels recorded at different levels, thus giving you a safety track in case of unforeseen overloads and other audio distortion artifacts.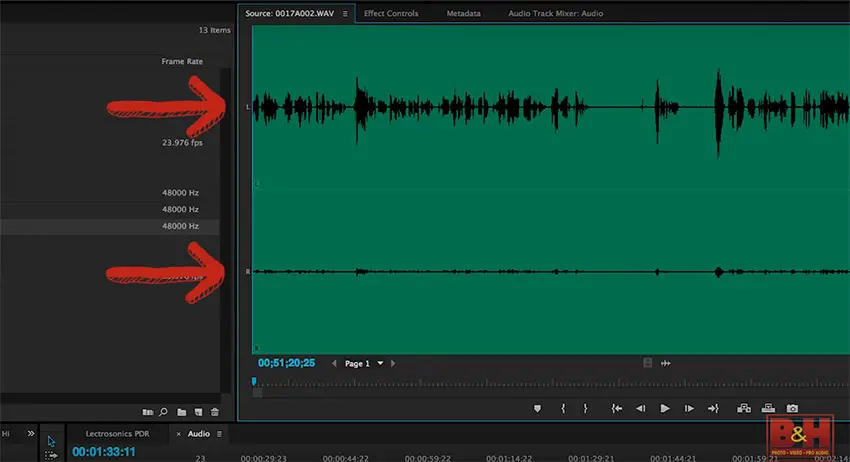 Lectrosonics PDR Audio Recorder Highlights
Digital Recorder with Timecode Support
Records to SDHC up to 32GB
Records 24-Bit/48 kHz BWF Files
5-Pin LEMO Connection for Timecode
TA5M Input Jack & 3.5mm Output Jack
Intuitive Keypad & LCD Screen
Servo-Bias Preamp for 2 & 4V Lavs
Compact Form Factor for Concealment
Durable Machined Aluminum Construction
Over 6 Hours of Operation on a Single AAA Lithium Battery
Price: $749.00
In case you are using a wireless system, you can still utilize the Lectrosonics PDR as a backup recorder. And the best part is that you can control it wirelessly via the dedicated third-party PDR app that allows you to trigger recording on and off, lock or unlock the device as well as control its audio levels.
That extremely practical set of features comes at a price, though. The Lectrosonics PDR audio recorder currently sells for $749 at B&H, but when we take into account the built-in timecode functionality along with its compact form factor and other neat features, it can certainly be an extremely useful audio recording device used for a broad range of applications on every professional set.
[source: B&H]
B&H Link:
Lectrosonics Portable Digital Recorder
Claim your copy of DAVINCI RESOLVE - SIMPLIFIED COURSE with 50% off! Get Instant Access!